A number of talented young goaltenders were traded this offseason to teams in need of a starting netminder. While not of all the following masked men were traded, two of them were. Cam Talbot went from being Henrik Lundqvist's backup in New York to becoming the Edmonton Oilers' clear-cut No. 1. Meanwhile Martin Jones went from being Jonathan Quick's backup in Los Angeles to landing in San Jose (via an unusual layover in Boston) as their undisputed starter. Each one of these five young goaltenders bring with them high expectations.
John Gibson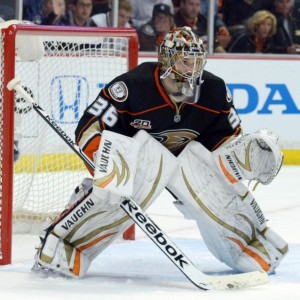 Anaheim Ducks prospect John Gibson could end up starting the season in the AHL but that would be a bit of a head scratcher. Gibson is clearly the man of the future for Anaheim and he has proven he can handle the present. While Frederik Andersen and Anton Khudobin are both capable goalies, the Ducks have invested quite a bit in Gibson. Teams don't spend second round draft picks on goaltenders without paving the way for their success.
Gibson, while young for a goaltender at 22, has proven he can handle the AHL level. Sporting a .922 save percentage in 57 games, is evidence enough. Smallish sample, but the fact that he spent last year as an effective backup in the NHL (.914 in 23 games) shows a goaltender more than ready for the show. Considering Andersen didn't exactly have a sparkling playoff, especially late in the Western Conference final, one would have thought this would be Gibson's season to shine. And it still might be. The Pittsburgh native will certainly get a shot at some point this season in the NHL, and don't be shocked if he takes it and runs with it.
Cam Talbot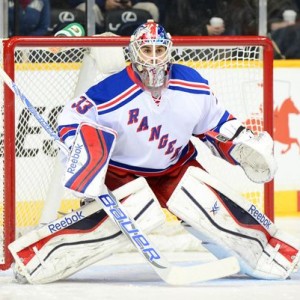 The 27-year old might just be a late bloomer, having made his NHL debut just two years ago during the 2013-14 season. During these last two years as Lundqvist's backup, Talbot has posted remarkable numbers. In 21 games as a rookie Talbot posted a .941 save percentage. He backed it up with a .926 last season in 36 games when Lundqvist went down with injury. Overall his NHL percentage is an outstanding .931. If that were over two or three full seasons of 120-150 starts instead of just 57, Talbot would be known as a superstar. However, the samples are small and behind a solid defensive team in the Rangers.
In the AHL Talbot posted a career .914 mark which is very much average. Will Talbot be able to continue to be a lights out NHL goalie as a starter on a team with much bigger defensive issues? Maybe, maybe not. Talbot has certainly has shown flashes so far, but being a No. 1 in Edmonton is far different than being a backup in New York.
Jake Allen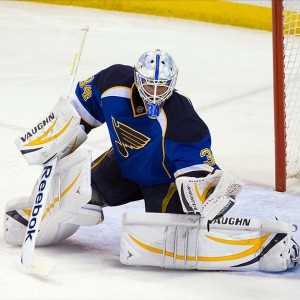 It may not have been a hugely popular move at the time, but the St. Louis Blues decided to roll with highly touted prospect Jake Allen between the pipes during last year's playoffs. In six playoff games Allen posted a well below average .904 mark and the Blues were yet again ousted in the first round. Overall Allen has played just 52 NHL games with a .911 save percentage. That isn't a mark to write home about but the 24-year old was a second round pick back in 2008. Just like the Ducks with Gibson, the Blues have big hopes for Allen.
In his final year in the AHL in 2013-14, Allen posted a solid .928 save percentage in 52 games. The potential is clearly there for the New Brunswick native. It is just a matter of putting it altogether. This season could be a make or break year for him.
Petr Mrazek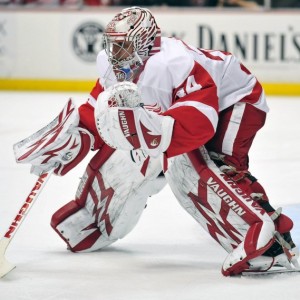 Petr Mrazek has played in just 40 NHL games over his career but at the end of last year the 23-year old stole the starting job away from veteran Jimmy Howard. In 29 starts last year in the regular season Mrazek turned in an above-average .918 save percentage. He stepped it up even more though in the playoffs where he turned in a .925 mark in seven games and often had Tampa Bay sharp shooters like Steven Stamkos scratching their heads.
With the experience gained last season, Mrazek, the Czech native must have tons of confidence going into the 2015-16 campaign. Few goaltenders in the league could put up that kind of performance against all the fire power that the Lightning have to offer. Watching the Red Wings this season will once again be fun to watch. While star Pavel Datsyuk will miss the beginning of the season, the Wings still have a great mix of veterans and young guys that are fun to watch. Mrazek is one of those young guns who many of us will be keeping an eye on.
Martin Jones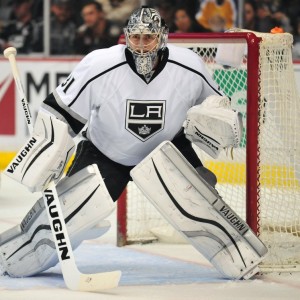 When Quick missed some time with injury during the 2013-14 season, Jones jumped onto the scene with three shutouts in his first six NHL games. The Kings won the first eight starts of his career that season. Jones gave up just eight goals in those first eight games. All told, the 25-year old Jones finished with an extremely impressive .934 save percentage in 18 games his first season. Last year that number dropped all the way to .906 but outside of back-to-back games allowing six and four goals (one of those games in relief), Jones was solid overall. Takeaway those two games, and Jones posted a .929 save percentage. So one bad start against Montreal, and four goals allowed in relief of Quick against Nashville dropped his percentage from .929 to .906.
Of all the young goalies expected to raise their games this season in bigger roles, Jones has one of the best and most extensive AHL track records. In 158 games at the AHL level Jones turned in a solid .921 save percentage. That type of long term success in the minor leagues should translate to at worst average NHL goaltending. With the Sharks Jones will be once again playing behind a solid defensive group like he did in Los Angeles. The Sharks struggled in terms of GAA last year, but added top-pair shut-down stud Paul Martin to the top-four that already includes one of the best shut-down defensemen in the world in Marc-Edouard Vlasic. The Sharks will have one of these two defensive studs on the ice for at least 45 minutes per game if not longer. Jones should be solid behind the Sharks defense.