The KHL season is slightly more than a month old and some NHL prospects had a very good start. Let's have a look at the best NHL prospects in the first month of KHL regular season play.
* Note: the statistics are updated to 09/29/2015 games included.
Pavel Buchnevich, New York Rangers
After signing a new KHL deal this summer, which was a surprise to many people, Buchnevich had a very good start, scoring nine points in 13 games for Severstal Cherepovets, including two game-winning goals. Buchnevich is now leading his team, but he will most likely miss playoff action because Severstal is currently last place in the KHL Western Conference. However, this will allow Buchnevich to get plenty of ice time and to be a leader on a professional team at 20 years of age, which doesn't happen often in the KHL. Buchnevich already said that he's not too interested in playing for other teams in the KHL, therefore he may not get traded at the trade deadline.
2015-16 stats: 13 G, 4+5=9 P, 4 PIMs, -1
Nikita Gusev, Tampa Bay Lightning
Similar to Buchnevich, Gusev is a leader of a low-ranked team and he may be moved if Yugra Khanty-Mansiysk is not fighting for a playoff spot at the trade deadline on December 25th. Gusev is a small-sized player but with phenomenal puck skills, a great shot, and very good skating ability. Considering Nikita Kucherov's career so far, it would be a mistake to dismiss Gusev due to his size. He is having a very good season and he will most likely be again a KHL All-Star. He also has a good chance to be considered for the national team. Gusev's contract in the KHL will run out in April 2016.
2015-16 stats: 14 G, 5+4= 9 P, 4 PIMs, +5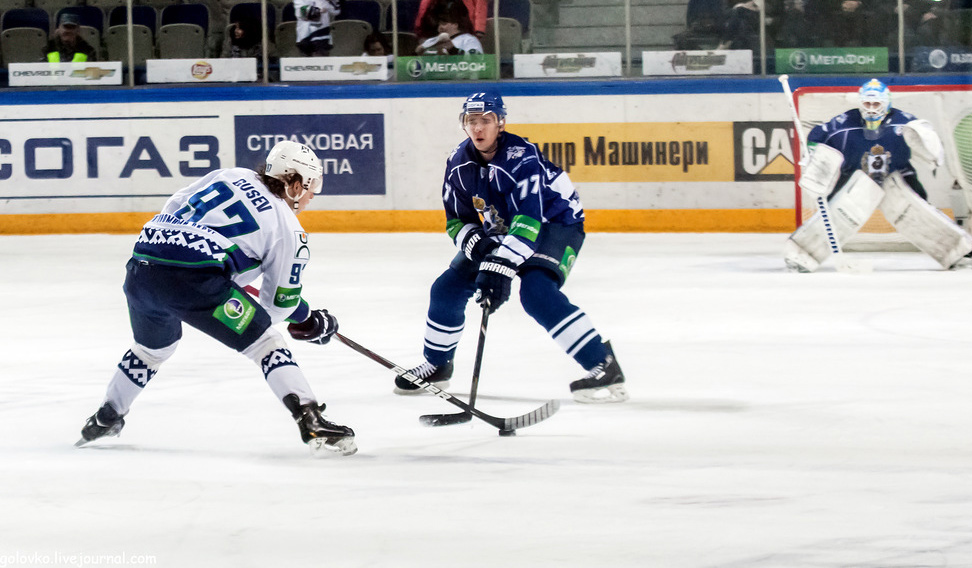 Nikolai Prokhorkin, Los Angeles Kings
After signing a deal with Salavat Yulaev Ufa of the KHL this summer, a hard process since the team didn't want to sign him, Prokhorkin managed to convince the critics of his merits and is now playing first line center for the Ufa franchise, between former Red Wings prospect Igor Grigorenko and former Oilers and Sabres player Linus Omark. The three are enjoying a good grade of success and are the top three scorers on their team. Salavat Yulaev isn't doing well in the standings, but things are improving. Prokhorkin, on the other hand, is having a good season with eight points in 13 games played thus far. He has already declared that he intends to cross the Atlantic next year and Kings fans will be able to see a much improved player, compared to the player that played a few NHL games some years ago. He will be able to bring the Kings some solid puck skills, face-off ability and enough versatility to play both center and wing.
2015-16 stats: 13 G, 4+4=8 P, 31 PIMs, +4
Ivan Nalimov, Chicago Blackhawks
In his second year as Admiral Vladivostok's starting goalie, Nalimov is improving his numbers and posting a winning record for a team that will most likely have to fight until the end for a playoff spot. Moreover, he just had his first shutout of the season in a 1-0 victory over Lada Togliatti. Nalimov's numbers are improving, as is his confidence and consistency. Undoubtedly, he has a lot to work on if he intends to become a legit NHL prospect, but he's definitely on the right path. Nalimov's deal with Admiral will run out in April 2016.
2015-16 stats: 10 G, 5-4, 2.40 GAA, .916 saves percentage, 1 shutout
Kirill Kaprizov, Minnesota Wild
In his second year in the KHL, Kaprizov climbed the Metallurg Novokuznetsk depth chart and is now playing on the first line with former Avalanche and Capitals player Ryan Stoa and former QMJHL prospect Kirill Kazakov. Kaprizov has improved a lot since last season and is now playing a more mature game, getting both goals and assists under his belt. This season Kaprizov scored four goals and nine points in 16 games (already more than in his rookie season), and is averaging sixteen minutes a night. His line is particularly effective with the man advantage, as you can see in this clip:
Kaprizov's deal with Metallurg Novokuznetsk will run out in April 2018.
2015-16 stats: 16 G, 4+5=9 P, 2 PIMs, Even
Honorable Mentions
Vladislav Gavrikov, Columbus Blue Jackets
The large defenseman was having a good season with Lokomotiv Yaroslavl when he suffered a lower-body injury and will be out until the end of October.
Ilya Sorokin, New York Islanders
The CSKA goalie has only played two games so far, but he shut out the opposition both times. He will certainly get more chances as the season goes on.
A professional hockey writer and translator. Loves Russian culture, language, and hockey. Reachable on twitter @AlexSerenRosso