Through five games this season, the Boston Bruins have taken their fans on a rollercoaster of emotion.
They started the season with a tough three-game homestand against Winnipeg, Montreal and Tampa Bay. It didn't end well as the Bruins allowed 16 goals while scoring just seven en route to three straight defeats. Many had thought it was the beginning of a long season on Causeway Street with defensive miscues and shoddy goaltending highlights Boston's early season slumber.
A week later, the Bruins have fought their way back after back-to-back victories over Colorado and Arizona on the road. The offense piled up 11 goals while the defense showed more cohesion allowing just five pucks to slip past them. They have climbed out of the basement of the Atlantic Division and Eastern Conference in the process.
Along the way, there are some interesting numbers and trends that have developed in the early going. Let's take a look at some of the more eye-catching statistics.
38.9 Percent
The power play has rarely been a strength of the Bruins in the Claude Julien era. However, this season is a much different story.
The Bruins power play is a Juggernaut.

— Mike From Woburn (@MikeFromWoburn) October 18, 2015
Boston has scored a League-leading seven goals on the man advantage from 18 attempts through five games. Prior to Tuesday night's action, their 38.9 percent success rate was tops in the NHL. Their puck movement and willingness to crash the net is an embodiment of the "aggressive" team that general manager Don Sweeney wanted to build in the offseason.
A big part of their success is due to the play of David Krejci and Torey Krug. Combined, the duo has 10 power play points with two goals (both from Krejci) and eight assists. They are both tied for the League-lead in PPP (5) with Patrice Bergeron right behind them (three goals, one assist).
38.8 Percent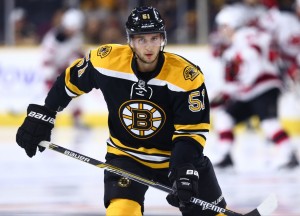 Ryan Spooner's performance down the stretch last year earned him a spot as Boston's new third-line center. However, his early season play so far has left much to be desired, especially defensively.
The 23-year-old center is starting to find his offensive flow with three points in his last two games but is an albatross in his own end. Spooner is the proud owner of the worst Corsi-For on the Bruins at 38.8 percent. He's been on the ice for 38 shot attempts while allowing 60 to the opposition.
It's even more deflating to note that Boston's second-round pick in 2010 has started nearly 60 percent of his shifts in the offensive zone.
In order to improve on those numbers, Spooner will have to improve on his putrid 38.6 percent faceoff percentage. He has a ton of offensive upside but must improve on the other areas of his game.
60.9 Percent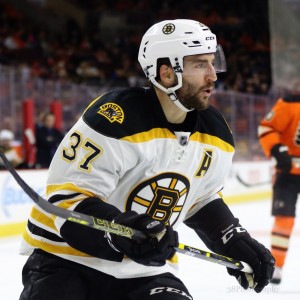 Spooner could take a few lessons from Bergeron about the finer aspects of the game. The reigning Selke Trophy winner has been the prototypical three-zone player in Boston throughout his career.
This season, fans can learn to appreciate (even more than they already do) Bergeron's work on the ice 82 times a year. The long-time alternate captain has the third-best Corsi-For on the team at 57.9 percent (70 for, 51 against). It's more remarkable to note that he's started 60.9 percent of his shifts in his own zone, second only to rookie Joonas Kemppainen (62.5).
And yet, Bergeron leads the Bruins in faceoff percentage (55.7), power-play goals (3) and shots on goal (17). For fans outside of New England, this would be remarkable.
For Bruins fans, this is just business as usual for their number 37.
4
Boston has familiarity with the number four. Of course it's the number of the great Bobby Orr which proudly hangs from the TD Garden rafters.
It's also the amount of points the Bruins have collected through the first five games of the season. Ironically, this is the third time in the past five seasons they have collected four points from their opening quintet of tilts. In 2011-12, they went on to be crowned champions of the old Northeast Division after starting the season 2-3. Last season, they barely missed the postseason with the same record after five games.
Boston will hope that last year's result will be reversed at season's end but will have to keep up their recent form as six of their next nine contests will be on the road.
11
Finally, as poor as the Bruins' start to the season has been, no one has been more frustrated than Pittsburgh Penguins superstar captain Sidney Crosby.
Through six games, the 28-year-old has scored two points, both of which were scored in the Pens victory over Florida on Tuesday night. Boston's roster currently has 11 players who are at least level on points with Crosby through five games.
In addition, 24-year-old rookie Tyler Randell has more goals in two games (2) than Crosby does in six (1).
So, at least for now, he can brag about being better than number 87.