Whether it was an accident, an on or off ice incident, or a lifestyle choice, a number of promising NHL careers have been derailed before they completely got on track. These 5 men all proved to be tremendous hockey players that were destined for great things before something caused the train to be derailed.
Had these men been able to play out full NHL careers, they would be regarded as some of the greatest players of all time (a few already are).
D Doug Barkley (1962-1966)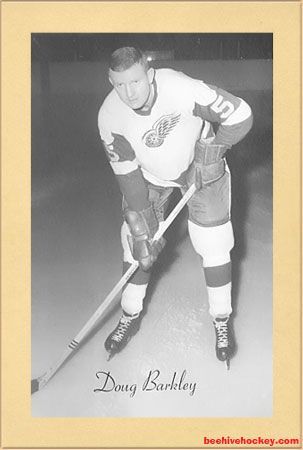 It took until 26 years of age for Barkley to break into the original-six NHL full-time in 1962-63, but he arrived in force. He finished second in Calder Trophy voting, 9th in Norris Trophy voting, and scored the fourth most points of any defenseman in the league.
Barkley stood at 6'2″, 185 lbs, which was fairly large for that era. He was a physical two-way defender who famous writer Stan Fischler called "a Larry Robinson before Robinson arrived on the scene".
In his next two seasons, he would continue his success en route to a 7th and 10th place finish in Norris voting, and 3rd and 8th place finishes in scoring by defensemen.
In the midst of the best season of his career in 1965-66, tragedy struck. Barkley went in to battle for a puck with Blackhawks forward Doug Mohns, who attempted to lift Doug's stick to win the puck. Mohns missed his stick and struck Barkley in the right eye.
Even after multiple surgical procedures, Barkley's eyesight never improved enough to where he could return to hockey. In his four seasons, he finished in the top 10 of Norris Trophy voting every season, and scored the 4th most points among all defensemen. The Red Wings also reached the finals three times in that span.
LW Real Chevrefils (1951-1959)
In 1951, "Chevy" Chevrefils was seen as one of the next great stars in the NHL, one of two highly sought after prospects playing in Canadian junior leagues. He had 103 points in the OHA Jr. league that year, and a fellow by the name of Jean Beliveau had 124 in the QJHL that year.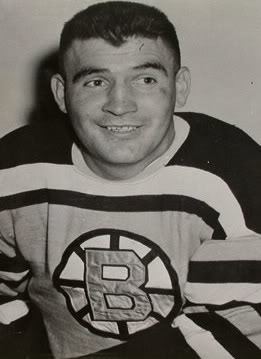 The Boston Bruins owned his rights, and after a great junior career, sent him to the AHL. It was there that, at the recommendation of the Bruins organization, Chevrefils "have a few beers at supper" to bulk up and put weight on his frame.
What seemed like a harmless request turned into something that would derail his once promising career. Teammates reported he would often be hungover in the locker room due to his mounting problems with alcohol.
In 1955, Bruins GM Lynn Patrick declared Chevrefils "…will be an all-star within three years, and within five years, he'll be one of the best left wings ever to play in the league."
Despite the lofty praise, the Bruins traded him to Detroit that same year. Red Wings GM Jack Adams tried to get Chevy's problems under control by sending him to A.A. meetings and having private detectives follow him, but it was to no avail.
He was traded back to the Bruins in 1956, where he finally showed his potential in the only full, healthy season of his NHL career. He scored 31 goals, 5th in the league, and was named to the 2nd All-Star team after the season.
But two unproductive years later, Chevrefils would find his NHL career over as he played out the rest of his career in the minors.
D Bill Barilko (1946-1951)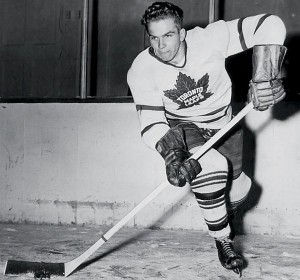 A tough defensive defenseman, Barilko was a member of some dynamite Maple Leaf teams in the 1940s and 1950s. Though he played only 4.5 seasons in the league, the Leafs won the Stanley Cup four times with Barilko on the blueline.
Barilko wasn't known for being a great goalscorer, but scored one of the most important goals in Leafs history in 1951. In overtime of Game 5 of the Stanley Cup finals against the Canadiens, Barilko's blast beat Gerry McNeil to win the Cup for the blue and white.
It would be the last goal Barilko ever scored, however. That summer, he went on a fishing trip to northern Ontario with a friend, but never returned. His whereabouts was a mystery for 11 years before the wreckage was discovered 35 miles off course by a helicopter pilot.
In the 11 years Barilko was missing, the Leafs never won the cup. The year his remains were found, the Leafs won the Cup again. He is one of only two Maple Leafs to have his number (#5) retired.
G Pelle Lindbergh (1981-1986)
When Lindbergh arrived in Philadelphia in 1981, he was already a decorated international goaltender that represented Sweden. He had been named to a WJC All-Star team, WJC Best Goalie, and was the starter for Sweden at the 1980 Olympics.
In his rookie season, he was named to the NHL All-Rookie team in addition to finishing 7th in Vezina Trophy voting. He would take his game to an elite level two years later. In 1984-85, he was 2nd and 3rd in GAA and save percentage respectively en route to being named a 1st-Team All Star and winning the Vezina Trophy.
But 8 games into the next season, tragedy struck. Lindbergh was driving his Porsche 930 Turbo intoxicated back from a team party when he crashed into a wall. He died later the next day resulting from injures sustained in the accident.
RW Ace Bailey (1926-1934)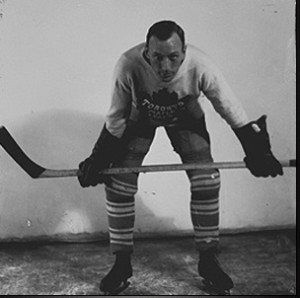 A tremendous all-around player, Bailey was one of the most revered players of his day. In the beginning of his career, he was relied upon chiefly for his offensive abilities. He delivered great numbers in the first five years of his career, leading the league in goals and points in 1928-29 and finishing in the top six on two other occasions.
In 1931, the Leafs underwent a transition when they had acquired a number of talented young forwards, forcing Bailey to take on a more defensive role.
He thrived in that role for the next 3 years, playing great defensive hockey and chipping in offense. But, his career would come to an abrupt end in 1934 at the hands of talented, yet violent Eddie Shore.
After being on the receiving end of a check from Maple Leafs Red Horner, Shore mistook Bailey for Horner and delivered a nasty slewfoot that forced Bailey to hit his head on the ice and fracture his skull.
Bailey's life appeared in peril for a period, but he eventually pulled through. It marked the end of his hockey career at age 30, and his #6 is the only other jersey to be retired by the Leafs, along with Bill Barilko's.
The first ever all-star game was held as a fundraising benefit for Bailey, in which he met Eddie Shore and shook hands in a show of sportsmanship.