When it comes to analyzing players and teams, no one stat, no one eye ball test is a perfect indicator of who is better. As analysts we try to look at everything. In terms of individuals we look at the basic player card statistics, power-play and penalty kill contributions, face-offs (if applicable), advanced Corsi and Fenwick numbers, PDO (lucky or unlucky), goals for percentage, and of course our eye ball test. Similarly when it comes to analyzing teams we look at some of the same stuff, goals for and against at even strength, power-play and penalty kill, Corsi and Fenwick, breakdown of their roster, and again an eye ball test. At the end of the day every hockey fan subconsciously values certain measurements more than others to rate the quality of player or team. When yours truly takes all of the factors into consideration, it boils down to one question. Who scares me the most? The following teams are the five clubs I would least want to face in the postseason.
5. St. Louis Blues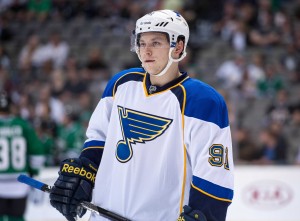 While the Blues may be in the middle pack of Corsi and have a struggling penalty kill this year, they simply put more fear into me than teams that don't make my cut. Teams that were close to making my top five were the Predators, Islanders, and Canadiens. If you're a fan of goaltending, you could make the case for either one of these teams over the Blues. However, I'm not a goaltending fan. I firmly believe tons of goalies are capable of getting hot, and that it is more of a crap shoot on who ends up getting hot between the pipes. It is more important to have quality defense and forwards, and St. Louis has boat loads of both. Vladimir Tarasenko has turned into a super star this season, lighting up the league with over 40 points thus far. The Blues still have guys like Alexander Steen, David Backes, T.J. Oshie, Jaden Schwartz, and the underrated Patrik Berglund up front. They also have a studly top-four defense featuring Kevin Shattenkirk, Jay Bouwmeester and Alex Pietrangelo. Although the latter's minus-9 this year is a significant concern. With Ken Hitchock's famous shut down system through the neutral zone, and the offensive skill the Blues have, I just don't want to play them. As good as Nashville has been this season, at or near the top of the league in even strength scoring, I'm not convinced they have the firepower up front. The same goes for the Islanders and Canadiens, quality goaltending and defense, but outside John Tavares for New York and Max Pacioretty for Montreal, who is driving the offense?
4. Pittsburgh Penguins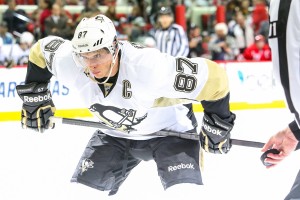 I won't deny that not having the Anaheim Ducks (best team points wise in the NHL) on this list is a bit of my Sharks fan bias. The Ducks are top heavy, have no discipline, and seem destined for another first round flop. You could make the case that the Penguins are the Eastern Conference version of the Ducks in that they are also top heavy. While it is hard to argue otherwise, they did just pick up a solid top-6 option in David Perron to add to the mix, Marc-Andre Fleury is having a bounce back after last year's playoff fiasco, and the defense is underrated. They have some talented defenders with Kris Letang, Christian Ehrhoff, Paul Martin, Rob Scuderi, Simon Despres and Olli Maatta when healthy. The Penguins are one of the only teams in the league right now with a top notch power-play and a top notch penalty kill. Anaheim does not have good special teams right now and are actually still worse than Pittsburgh at even strength. If there was ever a team leading the NHL that has no reason to be at the top, it would be this year's Ducks. The Penguins on the other hand are top notch in every situation and have a couple guys named Sidney Crosby and Evgeni Malkin, who I simply don't want to face in the playoffs. They haven't gotten very far recently in the postseason, but a motivated Crosby to get back to the Stanley Cup is not something I want to go up against.
3. Tampa Bay Lightning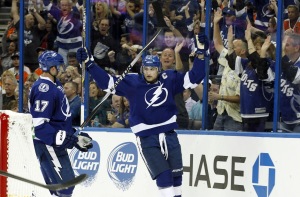 Originally I wasn't going to put the Lightning in my top-five but that was before taking a look at their individual Corsi numbers and roster makeup. This team is stacked across the board. Steven Stamkos, Tyler Johnson, Ryan Callahan, Nikita Kucherov, Ondej Palat, are all over 30 points up front, and that is not to mention other big name forwards like Valtteri Filppula and youngster Jonathan Drouin. There are also quality depth forwards like Brian Boyle, Brenden Morrow, and Alex Killorn. On defense Victor Hedman is a stud, but Matthew Carle, Jason Garrison, and Anton Stralman are also big time contributors on the back end. While goaltender Ben Bishop is only sporting a .911 save percentage, everyone knows he can be a monster between the pipes. He takes up so much of the net even when down in the butterfly. This team is deep at forward, deep at defense, and they are near the top of the Eastern Conference even with their power-play somehow struggling in the middle of the pack. With all that firepower, that team is bound to get the power-play going sooner or later. From top to bottom, the Lighting are the strongest and deepest team in the lesser conference. With Pittsburgh being a bit top heavy and Boston falling back this year, Lightning are the team to beat in the east.
2. Los Angeles Kings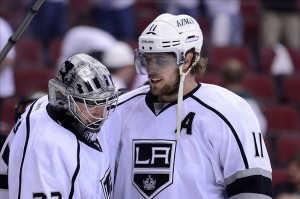 Their scoring may be down, their Corsi may be down, they are without Slava Voynov, and Dustin Brown isn't what he used to be. Two words? Big, whoop. They are still the Kings, and for some reason, like a cockroach, this team just won't ever die. Just recently the Kings scored three goals in the final two minutes of regulation to tie a game they were losing 6-3 and force overtime. A shocking comeback but nobody was surprised that it was the Kings who accomplished it. Los Angeles is the one team that seems to defy the trend of winning when scoring the first goal of the game. The Kings don't get rattled, they simply keep coming in waves. Even when overloading their top line as much as they possibly could with Marian Gaborik, Anze Kopitar and Jeff Carter, their next two lines weren't even half bad. Dustin Brown, Jarret Stoll, and Mr. Game 7 Justin Williams as a second line, and Tanner Pearson and Tyler Toffoli sandwiching Trevor Lewis on a third line managed to dominate the Sharks in a recent 3-1 victory. With Jonathan Quick always seemingly turning it up a notch in the playoffs, and the firepower on this roster, the Kings are still the second scariest team in the league. The Kings are like Derice Bannock in Cool Runnings when asked if the words "give up" mean anything and his response is "notta thing".
1. Chicago Blackhawks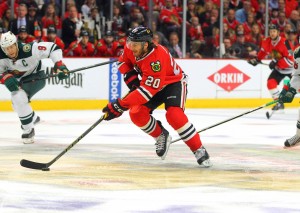 Depth, depth, depth, and more depth. There is a primary reason for the success of the Kings and Blackhawks in recent years and that is their ability to score no matter which line is on the ice. This year Chicago has a bit more depth than the Kings but they are the top two teams in the league, and it's really not even close. The Blackhawks, we all know about Jonathan Toews, Patrick Kane, Marian Hossa, Patrick Sharp, Duncan Keith and Brent Seabrook. However, what fans around the league may not realize is just how good some of their lesser known players have become. Brandon Saad is simply annoying for opponents to play against, he has plus speed and gets in on the forecheck helping create turnovers and time and space. Bryan Bickell hasn't lived up to the scoring output that netted him a nice new contract but he is still a huge body that can make an impact up front. Andrew Shaw as a third line center has struggled but is still an incredibly difficult player to play against. The list goes on and on, Kris Versteeg, in case anyone has forgotten, is back with the Blackhawks and providing depth scoring. Both Saad and Versteeg are over 25 points this season. Not to mention fourth liners Marcus Kruger and Ben Smith each finished with over 20 points last season. Brad Richards was brought in for cheap and has a solid 21 points, further adding to the best forward depth in the entire NHL. On the backside the salary cap did force Chicago to trade Nick Leddy but Johnny Oduya and Niklas Hjalmarsson are incredibly solid defensemen backing up Keith and Seabrook. The Blackhawks come at you in waves, and it is no surprise they lead the NHL in goal differential at plus-39. They are without question the best team in hockey.