Now that the holiday break is over, it's time to start thinking about the second half. The University of North Dakota hockey team enters the second half of the season with a 13-4-2 record. That's the best first-half record of Dave Hakstol's 11-year coaching career at UND.
This weekend, UND officially starts the second half of the season with an important two-game conference series against the UMD Bulldogs. That series could go a long way in determining the final standings in the National Collegiate Hockey Conference. A sweep for either team would be huge.
Based on their first half finish, UND appears poised to make a run in the second half. The sky is the limit for the 2014-15 UND hockey team "if" they can get a few things to break their way.  Here's a few of the reasons UND has a chance at success in the second half.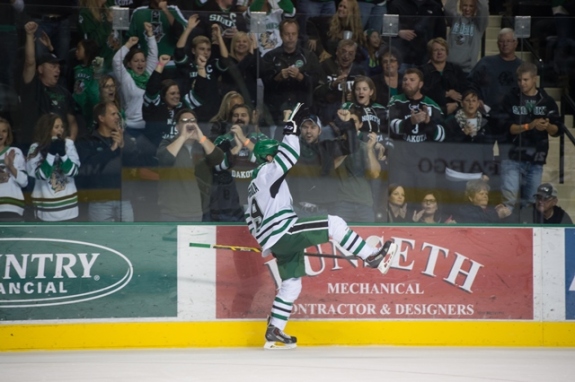 The play of the Cagguila, MacMillan and Parks line
The forward line of Drake Caggiula (8g-14a—22pts), Mark MacMillan (8g-7a—15pts) and Michael Parks (6g-14a—20pts) is one of the top forward lines in the country. Forwards Caggiula and Parks are ranked first and sixth respectively in the NCHC for points.
During the first half of the season, UND's top line did a majority of the heavy lifting. To be successful in the second half UND is going to need more balanced, secondary scoring from their other three forward lines. UND is also getting a lot of production from their D-Corps. UND's defense is ranked second in the nation in points by defensemen.
UND needs to get more balanced scoring. There are a couple of forwards that are going to need to pick it up. One of those forwards is Luke Johnson. Through 18 games last season, he scored (4g-8a—12pts). This season, through 19 games, Johnson has scored (4g-5a—9pts).
If UND can get more secondary scoring, they "should" fare well in the second half.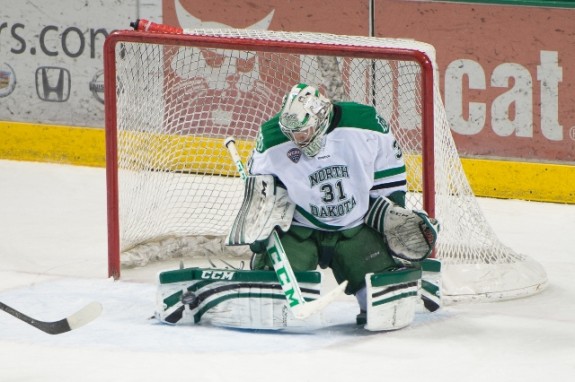 Goalie Zane McIntyre solid between the pipes for UND
One of the reasons for UND's quick start during the first half has been the play of junior goalie Zane McIntyre (13-4-2, 1.95 GAA and a .929 SV%). The junior goalie is ranked first in wins, third in goals against average, and second in save percentage.
McIntyre has been a real work horse for UND during the first half of the season and has played 1106:41/1154:53 minutes. That translates to 95.9 percent of UND's minutes. That's a pretty impressive feat. McIntyre is ranked eighth nationally for minutes played.
Nationally, McIntyre is ranked seventh in saves (473), 19th in goals against average, 18th in save percentage.
During his first two seasons at UND, McIntyre started slowly and improved as the season went on. This season's start has been different. If McIntyre can improve on his first half numbers, good things will happen for the UND hockey team.
McIntyre must remain healthy if UND is to remain in the race. In his two appearances freshman goalie Cam Johnson has looked very shaky (0-0-0, 5.54 GAA, and a .765 SV%). If McIntyre was to miss an extended amount of playing time it "could" be fatal for UND.
Finally, if you're a UND hockey fans, there's much to be enthusiastic about going into the second half of the season. There is however, a lot of work to be done. Nothing has been accomplished yet, and there are no awards for first half finishes.