The Chicago Blackhawks' training camp has been in session for a full week now. There's just a few more days to go before their first matchup of the season against the Tampa Bay Lightning on Jan. 13. It's been a strange camp indeed, especially with the absence of captain Jonathan Toews due to a medical condition. But the show must go on. There's definitely been a youthful flavor to the proceedings, but veterans such as Patrick Kane and Duncan Keith are also present and appear to be fully committed. Here are five key observations from training camp so far.
5. Blackhawks' Lines & Pairings
It's always fascinating to watch the competitions for a spot on the opening night roster. This year has been especially interesting based on how many spots are available. As previously mentioned, Toews is out and there is no timeline for his return. The Blackhawks will also be without the services of Kirby Dach (wrist) and Alex Nylander (knee) for most, is not all, of the 56-game season.
Related – Blackhawks News & Rumors: Shaw, Keith, Crawford & More
While it's typical to see players battle to squeak into a bottom-six forward or defensive position, this season things are wide open. There are plenty of slots available throughout the lineup. And numerous youngsters are vying for spots. Here's a look at the most recent lines and pairings from Saturday's practice.
Alex DeBrincat-Dylan Strome-Patrick Kane
 Brandon Pirri-Lucas Wallmark-Dominik Kubalik
Mattias Janmark-Pius Suter-Andrew Shaw
 Matthew Highmore-David Kampf-Ryan Carpenter
 (Extras: Reese Johnson, Philipp Kurashev)
 Duncan Keith-Connor Murphy
 Calvin de Haan-Ian Mitchell
 Nicolas Beaudin-Adam Boqvist
 Anton Lindholm-Lucas Carlsson
 Malcolm Subban & Collin Delia
Blackhawks' Offense
Head coach Jeremy Colliton seems set on DeBrincat, Strome and Kane as his top line. They've been one of the most consistent lines throughout training camp. This comes as a bit of a surprise, since this trio is a bit of a liability defensively. But Colliton must feel their offensive production will make up for that. While I foresee this changing as we go along, look for these three to start the season together.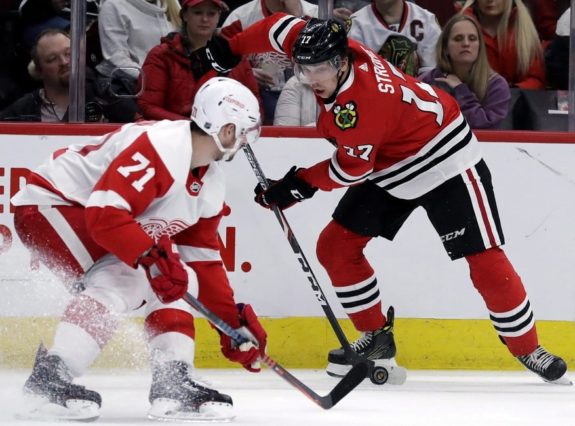 Wallmark has impressed in camp, and is definitely in consideration at center. As advertised, Suter is a skilled player that should factor in right away. He could also potentially slot into a center spot. Colliton confirmed it would be "really nice" if he could utilize Suter at center.
Like the top line, the fourth line of Highmore, Kampf and Carpenter has been together for most of camp. This defense-minded line played together at the end of last season, as well as in the playoffs. Colliton appears to like how they work together, and he trusts them to pick up where they left off.
Related – Blackhawks Banter: High-Powered Top Line, Center Depth & Predictions
It's interesting to see 29-year-old Pirri in consideration on a team that is notably going younger this season. And it's a bit of a surprise that Reese Johnson and Philipp Kurashev are being considered before someone like Brandon Hagel, who many thought was a top prospect to make the team. We shall see how this all plays out over the next few days and weeks.
Blackhawks' Defense
Moving on to defense, Keith and Murphy made and excellent top pairing in the playoffs. Like with the top forward line, it makes sense for Colliton to start out the season with these two trusted blueliners.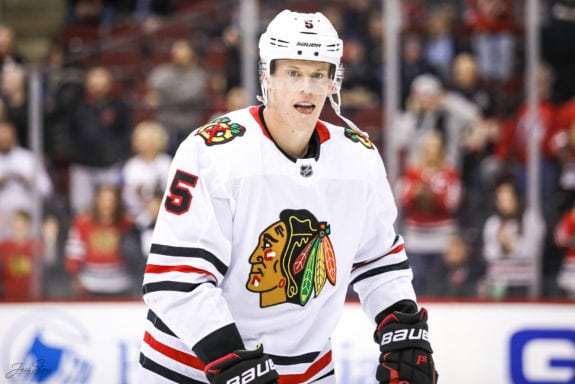 De Haan looks to be the veteran mentor to young Mitchell. And Beaudin is probably a place-holder for Nikita Zadorov, who's been unfit to practice the last few days. Hopefully he will rejoin the team soon. Defense-minded Zadorov could fit the bill to mentor and complement the more offense-minded Boqvist.
But don't count Beaudin out. When asked about the biggest surprise player of training camp, Colliton named the 21-year-old as someone who has taken a noticeable step in his development. Finally, it's nice to see Carlsson in the mix. The defenseman suited up for six contests with the Blackhawks last season and didn't look out of place.
Blackhawks' Goaltending
It's been hard to tell much in training camp regarding who has the edge in goal. After so many months off, the goaltenders are all simply working on their timing and trying to get back up to speed. Delia and Subban have an advantage over Kevin Lankinen, because Lankinen wouldn't have to clear waivers to be put on the taxi squad or sent to the Rockford IceHogs.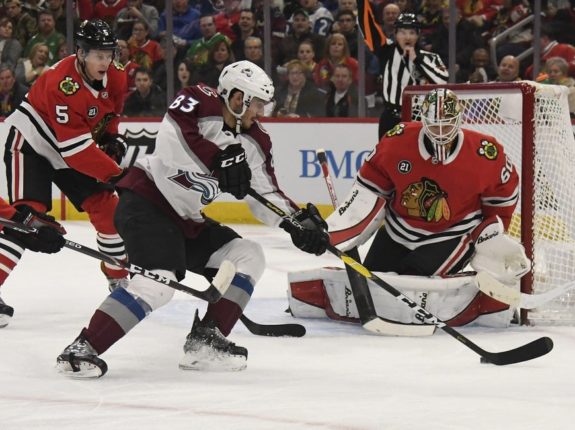 I'm guessing Delia and Subban will be the two goalies to make the roster and play. This season's rules state the team must carry three goaltenders at all times. I could see Matt Tomkins on the taxi squad as insurance so Lankinen can play more in Rockford. But Lankinen should get a handful of games with the Blackhawks this season as well.
4. The Taxi Squad
Speaking of the taxi squad, the NHL is allowing four-to-six extra players beyond the 23-man roster this season to travel and practice with the team. The idea here is that with a condensed schedule there will be more injuries. And there's also the consideration that teams will be dealing with COVID outbreaks. A taxi squad gives them more flexibility for these unforeseen events.
Related – Corey Crawford's Retirement Leaves Legacy With Blackhawks
General manager and president of hockey operations Stan Bowman expounded on how the team may utilize the taxi squad in a recent interview with Mark Lazerus of The Athletic. Said Bowman,  
There's going to be no American League (AHL) for another month from now. So at least early in the season, it makes sense for your taxi squad to be younger players. I don't know if it'll be that way all year. You do want those guys playing. But in the short term, our taxi squad's going to have probably a younger flavor.

Once the American League does start, then we're going to have to make a decision on how long do you want a guy on there… If we don't see those taxi squad players ever getting in a game, then we might switch out our taxi squad.

(from 'Stan Bowman talks Jonathan Toews' timetable, Brent Seabrook's status and more', The AthleticCHI – 1/6/21)
It sounds like there could be a lot of shuffling back and forth between Chicago and Rockford this season. And it's still unclear how that will work with quarantining regulations. It will certainly be a juggling act to try to get the most value to each individual. But it should also give more players an opportunity for exposure with the big club.  
3. Power Play Progression
Besides numerous scrimmages to try to emulate game conditions, the Blackhawks have been focusing on their power play in the later stages of training camp. Here are the most recent power play units:
PP1: Strome, Shaw, DeBrincat, Kane, Boqvist
PP2: Keith, Pirri, Wallmark, Kubalik, Suter
For the first unit, Boqvist is on the point and Shaw is the net-front presence. For the second unit, Keith is on the point and Suter is the net-front presence.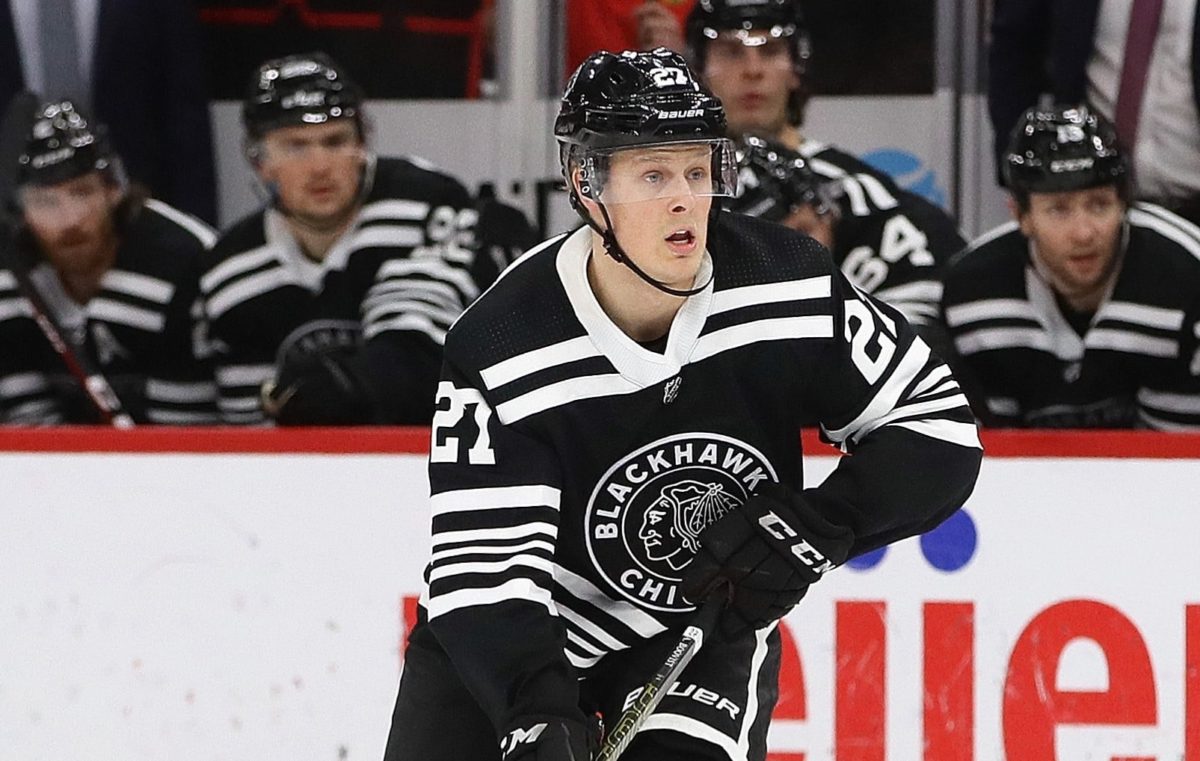 Colliton also indicated he wants to formulate different identities for the two units.
We're trying to build two [units] that are equally dangerous and maybe a little different setup, different feel,'' Colliton said. ''That group with Boqvist, they're trying to have more of a movement power play — some interchanges, different players moving in different positions to create mismatches and passing lanes. Whereas the other group will probably be more of a shooting power play.

(from 'Blackhawks notebook: Power-play units debut, COVID-19 caution abounds', The Chicago Sun-Times – 1/8/21)
The jury is still out on how this concept plays out in real-game action. In the past, Colliton has leaned heavily on his first PP unit. But it sounds like he has a definitive plan, and some good fire power, for the second unit as well. Let's hope they can find some success!
2. Seabrook, Soderberg Blackhawks' Absentees From Camp
Two notable absences from training camp are defenseman Brent Seabrook and forward Carl Soderberg. Neither player has been present since Day 1, although both are for different reasons.
Seabrook's absence continues to be a mystery. He was declared "unfit to participate" on the first day, and there have been no updates since. Is Seabrook dealing with an injury? Has he had a change of heart about returning to play since his surgeries?
Remember, he participated in the training camp in Jul. 2020 before the playoffs. He also expressed excitement about training camp when he spoke to The Athletic in November. Hopefully we will have more of an explanation regarding Seabrook at some point this week.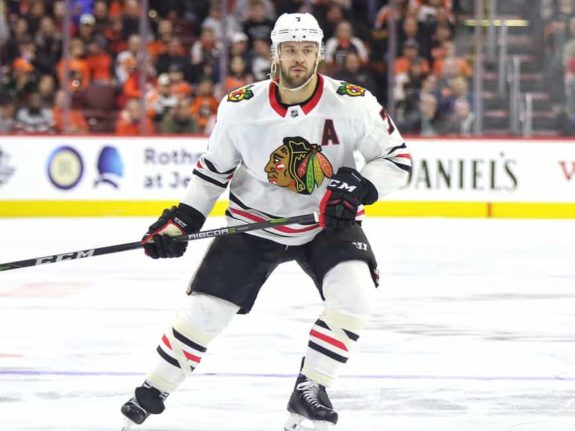 Soderberg, on the other hand, is delayed due to immigration issues as he attempts to get to the states from Sweden. Again, there has been no update on his status. The 35-year-old played with the Arizona Coyotes last season. He should be a welcome addition to the Blackhawks, who are sorely lacking depth at center. But as this point it appears they might have to start the season without him. Hopefully he can join the team and get up to speed sooner rather that later.  
1. Blackhawks' Mentality for the Season
As we all know, the Blackhawks aren't expected to be very good this season. They're without numerous star players, forcing them to rely on their talented but also very inexperienced youth. They have three highly unproven goaltenders between the pipes. With all that in mind, the team is focusing on a new mentality this season in an attempt to stay competitive.
Bowman touched on this, as he told Mark Lazerus in The Athletic article cited above.
The path forward for us is we're not going to just out-skill and out-talent the other team. We're going to have to play a smart, competitive, relentless game. That's our ticket to success…at the end of the day, it's still going to come down to who wants it more. Even if a team has an advantage in the skill area or in the high-profile players, you can neutralize that with your competitiveness.
In other words, no short cuts. Just pure and simple hard work. This is what Colliton has been preaching all along. Unlike former Blackhawks' head coach Joel Quenneville, Colliton has never had the luxury of a stacked lineup. In Sweden he was hired to get the most out of a rag-tag, underfunded team, and he did. In Rockford he was tasked with developing his young players, and he led them to the Calder Cup Western Conference Final for the first time in franchise history. Now, Colliton will use that same mindset of a strong work ethic to attempt to make the most of this challenging season.
Fourth line veteran Carpenter also reiterated this mindset in a recent interview.   
Ryan Carpenter: "Our (team defensive) identity needs to continue to improve. In the past, they talked about how they could rely on their skill, but now we have to rely on our team being competitive and out-working other teams."

— Mark Lazerus (@MarkLazerus) January 8, 2021
It appears Carpenter has bought in. We've seen from the Blackhawks' competitiveness on the ice at the end of last season that the team as a whole has been working on adopting this attitude. It's not going to be easy, but the Blackhawks appear committed to putting in the hard work this season. Let's see how far it gets them.
---
It certainly has been an intriguing training camp for the Blackhawks, with lots of new faces on this rebuilding team. There's still a few more days of practices and scrimmages to sort out the opening night roster. The season starts this Wednesday, Jan. 13, in Tampa Bay. The Blackhawks will get thrown straight into the fire, as they take on the defending Stanley Cup champion Lightning for their first two tilts. Keep it here at The Hockey Writers for more coverage as we embark upon the 2020-21 campaign!
---
Looking for more Blackhawks content? Tune in to our YouTube Channel for Blackhawks Banter every Monday night at 7:00 p.m. CST (8:00 p.m. EST), or on our Facebook Page. Episode 9 is featured below.