The Finns beat the Russians in Russia, again. With a win in Saturday's World Championship semifinal match, Finland is heading to the gold medal game. It's a heartbreaking loss for the home team. That's especially true because it was the Finns who ended Russia's bid for a gold medal at Sochi and the building was raucous when Sergei Shirokov scored the first goal of the game.
However, after the Shirokov goal, Finnish goaltender Mikko Koskinen shut the door, stopping 28 of 29 shots. Finland scored three unanswered goals to push themselves to the next round.
This puts Finland in a position to make history. They would be the first team to win the World Junior Championship, U-18 World Championship and World Championship in the same year.
1. Finland's Youth is Sparkling
There's no avoiding the fact that this is the story of the country's year in international hockey. There's a ton of young NHL talent in guys like Aleksander Barkov, Esa Lindell, Mikko Rantanen, Mikael Granlund, and Teemu Pulkkinen, but there's a huge class of even younger players making an impact internationally.
Jesse Puljujarvi, Sebastian Aho and Patrik Laine were dominant in at World Juniors. As were others like Olli Juolevi, Aleksi Saarela and Kaseperi Kapanen, which leaves out some great players from the U-18 team like Jusso Valimaki, Urho Vaakanainen and Kristian Vesalainen.
http://gty.im/533193854
The youth is making an impact at the World Championship too. Aho scored two goals Saturday, and Laine put a beautiful pass on Jussi Jokinen's stick for what wound up being the game-winning goal. Laine was also named one of Finland's three tournament MVPs, along with Koskinen and Mikael Granlund.
There's no doubt that Finland is in a golden age of development that will have them as a team to beat for years to come.
2. Russia's defense is preeeetty not good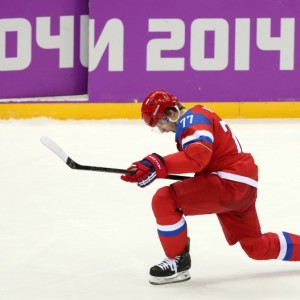 It's a problem for the national team at the World Championship; it will be a problem
at the World Cup
. The Russian defense is thin. Slava Voynov was named the team's best defenseman, and he was. But a big part of that praise was the lack of talent on their blue line.
He was out there in key situations, but he shouldn't be a number one defenseman in best-on-best play. Dmitry Orlov looked good in spurts, as did Anton Belov. But they didn't hold the blue line in the offensive zone that well, and the blue line was frequently the source of mistakes.
It was a reason that Finland was able to make the most of limited opportunities, scoring their first goal on just their fifth shot of the game, which came in the second period. Yes, they limited Finland to just 16 shots, but too many mistakes — and the poor play of Sergei Bobrovsky — spelled defeat.
The weak defense may also be an explanation for the Russians playing chip and chase. It's not a style you see from the Russian national team. Potentially, it could have been the game plan with Finland having some quick players who could cause trouble during quick transitions if a carry-in failed, leaving a mediocre defensive group vulnerable.
3. What was Russia doing on the power play?
With the firepower they have offensively, the power play should have been where Russia made Finland pay. Their top unit featured Alex Ovechkin, Evgeni Kuznetsov, Pavel Datsyuk, Sergei Mozyakin and Voynov.
It should be a dangerous unit, but it wasn't dangerous enough. It was a strange set up, with Voynov and Ovechkin playing defense. The idea appeared to be that Datsyuk centering Kuznetsov and Mozyakin could move the puck well and create chaos down low, allowing Ovechkin to drop down to the circle on the weak side and take the one-timer that everyone is pretty familiar with.
Laine on Ovechkin hitting him "I think I won't ever wash this jersey"

— Ryan Rishaug (@TSNRyanRishaug) May 21, 2016
Ovechkin at times stayed out for a double shift, and they just couldn't get anything going. He wasn't a threat and the coaching staff didn't adjust quickly enough to make the most of having the player who is probably the world's best threat on the power play (though he's not been great at Worlds).
The Russians have struggled on the power play throughout the tournament. It is ranked 10th with a 19.5% success rate.
4. Should Koskinen be getting a look from NHL clubs?
One big reason Finland is advancing is a great performance from SKA St. Petersburg goaltender Koskinen, who has a .941 save percentage in the tournament. That's the best save percentage of any goaltender who has played in at least five games.
Still a reserve player for the Islanders, Koskinen spent just three seasons in North America, grabbing four games with the Isles during the 2010-11 season. The rest of that season was spent with the Bridgeport Sound Tigers where he had a .892 save percentage through 36 games.
Since moving to the KHL in the 2013-14 season, he's been good. The 27-year-old posted a .915 save percentage through 41 games this year, and followed it up with a .949 through 15 postseason games.
The Isles suddenly have goaltending depth, so that may make it hard for Koskinen to get a look again. But could he get a look if the Islanders make a trade? Would another team trade for him? He's been good and has repeatedly shown up for big games.
It's not likely that there's been any interest, or at least enough interest to tempt Koskinen. He just signed an extension with St. Petersburg and doesn't look like he'll be heading to North America any time soon, outside of potentially grabbing the one open Finnish goaltender spot for the World Cup. Nonetheless, a performance this good makes you ask if he's gotten any attention?
Now, Finland moves on to face the winner of the U.S. vs. Canada game. They'll play for gold at 1:45pm ET on Sunday.
Dustin Nelson writes about news and the Minnesota Wild for The Hockey Writers.