Monday night in Vancouver, the Florida Panthers lost in overtime, 3-2. The loss came exactly thirty days after their last defeat, a 3-1 loss in Boston on December 12. In between, the Panthers won twelve consecutive games. It's the longest winning streak in franchise history, and is now tied for ninth-longest win streak in NHL history. Now that the streak has come to an end, what can we learn from it? Here are five thoughts on the subject:
Are the Florida Panthers Playoff Bound?
Playoffs? Playoffs. The streak vaulted the Cats to the top of the Atlantic Division and, as of their fortieth game of the season (a 5-1 drubbing of Buffalo on January 5), into the playoffs. No, they won't mathematically clinch their spot in the postseason before March, but history and statistics indicate this team is IN as of now. Currently, Florida sits six points ahead of second-place Detroit and ten points ahead of fourth-place Boston in the Atlantic. The NHL playoff format, in which the top three teams in each division clinch postseason berths, makes the Panthers a virtual lock, as the odds of them being passed in the standings by Detroit, Montreal AND Boston are slim-to-none. In short, it's time for Florida GM Dale Tallon to start reserving dates at the BB&T Center after April 9 and to solicit designs for playoff tickets, because it's really happening this year.
"The Fans, Elwood! The Fans!"
"Joliet" Jake Blues was referring to a band, but Florida management could say the same thing about the impact of the Cats' win streak on attendance, television ratings and overall sports fan excitement in SoFla. Before the streak began, average attendance in Sunrise was 12,951. Wins four through nine of the streak took place at home. Attendance at those six games averaged 16,739, including 16,902 for a Sunday night tilt against lowly Columbus (on the same day as a Miami Dolphins home game, no less). The streak boosted Florida's average home attendance to 14,033.
Fans in Florida have apparently been interested enough to tune in when the Panthers hit the road, too:
#PanthersTVRatings: @FlaPanthers viewership on @FOXSportsFL jumped +83% over the season avg during the 12 game win streak. #CatsAreComing

— FOX Sports Panthers (@FOXPanthers) January 12, 2016
And they were undeterred by the late start times of West Coast games:
#PanthersTVRatings: A streak of our own. Even w/ #LateNightWithTheCats, last night's win in Edmonton makes 6 straight for most watched games

— FOX Sports Panthers (@FOXPanthers) January 11, 2016
As a witty and ruggedly handsome scribe wrote back in October, the Florida Panthers must win to pack 'em in. So far, so good…
So Good, They Can Win Without Even Touching the Puck
Whether you call it Corsi or SAT, it's a measure of puck possession. By any measure, the Florida Panthers are underwater in this department. Puck possession has been an issue for Florida all season. Before the streak began, the Cats' Corsi at even-strength was 47.2%. After an incredible 12-0-1 run? 47.3%, a disconcerting 26th in the NHL (stats courtesy of war-on-ice.com). During the streak, the Panthers were outshot in seven of twelve wins. Though splitting up the defensive tandem of Willie Mitchell and Erik Gudbranson has helped their individual possession numbers, that pair was merely the tip of Florida's Corsi iceberg: Only Brian Campbell, Aaron Ekblad, Jaromir Jagr and Jussi Jokinen are at or above 50% at even-strength.
What they lack in puck possession, however, the Panthers make up for with outstanding team defense. Cats clog passing and shooting lanes as a matter of routine. When an opposing player does get a shot on goal, any rebounds are immediately swept away by Panther defenders, denying second-chance scoring opportunities. It's an efficient system, but the inability of Florida's forwards (with the exception of the elite Huberdeau-Barkov-Jagr line) to maintain puck possession and generate sustained offensive pressure means the puck spends an awful lot of time below the Panthers' blue line. Fortunately, they've got a couple of real criminals down there.
Butch and Sundance in Sunrise
Roberto Luongo:  34 GP, 19-11-4, 3 SO, 2.08 GAA, .930 Save Percentage.
Al Montoya:  10 GP, 7-1-1, 0 SO, 1.62 GAA, .940 Save Percentage.
Just a pair of world-class thieves, robbing world-class forwards blind every single night. Is it sustainable? Not for more than a season. But for one magical, glorious season…yes, it IS sustainable (just ask Devan Dubnyk or Andrew Hammond). If they can keep it up, the duo might share the William M. Jennings Trophy, and Luongo could, at long last, bring home the Vezina. As with rising attendance, so far, so good…but still so far to go. Taking some of the pressure off the Panthers netminders wouldn't hurt.
Where do the Panthers go From Here?
Recently, Dale Tallon expressed a desire to boost Florida's scoring. Could a trade be brewing? Per George Richards of the Miami Herald, Tallon has a couple of stipulations:
#FlaPanthers Dale Tallon on TO's @TSN1050Radio : We're not going to mortgage our future for a quick fix. Sticking w/ young guys right now.

— George Richards (@GeorgeRichards) January 12, 2016
Before you try to twist Tallon's words and assume he would mortgage the Cats' future for a long-term solution, read this:
#FlaPanthers Dale Tallon on TO's @TSN1050Radio : We're going to look at every possibility at deadline; doesn't want to impact longterm

— George Richards (@GeorgeRichards) January 12, 2016
The Panthers currently have about $6.76M in cap space, but they'll have some big names to re-sign over the summer: Barkov, Gudbranson and Trocheck (among others) will be RFAs, while Jagr, Campbell and Montoya (among others) will be unrestricted. If maintaining cap flexibility going forward is top priority, then a trade for Columbus Blue Jackets winger Scott Hartnell, who has three years remaining on his current contract at $4.75M per, isn't going to happen. That's too bad, because he's exactly what the Cats need: a puck possession-driving forward who gravitates to the greasy areas of the ice.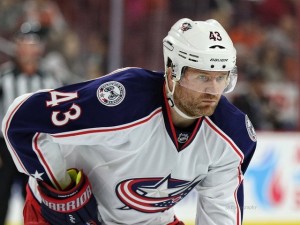 If Tallon is merely looking for a rental player who can drive possession, two names come to mind: Loui Eriksson and Eric Staal. As the trade deadline approaches, "rental fees" may fluctuate in line with playoff hopes in Boston and Carolina. From his perch atop the Atlantic Division, the Panthers' general manager can wait and see what develops. While he waits and watches, Tallon must ponder one key question: How much am I willing to pay to win a playoff round (or two)?