Normally when a team is sitting at the top of their division after a large chunk of the season, there is no pressing need to improve their roster. These are not normal times at the Staples Center. The Los Angeles Kings are the first place team in a pretty putrid division, and as this site has already covered, they might be worse off in the playoffs for winning it. Plus, there is no "happy to be here" narrative to be found. That ship sailed well before the two Stanley Cup banners were raised to the rafters. The Kings are in it to win it, and anything else will be a failure. In the words of Izzy Mandelbaum, it's go time.
As any Kings supporter or hockey fan with NHL trade tracker can attest to, Los Angeles is no stranger to the big deadline acquisition. Jeff Carter, Marian Gaborik, and the Columbus Blue Jackets garage sale specials have been very good to the Kings offensive punch, but this year it's the defense that needs bolstering. Drew Doughty is as bonafide as a #1 defenseman can be, and the trio of Alec Martinez, Brayden McNabb, and Jake Muzzin are serviceable options with grit and experience. But the well dries up quickly on the blue line after that. Could the Kings thrive with what they have in the playoffs? Maybe, if everything breaks right (and Christian Ehrhoff realizes that every game matters). In a rigorous sport with such a violent postseason, the odds of everyone remaining upright are about as likely as "Steve Harvey Appreciation Day" in Columbia.
Here are the defenseman I would target in a trade if I was a member of the Kings front office. This list is my blend of speculation and practicality, and might not include the players you think it will. But each is a solid option, and each would help the Kings quest towards Cup #3. Starting with:
Dustin Byfuglien – Winnipeg Jets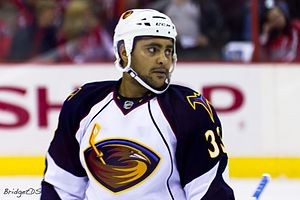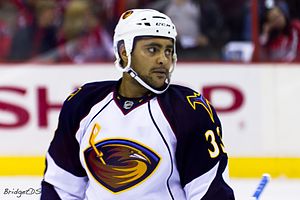 Big Buff in a Kings sweater? Sign me up pronto. It's important to note that the Kings have around $3.1 million in cap space, and depending on which players that would ship away that number can increase. Dustin Byfuglien is in the final year of a deal that pays him about $5.2 million a season, and the Jets are not entirely committed to bringing him back. With 21 year old Jacob Trouba's impending free agency hanging over Winnipeg like a black cloud, it's clear where the priorities lie up north. The Jets have two defensemen (Tobias Enstrom and Tyler Myers) locked into long term deals at high prices, and barring a bombshell trade will likely be adding Trouba as a third. Byfuglien appears to be the odd man out.
And to be abundantly clear, Byfuglien could be exactly what this Kings defensive core needs. Assuming Dean Lombardi can work his magic without giving up any of his current top four d-men, Big Buff would add physicality and shooting overnight. If there's one knock on this unit it's their lack of scoring potential, something Byfuglien is known for as a former forward himself. He's big, he clears space, and he won't back down from a confrontation. The fans in L.A. will enjoy every second of it.
Kris Russell – Calgary Flames
Similar to Mr. Byfuglien, Kris Russell is a defenseman that finds himself on the wrong end of a numbers game. Russell made his name in Columbus, got lost in St. Louis, and rebuilt his reputation into that of an elite shot-blocker in Calgary. Shane Falco told us that chicks dig scars, and Kris Russell certainly has plenty of them.
The Flames are starting to play better this season, but are likely going to be staring from the outside at the playoff picture. With Mark Giordiano, Dougie Hamilton, and T.J. Brodie making over $17 million a season over the next five years, it's clear that Russell will be the one to hit the open market should he finish the season in Calgary. The Kings could use his shot blocking ability, his work on the penalty kill, and his smooth strides to deepen their defensive unit. And at $2.6 million a year, he wouldn't cost nearly as much as other options.
Michael Del Zotto – Philadelphia Flyers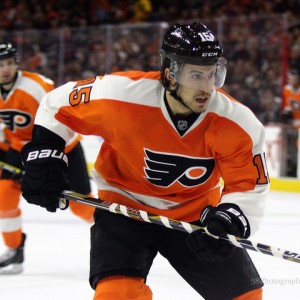 A theme I look at in potential trade targets are struggling franchises in the short term. The Philadelphia Flyers do not appear to have the word "playoffs" written in their magic eight ball, but the future looks exceedingly bright in some areas. Sadly goaltending has still not been one of them, but young defenseman Shayne Gostisbehere has emerged as a long-term piece on the blue line. Given the current state of their offense, I expect the Flyers to move one of their current defensemen at the deadline.
There's a few options the Kings could pursue here if they are willing (Schenn, Medvedev), but the guy I would go with is Michael Del Zotto. His struggles, his successes, and his of-ice romances have been legendary, but lost in the media coverage has been a player who has steadily imporved his game. Del Zotto is still relatively young, and could benefit from playing alongside Doughty (like 99% of the league). As a King, look for Del Zotto to continue to enhance his overall performance and be a factor on both the penalty kill and power play units. And if that doesn't work, there's always a TMZ reporter a stone's throw away.
John Michael Liles – Carolina Hurricanes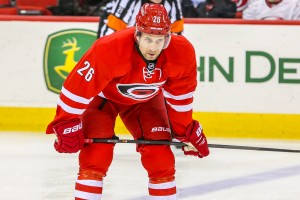 There are fewer things more certain than the Carolina Hurricanes flailing aimlessly towards the lower tier of the Eastern Conference standings. The Hurricanes have been a mess this season, and are on the verge of a major youth movement that starts on the blue line with rookie Noah Hanafin. It will be several years before Carolina is competitive, and I expect the front office to move several veterans and/or blood brothers that will not be major players in the long run.
I don't think it's a stretch to expect John Michael Liles to be a sought after commodity at the trade deadline. He's 35 years old, is playing out the final year of a semi-affordable contract ($3.875 million), and has been a solid member of a team in utter chaos. Liles is the type of player that can help a team in "win now" mode, and the Kings certainly fit that bill. He is a versatile player that can kill penalties and run the power play, and is no stranger to a good old-fashioned skirmish. This obviously wouldn't be the Kings first choice, but it's a low risk situation with the potential to pay off huge. Veteran defenseman get moved every deadline (L.A. added the artist formerly known as Sekera last year), and a player with the big game experience that John Michael Liles has wouldn't be the worst acquisition in the world. Plus, he's got the catchy three name thing down pat.
John Moore – New Jersey Devils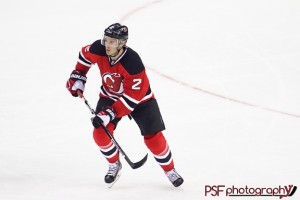 Every list has a sleeper pick, and mine is an unheralded defenseman playing in the garden state. John Moore began to make a name for himself for the New York Rangers, but suddenly he was traded as a piece in the Keith Yandle blockbuster deal. Moore has since landed in New Jersey, helping the Devils stay surprisingly relevant with his imposing 6ft 3' frame and defensive zone presence. New Jersey is a borderline playoff team, but could be on the verge of taking a few steps back in the standings. Did they overachieve, or are they really this good? The answer to that question will likely determine if the Devils are willing to part with some young members of their roster.
At the verge of turning Moore into a traveling suitcase, I think the Devils would be willing to deal him for the right combination of draft and player compensation. Moore's contract is next to nothing ($1.67 million), and he has never gotten the chance to play big minutes on a contending team. If traded to the Kings, I think pairing Moore with Doughty could be intriguing to say the least. His game is very no-nonsense and straight forward, and could be the perfect complement to Doughty's free wheeling offensive style. Considering John Moore would be a wise move for L.A. this upcoming March.
The Kings are a good team, and one that is close to having all the right pieces to make a deep postseason run. But being close doesn't amount to anything in the National Hockey League, and the best executives find the right trade targets to turn great teams into greater teams. One of these five defensemen could be the target to do just that in Los Angeles.