Without question, a tried-and-true franchise center is one of the most sought-after commodities in the NHL. If recent reports are true, the Los Angeles Kings won't have to worry about that specific issue for another eight years.
Kopitar's contract extension discussed on HNIC
Last Saturday, Sportsnet's Elliotte Friedman reported on the finalization of a new 8-year contract between the Los Angeles Kings and star center Anze Kopitar. While negotiations haven't always moved along smoothly, it appears that a deal between the two sides is close to completion.
One of the hangups was believed to be a no-move or no-trade clause. But whatever the solution is there, we understand it's been reached, and it's no longer an issue. (Friedman on Hockey Night in Canada, per Sportsnet).
Details of possible contract terms
John Hoven of Mayor's Manor has cited "multiple sources close to the negotiations" with respect to likely contract terms, which he tweeted out last month:
Update on Kopitar talks – told by multi sources close to situation, currently around 8yrs @ $9.75M (remember, can only get 7yrs on open mkt)

— John Hoven | The Mayor (@mayorNHL) November 23, 2015
Where there's smoke, there's fire. Others are reporting on probable terms as well:
LA #Kings Anze Kopitar is set to receive a massive extension close to $80 Million dollars over 8 years! Does this… https://t.co/S7tbKe0CKq

— John Gomez (@RealJohnGomez) December 18, 2015
Report: Anze Kopitar 'very close' to massive 8-year extension with Kings. https://t.co/XJ8Gk8pMU9 pic.twitter.com/dXTPlecWoi

— theScore (@theScore) December 18, 2015
https://twitter.com/redditsportsbot/status/677660281477210116
It is widely believed that Kopitar's new contract will carry a cap hit of $9.75 million, nearly $3 million higher than his current expiring deal. If so, he would rank just behind Chicago's Patrick Kane and Jonathan Toews (each averaging $10.5 million) among the highest-paid players in the league.
Can the Kings afford him?
As of this writing, the Kings have $1.019 million of available cap space. However, a new Kopitar contract wouldn't kick in until next year, so we'll shift to next season. How much room do the Kings project to have?
The 2016-17 salary cap
For starters, it depends upon how much the cap goes up. NHL Commissioner Gary Bettman has gone on record indicating the salary cap could increase by $3 million next season. By itself, that would absorb the projected increase in Kopitar's cap hit.
However, that doesn't account for increases due to impending free agency.
Free agents
Looking at next year's contracts, the Kings have a relative amount of cost-certainty. Just Jordan Weal, Derek Forbort and Brayden McNabb are scheduled to become restricted free agents, and only Kopitar, Milan Lucic, Trevor Lewis, Christian Ehrhoff and Jamie McBain are slated to be unrestricted free agents.
McNabb is likely to earn a significant new contract, as he averages 21:05 of ice time per game, is 29th in total hits and 102nd in blocked shots. Assuming he stays with the Kings, his new deal could eat up the majority of the increase in cap space, as he's making just $675,000 this season. Weal and Forbort aren't key components to the team right now and, if re-signed, won't add significantly to the salary structure.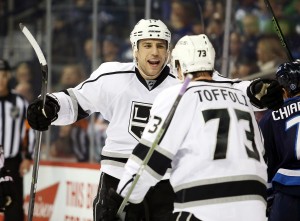 As for the unrestricted free agents, that's where the toughest decisions will be made, and it all starts with Milan Lucic.
The Kings paid a big price to obtain the big winger this past offseason, sending the 13th overall pick along with goaltender Martin Jones and prospect Colin Miller to the Bruins for Lucic. As part of the deal, Boston agreed to retain $2.7 million his salary, making his cap just $3.25 million for the Kings. Needless to say, that expires after this season.
Will the team try to re-sign Lucic? Given the high price and his 21 points so far this year, it would seem likely.
Los Angeles Kings :: Kings to discuss extension with Lucic https://t.co/0z1n7GgSK0

— The Fourth Period (@TFP) December 11, 2015
Can they afford him? Certainly not at his overall $6 million cap figure. At the time Lucic signed his last contract, he was coming off two consecutive 60-point campaigns, winning a Cup in 2011. Since then, his production has fallen slightly, although his advanced stats have remained consistent.
Assuming Lucic signs for something around $5 million, the team re-signs its existing restricted free agents for no more than $3.5 million in additional cap space and Christian Ehrhoff isn't retained, Los Angeles should be able to juggle their priorities while at the same time fit in Kopitar's new contract. One way or the other, they're going to have to figure it all out.
Is Kopitar worth it?
Kopitar's production has been on a downward arc over the past one-and-a-half seasons. After reaching 70 points for the fifth time in 2013-14, he generated just 16 goals and 48 assists last year, his lowest output since his rookie season. So far this year, he's on pace for 22 goals and 27 assists — hardly the production expected of a $9.75 million player.
Free agency is a gamble, and re-signing your own star players represents a bit of a conundrum. Although I've repeatedly stated that the Kings should try to sign him to a five-year deal, the reality is if he doesn't agree to terms in Los Angeles, he'll quickly find a home at his price somewhere else. Furthermore, he's frequently in the Selke conversation, is a two-time Cup winner and a fan favorite to boot.
If his statistics approach his career averages, there's no question he's worth the price. The concern, of course, is that he approaches the age of 30, his numbers follow the trajectory of Dustin Brown, who is universally considered one of the most overpaid players in the league.
Regardless, the rewards outweigh the risks. General manager Dean Lombardi must retain his franchise center or the team risks suffering irreparable harm. Look for an announcement early next year with respect to Kopitar's new contract.
What do you think? Is Kopitar worth an 8-year contract in the neighborhood of $78 million? Leave your thoughts below, or message me @McLaughlinWalt.