With the Sharks current playoff hopes on life support, it is never too early to look into what needs to change come next season. San Jose has a number of established veterans (older than 23 and multiple years in the NHL) expected back next season who need to be better in 2015-16. Each of the following five players underperformed to varying degrees this year. In one particular case perhaps age is catching up to him, in another perhaps he still has some maturing left to do. Regardless of their situation, all five need to raise their level of play next season.
(D) Brenden Dillon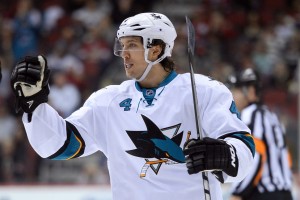 Acquired from the Dallas Stars in November for Jason Demers, 24-year-old defenseman Brenden Dillon has looked solid at times. A Corsi-for percentage over 50% but a minus-14 rating and 39.5% goals for percentage is a strong indication of some terrible puck luck this season. His PDO is dead last on the team at 96.6 which is a statistic widely used as a parameter for puck luck. Sharks goaltenders have stopped less than 91% of the shots faced with Dillon the ice. Despite being a better defenseman at this point than Scott Hannan, the 35-year-old veteran has a much higher PDO. In terms of on-ice save percentage, Sharks goaltenders have stopped 94% of the shots against with Hannan on the ice while stopping less than 91% with Dillon the ice. These are some incredibly peculiar numbers. Next season with a full training camp to get acclimated to his teammates and the new city, the young veteran Dillon should see a natural increase in his overall numbers. However, that doesn't mean there aren't some areas he needs to improve upon. Getting his point shots through to the net and not blocked out high is an area in big need of improvement. He could also use his 6'4" frame more effectively by getting a bit more of a mean streak going with his physical play. As a restricted free agent this summer, and having just been acquired, Dillon is pretty much a sure bet to return to the Sharks. Chances are his production will increase next year as he matures and a bit and gets more comfortable in his environment. San Jose will certainly need his increase in productivity on what has been a shaky blue-line this season.
(D, but should be RW) Brent Burns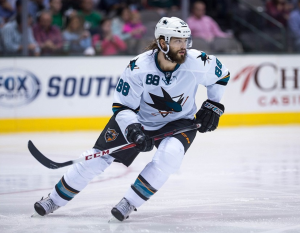 A big reason that blue-line has been shaky is because 29-year-old Brent Burns has had a tough go of it returning to defense this year. For most of the first half of the season Burns' goals for percentage hovered around 40% after being over 60% last season as a forward. To his credit Burns has bumped his overall season percentage to 48%, but that is still not good enough. Certainly some growing pains were expected moving back to a tougher position for the first time in basically two years. While the Sharks would be wise to move him back to forward and keep him there, their current GM Doug Wilson shows zero signs of admitting his mistake. Now despite Burn's minus-4 rating, sub-50% goals-for percentage, and high number of turnovers, he is capable of being a much better defenseman. In his first year with the Sharks as a defenseman Burns turned in a plus-8 rating and a 54% goals for percentage. He even had a higher five aside Corsi percentage that season (2011-12) than his current 52.5% mark this season. His 2011-12 percentage was higher despite tallying fewer even strength points (21) compared to 32 this season.  Case in point, defensemen don't always need goals and assists to be playing quality hockey. Rather they simply need to get the puck in the hands of the forwards quickly without turning the puck over and spending lots of time defending. Yours truly correctly predicted before the season Burns would set a career high in points because of an increase in power play minutes but I never liked the decision to move him back to defense. His defensive zone coverage must drastically improve next season.
(D) Justin Braun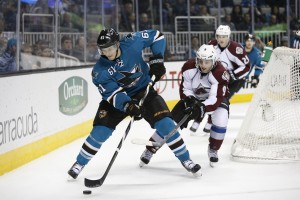 Another reason the Sharks defensive core has struggled this year is that 27-year-old Justin Braun has had a bit of an off year after back-to-back strong campaigns in 2013 and 2013-14. In the previous two seasons Braun has been a strong two-way shut down guy. Known more for defense, Braun has underrated puck moving skills and unlike Dillon, is known for getting his shots through to the net. However Braun has had a few more defensive lapses this season than usual. A couple of really noticeable mistakes this year where Braun was caught puck watching and letting the eventual goal scorer sneak in behind him. Since returning from injury though Braun has looked much better back at his accustomed spot next to Vlasic. Next year the Sharks need Braun to regain his 2013-14 form.
(RW) Tommy Wingels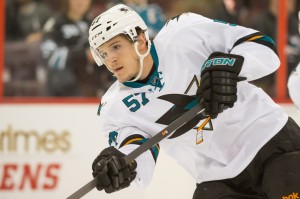 One of, if not my favorite player on the Sharks is 26-year-old Tommy Wingels. The veteran winger does everything right, he is responsible in his own end, finishes his checks, stands up for teammates, has an above average shot and can make some plays as well. Last season Wingels had a career high 38 points with a plus-11 rating. While he is on pace for about the same point total, he has done so with a minus-5 rating and largely fallen off after a hot start points wise. Wingels may be on pace for 38 points but he started out with 20 in his first 28 games. In the next 37 games since he scored just 12 points. Now it is only natural for players to have streaks and cold streaks throughout the season, but Wingels has significantly cooled off in the second half. It is not a terrible slump by any means, and Wingels will probably never be a 50 plus point guy. That said,the 43-49 point range is within his reach. Ideally Wingels at the very least cracks the 40 number next season.
(C, LW) Patrick Marleau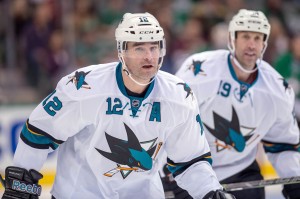 Patrick Marleau's Corsi-for percentage is down from right above 53% last season to just below 50% this year. In other words, a significant drop off but not a crazy one. Therefore his team worst minus-19 and abysmal 42% goals for percentage has clearly been dragged down by some incredibly bad luck. Last season he finished an even zero with a 51% goals for. Case in point regarding bad luck, Marleau's PDO is just 97.9 (league average PDO is 100). Like Dillon, Sharks goaltenders have stopped less than 91% of the shots against with Marleau on the ice. Furthermore, Marleau's shooting percentage this season is just 7.3%, way down from his career average 13.4% and even his percentage from last season, 11.6. For a large portion of this season however Marleau's shot totals were still on par with some of his 30 goal scoring seasons, so it wasn't as concerning because the chances were there. However over the last 5-10 games those chances have dried up and his season shot total of just 206 through through 72 games is an average of only 2.86 per game. To put that number in perspective, last season Marleau averaged 3.47 per game, the year before 3.125, the year before that 3.06 and in 2010-11 it was 3.40. Shots per game is the strongest indication of lack of opportunities as the season draws to a close. Throughout most of the season I've defended Marleau as having primarily a bad luck season, but lately he has simply not been the same guy. The Sharks are going to need him to bounce back next year. He currently has just 48 points on the season and has zero even strength points in his last eight games.