In sports it is a common practice to learn by example. Typically, the NHL executives mimic the ways of the most successful organizations. However, there is also something to be said for learning from the mistakes of others. The Buffalo Sabres provide us with a prime example of how NOT to handle a prospect. Since the end of the 2012-13 lockout, the team has done just about everything wrong while trying to develop Mikhail Grigorenko.
Throw Him Into the Fire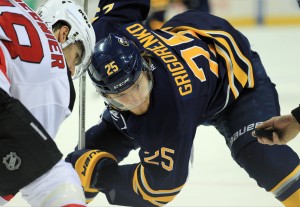 After being drafted in 2012, Grigorenko found himself on the Sabres roster when the lockout concluded. Many questioned whether he was ready to make the jump straight to the NHL. But after a promising training camp, he started the season in Buffalo. Despite only having marginal success through his first few games, he was kept on the roster past his allotted trial time that would allow him to return to his junior hockey team without burning a year off of his contract.
All the while, "Grigs" was never given a real opportunity to succeed. He was on a team with a poor, losing culture that lacked leadership. If a teenage rookie is to perform well, he needs to be brought into just the right situation. He needs to be surrounded by quality veteran players and given an opportunity to perform while still having enough slack to grow through his mistakes. The Sabres were far from an ideal situation for a young player to be thrown into so Grigorenko should have been left in juniors.
Consistently Play Him on the Third & Fourth Line
The Sabres managed to go all in with Grigorenko without actually going all in. For most of Grigorenko's time in Buffalo, he's been relegated to third and fourth line duty instead of given a chance within the top six forwards. He's skated alongside the likes of John Scott and hasn't been given many opportunities to play with the team's more skilled players.
The forward also hasn't been given enough time on the ice to develop properly. He's typically been given no more than 12 minutes a game, while on numerous other occasions he's sat in the press box as a healthy scratch.
Fail to Understand/Adhere to Junior Hockey Protocols
This is probably the biggest mistake of the entire Grigorenko situation. Last season, the Sabres waited too long to make a decision on Grigorenko. Not only did the Sabres burn a year off of his entry-level contract by allowing him to play beyond the five-game limit (which was prorated for the lockout shortened season), but also burned a year off of the accrued seasons requirement, meaning Grigorenko will be eligible for unrestricted free agency one year sooner.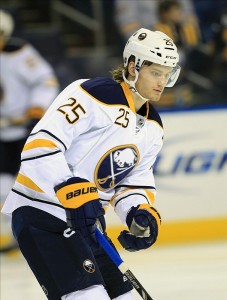 The typical 40-game requirement that awards an accrued season was also prorated to 23.4 games due to the shortened season. Unfortunately, Grigorenko wasn't sent back to junior until the Sabres played 27 games. Although Grigorenko was scratched five times, the rule is counted by games on the active roster and not games played.
Trying to clean up the mess left by the previous regime, the new Sabres brass has been left with a complicated situation. Because of Grigorenko's age he can't be sent to the AHL. He can only be sent to his QMJHL hockey club the Quebec Remparts. However, teams in Canadian major junior can only have two import players. The Remparts already filled both of those spots and one of those players cannot be traded or released due to league rules. With such an uncertainty facing Grigorenko's junior placement, the team tried to send him to their affiliate in Rochester on a "two week conditioning stint" only to be vetoed by the NHL so the young Russian remains with the Sabres. All of this fluctuation couldn't have been good for Grigorenko either.
Don't Make Him Earn His Spot
One of the biggest problems with the current Sabres is their lack of work ethic. The organization certainly hasn't been remedying this problem with the influx of new talent coming in by handing them roster spots. Not only can some argue Grigorenko never actually paid his dues to begin with, but Grigorenko certainly didn't earn his place before the start of the 2013-14 season.
Before training camp concluded, former Sabres GM Darcy Regier announced Grigorenko would be on the starting day roster even after his poor performance the year before. Knowing this coming into training camp doesn't exactly light a fire within a player. Had Grigorenko been uncertain about his immediate NHL future, he may have given a little extra in training camp.
Shatter His Confidence
The cumulation of all of this is a young forward possessing little confidence. Sabres interim head coach Ted  Nolan knows very well that the confidence is a fragile and important asset. "There's something beneficial about a 19 year old playing with his peers. It breeds confidence," said  Nolan. "Confidence is a wonderful thing. You can make the player believe in himself. You can make an average player good and a good player great."
Unfortunately for Grigorenko, he was never given the opportunity to develop his game while playing with counterparts his own age. He's had to endure a lot of losing and a lot of mistakes. There are many sports pundits who believe winning is also something an athlete must learn how to do. The Russian forward and the rest of the Sabres prospects haven't been exposed to a great hockey culture. Hopefully, that will be something that changes with the new regime in place.
The future will be very telling for Grigorenko as no one can say with certainty how his career will pan out. Regardless, the Sabres have provided us with a blueprint of what not to do with prospects.