Lupul Hurt
Joffrey Lupul got hurt (again) in Monday night's game versus the Columbus Blue Jackets. He has a "grade 2 groin strain" and will not travel with the team on their upcoming three-game road trip.
Joffrey Lupul is expected to miss at least 3 games with a groin injury. Since joining the #Leafs in 2010-11 he has missed 50 games.

— Sportsnet Stats (@SNstats) November 26, 2013
Raymond will step in and fill Lupul's role in the top-six.
Lupul will not make trip. Raymond moves onto the 2nd line. Holland centres the 3rd line while mcclement moves to the wing. #TMLtalk

— Paul Hendrick (@HennyTweets) November 26, 2013
Carlyle on the situation: "[Raymond] has done a very good job at [moving up and down the lineup] for us. It's a hat off to the player for being able to step in and fill different roles."
Raymond has 17 points this season in 24 games, including six in his last seven. He has averaged 18:15 of ice-time per game so far this season.
Franson with Frasor?
Mark Fraser and Cody Franson practiced together in what could be a "shake-up" in the Leafs top-4.
Interesting change on defence for Leafs today: Mark Fraser reunited with Cody Franson. Jake Gardiner teamed with Morgan Rielly.

— Jonas Siegel (@jonassiegel) November 26, 2013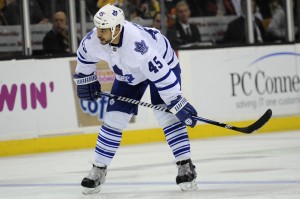 Carlyle: "we practised them today together and we will seriously consider that for tomorrow night. We're going into Pittsburgh…there's no secret who's there so we've got to make sure we're at the top of our game."
Leafs Most Valuable NHL Franchise
Well, duh. Is this really a surprise? In Forbes annual NHL team valuation, the Toronto Maple Leafs current value was estimated at $1.15 Billion, tops in the NHL. They currently have an average ticket price of $120 (yay for us fans…).
NHL Team Values according to #Forbes:#Leafs – $1.15B#Rangers – $850M#Habs – $775M#Canucks – $700M

— Sportsnet Stats (@SNstats) November 25, 2013
Forbes announces their new NHL team valuations. Leafs tops at $1.15 billion. They were at $4.25 billion before Rob Ford wore their jersey.

— Adam Proteau (@Proteautype) November 25, 2013
Check out our partners at TiqIQ for the best deals on Toronto Maple Leafs tickets for all 2013-14 games.
Nathan Kanter covers the Vancouver Canucks and Toronto Maple Leafs for The Hockey Writers. He received his master's in journalism from Western University in May of 2015 before serving as the first ever Digital Managing Editor at Western's university newspaper, The Western Gazette, in 2015-16. From 2016-18, he served as the radio play-by-play voice of the Battlefords North Stars in the SJHL. His work has been published in The Hockey News, at Sportsnet.ca and at Dobber Prospects.