When it comes to projecting NHL prospects, there have arguably been no surer things over the last 10-15 years than Connor McDavid and Jack Eichel. The buzz around these two has trumped that of guys like Patrick Kane, Evgeni Malkin and Steven Stamkos. At worst, expectations from amateur scouts have McDavid and Eichel on par with Sidney Crosby and Alexander Ovechkin. At best? Even higher expectations. These two guys are expected to be superstars even without having played a single NHL game.
Now there are a handful of other prospects yet to play in the NHL whom bring a high level of skill. Arizona's Max Domi and Vancouver's Jake Virtanen are a couple who come to mind. Neither of them are expected to light up the league as rookies, though. There are however, a few young guys already in the NHL that have similar elite expectations to McDavid and Eichel. Without further ado, here are five young players (not named McDavid or Eichel) to watch next season.
Valeri Nichushkin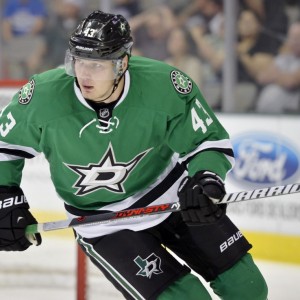 The young Dallas Stars winger has also drawn comparisons to Ovechkin. Although how much of that is just an easy comparison to a fellow Russian is debatable. That said, there are similarities in the two wingers. Like Ovechkin, Nichushkin is a big body at 6 feet 4 inches and 210 pounds. At just 20-years old, the 2013 first round pick (10th overall) is still growing into his frame. Not many 10th overall picks play in the NHL right away, but Nichushkin did and performed well. As a rookie he scored 14 goals and 20 assists for 34 points, while posting a plus-20 rating. His sophomore season was cut short after just eight games due to injury, but he was a popular choice for a breakout campaign. Considering the offensive talent around him in Dallas, Nichushkin will once again be expected to breakout. Twenty-five goals and 70-75 points is well within range, especially playing against second-tier defenders on a second or third line. Conceivably, Nichushkin could run rough-shot over third pair defenders with Tyler Seguin and Jamie Benn on the first line, and possibly Jason Spezza and Patrick Sharp on the second line.
Nathan MacKinnon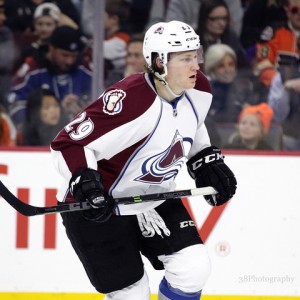 Like McDavid, Nathan MacKinnon went No. 1 overall. The Colorado Avalanche center has begun his career on the wing. His speed and wicked right-handed wrister reminds fans of a young Jarome Iginla. He's not quite Iginla's size; only being listed at 6 foot and 195 pounds, but he's not that much smaller than his veteran teammate (Iginla is 6 foot 1 inch, 210 pounds). MacKinnon brings tremendous top-end speed to the Avalanche and is one of the best sharpshooters in the league. MacKinnon sparkled in his first season to the tune of 24 goals and 63 points – the top rookie even earned himself the Calder Trophy for his performance. Last year was a sophomore slump cut short by injury, just 14 goals and 38 points in 64 games, but the team around him also had a down year. Given what he produced as a rookie and further growth at the NHL level, the soon-to-be 20-year-old MacKinnon should bounce back this season. Colorado is going to need to score a lot of goals to stay competitive in the stacked Central Division. Expect MacKinnon to lead the way.
Ryan Johansen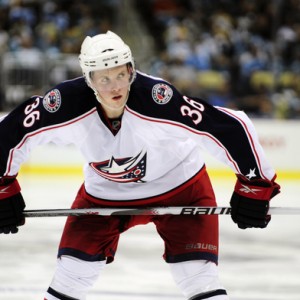 Nick Foligno may have been named the Blue Jackets captain recently, but there is no denying that young center Ryan Johansen is the best player on the team. These past two seasons, no up-and-coming player has impressed me more in person than Johansen. I may be biased as a Sharks writer, but Johansen had a two-goal effort in San Jose last October that was simply astonishing. He made scoring an NHL goal look like the easiest thing to do in sports. A 1992 birth year, Johansen will be 23 at the end of this month and he is one of those centers that has the makings of being a long-term superstar. At 6 feet 3 inches and 223 pounds, Johansen is a monster to handle. With underrated speed and a nose for finishing, Johansen is the total package. In that game against the Sharks, Johansen scored from a terrible angle on a backhand shot top corner off the rush, and then scored standing still via a wicked wrister that beat Antti Niemi from a long way out. Johansen looks prime to be a star center for years to come in a similar mold to the well-known Ryan Getzlaf. These past two seasons, Johansen has scored 33 and 26 goals for 63 and 71 points with Columbus.
Johnny Gaudreau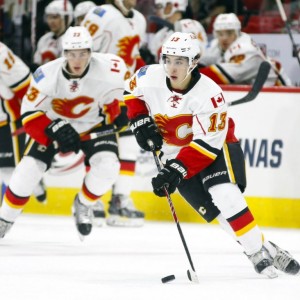 Some Flames fans will probably chew me out for having Johnny Hockey on this list after I called the Flames boring last season. One of the standouts on the poor possession Flames last year was rookie-sensation Johnny Gaudreau. He may be small, listed at just 5 feet 9 inches and 150 pounds, but he plays a very similar game to Blackhawks superstar Patrick Kane. Gaudreau has the hands and skating ability to overcome his smaller stature on the ice. As a rookie, he scored 24 goals and 64 points for the upstart Flames that managed to make the playoffs, despite the aforementioned poor possession numbers. Moving forward, the smaller Gaudreau should only get more comfortable at the NHL level after being drafted in the fourth round back in 2011. At 21-years old, Gaudreau has his prime years right in front of him.
Aaron Ekblad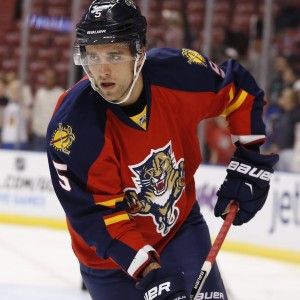 Like MacKinnon above, Aaron Ekblad was taken first overall in his draft class (2014) and won the Calder Trophy for best rookie. Unlike MacKinnon though, Ekblad plays the toughest position in hockey: defense. The 19- going on 20-year-old blueliner sparkled in the NHL as a true rookie, an extremely rare feat for a defenseman. Ekblad scored 12 goals and added 27 assists for 39 points and a plus-12 rating on a mediocre Panthers club. At 6 feet 4 inches, 216 pounds and still growing, Ekblad is one of those pure physical specimens on the blue line. With a terrific shot, two-way game and physical dominance, he reminds me of a young Rob Blake. Ekblad is a long ways away from becoming a Hall of Fame defenseman, but he has all the tools to put together that kind of career if he can stay away from any long-term type injuries.