For a while this summer, it appeared the Montreal Canadiens would head into the 2015-16 season with the same lineup that scored goals at a similar rate as the Canadian soccer team at the recent Women's World Cup. To say scoring was a problem last season is a massive understatement.
Sure, the Habs still have Carey Price in net, but this team went through a seven game stretch in the postseason where they scored a combined nine goals. It was painfully clear that the Habs needed an upgrade in the goal scoring department, and though they missed out on trades and struck out in the early days of free agency, signing Alex Semin to a one-year contract with a $1.1 million cap hit could provide the much needed boost to the top six.
Semin could play either wing, and is basically a slightly younger, and more talented upgrade on P.A. Parenteau who didn't really fit with the Habs last season. Parenteau was bought out of the final year of his contract, but his buyout payment combined with Semin's salary is still less than the $4.0 million the Habs were scheduled to pay Parenteau this season.
The only other acquisition by the Habs this summer was landing Zack Kassian from the Vancouver Canucks along with a fifth round pick for Brandon Prust. While Semin is an offensive winger coming off a down season, Kassian is a two-way right winger who has failed to live up to lofty expectations put on him when he was drafted 13th overall in the first round of the 2009 NHL Draft. Both newcomers are sure to be in the starting lineup next season, but where will they fit?
Is There Room For A Rookie Forward Next Season?
Before we jump into throwing line combinations together, we have to take a look at what rookies have a chance to make the Habs full-time next season. Up front, it is going to be difficult for any first year players to crack the lineup. If you consider Jacob de le Rose a full-time NHLer, and Michel Therrien used him as a penalty killer last season so he does, the Canadiens have 14 forwards heading into training camp.
Along with De la Rose, the Canadiens have Tomas Plekanec, Max Pacioretty, Brendan Gallagher, David Desharnais, Alex Galchenyuk, Lars Eller, Kassian, Semin, Dale Weise, Torrey Mitchell, Devante Smith-Pelly, Bryan Flynn and Michael Bournival who are already NHL regulars and have a very realistic chance of making the team.
Christian Thomas played 18 games with the Habs last season and would need to pass through waivers before being sent to the American Hockey League, meaning players such as Charles Hudon, Michael McCarron, Nikita Scherbak and Sven Andrighetto among other promising young players who don't require waivers to be sent down will really have to stand out in camp to make the opening night lineup.
@BWildeCTV I prefer it this way, to be honest. Have someone like Hudon FORCE Bergevin to make space for him instead of handing out a spot.

— Philippe Lupien (@GGpX) July 25, 2015
The Canadiens will likely play it safe, send their young players back to the AHL to begin the season, and go with the 14 forwards who are already NHL regulars to fill out their lineup in October. Hudon, Andrighetto and the other young forwards will get a chance when injuries occur, but will still have to wait their turn.
Finally Time to Move Galchenyuk to Center
The other question Canadiens management will have to answer before they pencil in their lineup is what position does Alex Galchenyuk play this season? When he was taken third overall in the 2012 draft, he was touted as the next first line center of the franchise, but he has primarily played left wing in his three-year NHL career thus far. Galchenyuk had a short stint in the middle last season, and played well centering Pacioretty and Gallagher, but it only lasted about ten games.
After reaching the 20 goal plateau for the first time, and having three years of experience, it's time to let Galchenyuk play his natural position full time. This will open up a large hole on the left wing behind Pacioretty, but either Semin can move over to the left side, or Desharnais could be moved to the wing to make room for Galchenyuk in the middle.
The Semin signing is further proof that the Habs have every intention of moving Galchenyuk to center.

— Grant McCagg (@grantmccagg) July 24, 2015
Now, with the 14 forwards identified, and the Galchenyuk decision made, the last thing we have to look at is how the Canadiens should put their lines together. If you look at the Chicago Blackhawks, who have won three of the past six Stanley Cups, an interesting philosophy on player usage emerges.
Not many people would argue that Jonathan Toews and Patrick Kane are the two best forwards on the Hawks, but they rarely play together. Toews is often on a line with Marian Hossa as his right winger instead of the more offensively gifted Kane. The reason for this is that Toews is one of the best two-way centres in the league and Kane is more of a one-way offensive winger. This isn't to say Kane is terrible defensively, but he is not nearly as good in his own end as Hossa who is perhaps the best two-way winger in the league.
Pairing Hossa with Toews instead of using Kane on that line gives Chicago the best two-way line in the league. The Toews, Hossa and either Patrick Sharp or Brandon Saad trio could be used against any opponent, in any situation, and at any time in the game. This puts a lot of pressure on Toews, Hossa and Sharp to play against the other team's best lines and defenders, but they can easily handle that defensive responsibility while providing offence as well.
This player usage by the Blackhawks slows the offensive potential of Toews, but it also maximizes the offence of Kane, who likely would have led the league in scoring this season if not for a shoulder injury. While Toews and Hossa are on the ice for many defensive situations and face-offs in their own end, Kane is free to play with gifted offensive players on the so-called second line where they get many offensive zone starts and play against weaker competition.
Habs Must Copy Blackhawks Forward Philosophy
Now, the Habs don't have the exact same players as the Hawks dynasty, and their best two-way center is not on the same level as Toews, but that shouldn't stop them from borrowing a few ideas from the defending champs. The Habs' "first" line should be a solid two-way threat that can play against difficult competition, yet still outscore their opponent. Pacioretty is the best suited Hab to play this role, and Gallagher has proven to excel in tough situations as well. What they need to do different is find a better two-way center than Desharnais to play these tough situations, and their best option is Plekanec.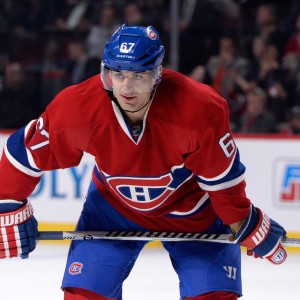 So the two-way line becomes Pacioretty-Plekanec-Gallagher. Again, not as good as the Hawks trio, but who in the league has a team as good as the Hawks did last year? The point isn't to compare each player to the Hawks' lineup, but to use the Hawks system to maximize the potential in the Canadiens lineup.
This top trio could be used in any situation for the Habs, and would still find a way to score goals even while playing against the best players on opposing teams. Plekanec and Pacioretty have proven to create offensive chances while shorthanded, so adding Gallagher to the trio would see them excel in this role and free up offensive opportunities for other lines.
This brings us to the offensive line that would play against weaker competition and start many of their face-offs in the offensive zone. This would be a perfect role for Galchenyuk to get used to playing center full-time, where he wouldn't have to worry as much about the defensive zone, though he is better in that role than you might think. It would also be a perfect landing spot for newcomer Semin who has never had his skill level in the offensive zone questioned, much like Desharnais who could benefit from a purely offensive role on the wing.
Deep Bottom Six is Key to Pushing Team From Good to Great
Playing behind Pacioretty-Plekanec-Gallagher and Desharnais-Galchenyuk-Semin, the bottom six needs to be a reliable, responsible group that chips in some depth scoring from time to time. Eller is unquestionably the center on the third line, and will be flanked by Kassian on the right side, and Smith-Pelly on the left. This would give the Habs a hard-hitting third line that can handle defensive situations with three guys who have the potential to score 15 goals next season.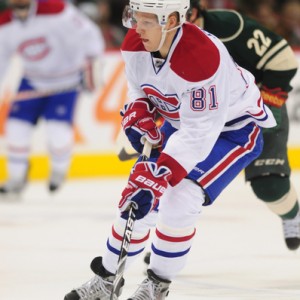 The fourth line would be a bit of a blender line, with five guys competing for three spots. De la Rose has the confidence of his coach at a young age and will play a big role on the penalty kill with Prust gone, so he is the left winger. Mitchell was re-signed to a three-year contract to be the fourth line center so he starts the year there and Weise played well enough last season to find himself on the first line for a period of time, so he would be the regular right winger.
That leaves Flynn and Bournival on the outside looking in, as well as Thomas, and at least one of these players would have to be put on waivers and sent to the minors. Maybe the Habs make a minor trade by sending one of these players out of town, but it won't change the lineup, which should look like this:
Pacioretty – Plekanec – Gallagher
Desharnais – Galchenyuk – Semin
Smith-Pelly – Eller – Kassian
De la Rose – Mitchell – Weise
Again, we all know the Canadiens don't have the firepower of the recent Blackhawks teams, but they should learn from the Hawks' player usage and get the most out of their lineup by playing defensively responsible players in defensive situations and offensively gifted players in offensive situations.
This would ask a lot out of Pacioretty, Plekanec and Gallagher, and might even see their offensive numbers come down slightly; and while the line may not be as great as the Hawks top line, it would be one of the best two-way lines in the Eastern Conference. They would limit the opponents' chances which would help Price much more than the team did last season, while getting the most out of their offensive players like Semin, Galchenyuk and Desharnais.
These lines might not bring the Canadiens three of the next six Stanley Cups, but it would get the most out of each player in the lineup. It's a good enough system for the defending champs, and the Canadiens would be foolish not to learn from the most successful team in the salary cap era.