Since GM Marc Bergevin took over in 2012, the team has focused on acquiring bigger players. Through the draft, players like Nikita Scherbak, Michael McCarron and Jacob de la Rose were taken in the early rounds of their respective draft years and all three stand six foot one or taller. But in the three drafts Bergevin has presided over, at least one small skilled player has been chosen in the later rounds. Names like Charles Hudon, Sven Andrighetto, Martin Reway and Daniel Audette are all 5′ 10″ (all according to NHL.com) or smaller. The four have all experienced success in some capacity but Hudon in particular is showing he might be the latest draft steal for Montreal.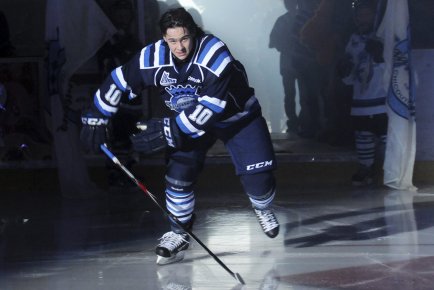 Proving people wrong
When Hudon dropped down to the fifth round before being selected 122nd overall by the Habs, he was regarded as a steal but with some risk. His size was a factor in his drop in the rankings while his offensive totals didn't see the dramatic improvement some hoped for. Others thought his skating was just average for a smaller player. Hudon's later years in junior hockey saw him deal with a recurring back injury that was serious enough for him to miss out on the World Juniors in 2013. The injury was enough for some pundits and fans to question Hudon's fragility and whether or not he could withstand the rigours of professional hockey.
But so far this season, Hudon has been dominant. He has 33 points in 36 games in the AHL with the Hamilton Bulldogs and is fifth in the entire AHL in scoring.  His defensive game has come along nicely and he has stayed healthy so far this season so fingers crossed that continues. Credentialed AHL journalist and Hamilton Bulldogs correspondent Dan Kramer recently tweeted this about Hudon:
Not sure if anyone's made this comparison, but @BulldogsAHL Charles Hudon reminds me more and more of #Habs Tomas Plekanec.

— Dan Kramer (@DanKramerHabs) January 10, 2015
Drafting small
For whatever reason, the Montreal Canadiens' scouting staff has a gift for finding small players that succeed. Brendan Gallagher is the poster child as the late round pick who bucked the odds to become an important part of the Habs. David Desharnais has become a very solid NHLer despite the criticism of everything from his size, lack of defensive game and being put on the top line. But how do the Habs keep finding these players?
As the league trends towards more of a puck possession game where being able to protect the puck is a key skill, smaller players can be at a disadvantage in this department as it is tougher to knock bigger players off the puck. Even if you draft a bigger player who doesn't pan out as a scorer, he is more likely to become a bottom line checker at the NHL level while a smaller player in the same situation is more likely to end up playing top line minutes in the AHL. But like a lot of stories in sports, it's not about the size of the dog in the fight, it's about the size of the fight in the dog. Small players have been defying the odds for years but some teams just aren't willing to take that risk of using a valuable draft pick on them.
Hudon scores the first goal of the game and the OT winner here. On an average Bulldogs team, Hudon has been a key cog for the farm team.
From risk to reward
As a reward for his efforts, Hudon has been selected to take part in the AHL All-Star Winter Classic as part of the Western Conference team. It appears the Habs are being patient with Hudon as his AHL teammates Sven Andrighetto and Christian Thomas have been called up to the NHL ahead of Hudon, despite his superior numbers. Hudon is currently a centre in the AHL but with Alex Galchenyuk, Tomas Plekanec and Lars Eller as the top three centres in Montreal, Hudon's NHL future could lie on the wing.
If Hudon keeps up his torrid pace, he will give Montreal's management something to think about. Hudon has developed faster than anticipated and he could make a push to be in the NHL as soon as next season. His offense would be a welcome addition to a Habs team that can be a little inconsistent when it comes to scoring. With no reason to ever count out a player because of their size, Hudon is on the right path to joining the long list of smaller players who succeeded despite the criticism.