The Montreal Canadiens have enjoyed a great first half of the 2014-15 season. With game number 41 up next on the schedule when the Habs host the Pittsburgh Penguins tonight, Montreal will reach the official halfway point of the season with at least 54 points.
The Habs are currently tied with those Penguins for third in the Eastern Conference, trailing the Tampa Bay Lightning by just four points for the Conference lead, and have two games in hand on their Atlantic Division rival. The Canadiens are a stellar 13-5-1 on home ice and thanks to a perfect 5-0 road trip while the World Junior Championship was going on at the Bell Centre, they also have an impressive 13-7-1 as the visiting team this year.
The Canadiens may be among the leaders in the Eastern Conference thus far, but will need to bolster their roster before the trade deadline if they want to be successful in the playoffs. The Penguins kicked off the trade season by acquiring winger David Perron from the Edmonton Oilers to play alongside Evgeni Malkin or Sidney Crosby.
To keep pace, the Canadiens may have to get in on the trade frenzy as it reaches its fever pitch on March 2nd. The Habs could use an upgrade at almost every position aside from goaltending. With a 22-10-1 record to go with his 2.20 goals against average and a .927 save percentage, Carey Price has been in the Vezina Trophy discussion all season, and is the biggest reason Montreal is among the top teams in the East.
After moving Alex Galchenyuk to center, and watching him blossom as a top line pivot between Max Pacioretty and Brendan Gallagher, the Habs have impressive depth down the middle of their lineup. With Tomas Plekanec, Lars Eller, David Desharnais and Manny Malhotra, center is not as elite as their goaltending, but is also not in dire need of improvement either.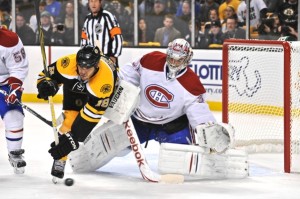 However, with Dale Weise continuing to find himself among the Habs top six wingers, and Brandon Prust being used on a third line with Eller, the Canadiens could use an upgrade on the wing. Prust and Weise make ideal fourth line wingers, but aren't the type of players who lead a team to the Stanley Cup from a prominent role. A hired gun on the trade market that can snipe some goals from the wing should be at the top of the Montreal Canadiens shopping list.
Next up on that list should be a top four defenseman, and more specifically, one that can play the right side behind P.K. Subban. The Habs top pairing of Subban and Markov has been solid, if not spectacular for most of the season. The problems begin once you get beyond that first pairing.
Nathan Beaulieu has blossomed this season as a legitimate second pairing defender, but his partner is a 40 year old Sergei Gonchar. The veteran Russian defenseman has played well since arriving from the Dallas Stars in exchange for Travis Moen on November 11th, but how long can it last? Gonchar's age is definitely catching up to him after a brilliant NHL career, and expecting him to play more than 20 minutes a night is a risky endeavor.
Keeping in mind the best upgrade for the Canadiens would be a winger for one of the top three lines, and a defenseman for the second pairing, here are the top five trade targets for the Habs with the deadline less than two months away.
5. Drew Stafford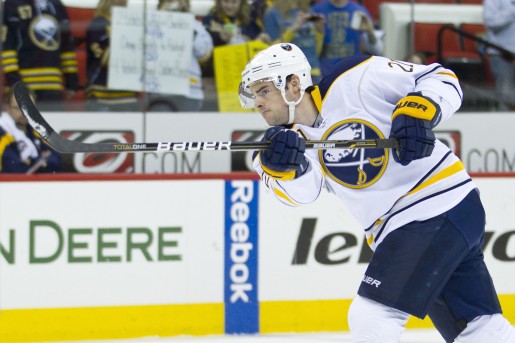 A former first round pick and 30 goal scorer, the 29 year old winger is sure to be moved from the struggling Buffalo Sabres. A big right winger at 6'2" and 215 pounds, Stafford is not the most physical forward in the league but plays a strong two way game and would be able to chip in some offense from a third line in Montreal, perhaps with Lars Eller and David Desharnais.
Stafford has been one of the few bright spots on the Sabres roster this season. His 20 points in 37 games places him second on the lowest scoring team in the league. In Montreal he would play a lesser role, but would also be on a team that doesn't play the entire game in their own end. In a 2-1 loss to the Tampa Bay Lightning last night, the Sabre who had the puck on his stick the most was goaltender Michael Neuvirth who stopped 45 Lightning shots.
Stafford has a steep cap hit at 4 million, but will be an unrestricted free agent this summer. He could be a good fit at a low price with no long term commitment for the Habs this season, but wouldn't exactly be swinging for the fences.
4. Keith Yandle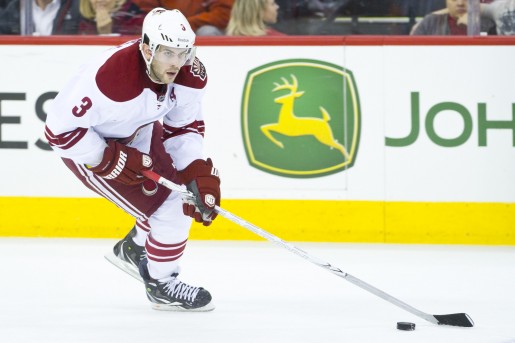 Now we are talking about swinging for the fences. Keith Yandle's name has been in the rumor mill recently and he would provide a huge boost to the Canadiens top four defenders. In fact, he could be a perfect long term top pairing partner for P.K. Subban. This would push Andrei Markov down to the second set with Nathan Beaulieu who would have to move to the right side.
Yandle would not come cheaply, both in terms of the package that would have to be sent to Arizona in exchange for him, and in dollars on the cap. The American defender has a cap hit of 5.25 million through to the end of next season, but has scored an impressive 26 points in 40 games. On pace for 52 points this season, Yandle would be a breath of fresh air for a Canadiens power play that has struggled all season.
It would cost a lot, but at 28 years old, he would fit in extremely well, and could be a long term replacement for Markov who will soon be 36.
3. Antoine Vermette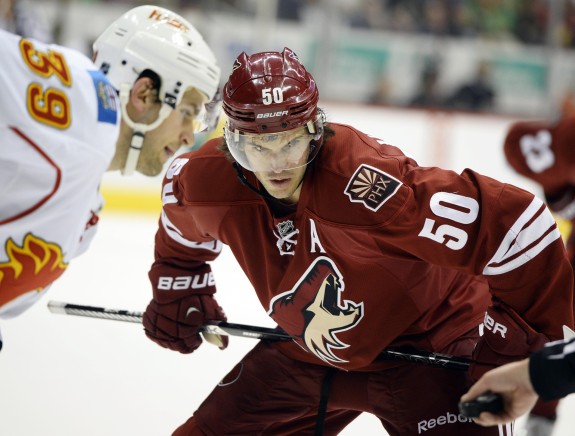 Another Coyote who could be on the move soon is two way center Antoine Vermette. He leads Arizona in scoring with 27 points in 40 games, but his most valuable assets may be his speed and defensive play. Any team could use a player like Vermette to help them in the postseason, and as a pending UFA, the price to acquire him will not be through the roof.
Vermette is a center who is excellent at faceoffs, but would have to move to the wing on the Habs. With Alex Galchenyuk, Tomas Plekanec and Lars Eller down the middle, the ideal spot for Vermette would be on the left side of Plekanec. A second line of Vermette-Plekanec-Sekac would give the Habs an excellent two way line that would create matchup problems for opponents who would also have to worry about Pacioretty-Galchenyuk-Gallagher.
2. Cody Franson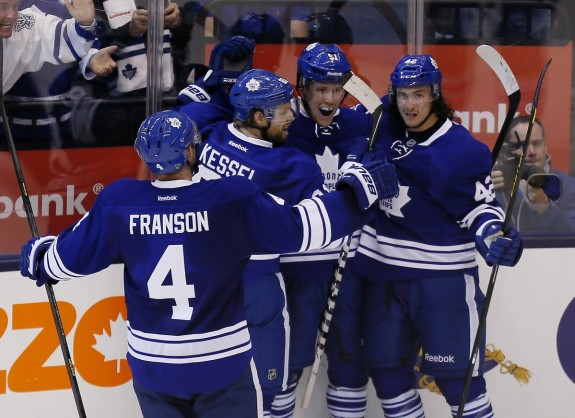 It was no secret that the Montreal Canadiens tried to trade Josh Gorges to the Toronto Maple Leafs for Cody Franson last summer.
Cody Franson was TOR player going to MTL for Gorges. Would have think he's still in play with TOR acquisition of Polak and Robidas.

— Bob McKenzie (@TSNBobMcKenzie) July 1, 2014
Gorges was ultimately sent to the Buffalo Sabres, but the Habs could still use Franson on their roster.
Montreal went to plan B in replacing Gorges and signed Tom Gilbert to be a second pairing defenseman on the right side. Gilbert has not exactly lived up to his puck moving, offensive defenseman role, scoring just seven points in 38 games thus far. Gilbert has seen his ice time reduced recently, moving to the third pair, with Gonchar taking over his role on the second pairing.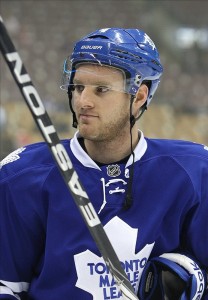 Franson, who is fourth on the high scoring Maple Leafs in points with 27, has been playing on the team's top pairing, but is also a pending UFA. Franson has signed a series of one year contracts over the past three seasons with the Leafs, but changes are underway in Toronto, starting with the firing of head coach Randy Carlyle Tuesday.
The Leafs are still on the playoff bubble, but were unwilling to sign Franson long term the last three years, and may be willing to move him in a trade instead of losing him for nothing this summer.
Cody is a right handed, offensive defenseman, but is also 6'5", 213 pounds and unafraid to play a physical game. On a team with better structure and defensive play than the Leafs, his defensive game would be much improved, and his offense would still shine on a pairing with Beaulieu and a power play with Subban.
1. Jaromir Jagr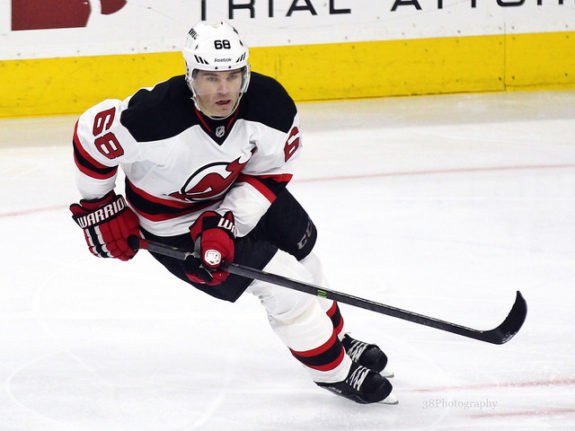 The Jagr to Montreal story has played out so many times, it seems like the 42 year has spent half his life in Quebec. However, the Czech Republic native has shunned the Habs on several occasions, never satisfying the many fans who would love to see him play alongside countrymate Tomas Plekanec.
After playing three seasons in the KHL, Jagr returned to the NHL in 2011, and it was expected he would suit up with the Habs. However, a bigger contract was offered, and Jagr joined the Philadelphia Flyers for a season. The next summer he was available again, and the Habs were his preferred destination, but he headed to Texas to play one year with the Dallas Stars. Following a trade deadline deal to the Boston Bruins, Jagr teased Canadiens fans twice more, before signing consecutive one year deals with the New Jersey Devils.
Once again a pending UFA, the soon to be 43 year old is incredibly leading the Devils in points, and will be on the trade market again as the Devils have been struggling this season. Jagr would be a natural fit on a second line with Plekanec and Sekac, who is also from the Czech Republic.
Being from the same country doesn't necessarily mean a trio will have success together. The greatest predictor of future success as linemates would be past success, and Jagr has that with Plekanec. Though they have never been NHL teammates, they have played together on the International stage, routinely dominating the World Championships, and playing great together at the Olympic Games last year as well. Eric Engels wrote about how well Jagr would fit with the Habs, and explains he would do wonders for the slumping power play in Montreal as well.
I have to agree, and think that Jagr would be a perfect fit as a rental this season. At 43, and on an expiring contract, the Devils would not be asking for the moon for a guy who has scored an incredible 714 goals and 1780 points in his Hall of Fame career.