Frank Mahovlich, Toronto Maple Leafs "Big M", ended his holdout yesterday by signing his 1966-67 contract. While terms were not officially released, it is believed Mahovlich signed for a base salary of $35,000 laden with bonuses that could make his final haul closer to $50,000.
Mahovlich negotiated the pact with Leafs assistant general manager King Clancy. Clancy had been tasked by general manager Punch Imlach with getting all the difficult contracts signed and Mahovlich's was the final one to be inked. The deal was completed just before the Leafs' 11 a.m. workout, in which big Frank participated.
Mahovlich missed the Leafs first two games of the season as a holdout and was suspended by Imlach. With the suspension now lifted, he will be in the Toronto lineup tonight against the Detroit Red Wings. He will be facing his younger brother Peter for the first time in a National Hockey League regular season game.
Everybody Happy
In the press conference to announce the signing, all participants in the negotiation professed satisfaction with the process and proclaimed all was sweetness and light.
Mahovlich, typically a man of few words, stayed true to form with a simple
I'm very happy to be back with the club.
The superstar left winger was pressed about how he felt about the negotiation with Imlach. He smiled and offered this:
Well the experience was something. Imlach almost hit me with a cane.
Imlach provided nothing but a stock answer to questions about the process:
I'm very happy he's signed. He's a big man on our hockey club. And you can say Clancy did a hell of a job also.
In other Leafs news, 42-year-old goalie Johnny Bower has been put on the shelf by the Leafs for about 10 days. Bower has what is described as a chronically sore back and will be given time off to rest. Terry Sawchuk will handle the bulk of the Leafs' netminding duties, with Bruce Gamble on hand if needed.
Imlach also revealed that forward Bob Pulford should be ready to go Saturday night against Boston. Pulford has missed both of the Leafs games  with a sprained knee.
Defenceman Bob Baun is still out with a broken thumb.
Flu, Injuries Plague Wings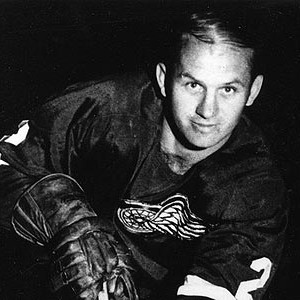 On the Red Wings side of the ledger, manager-coach Sid Abel isn't even sure how many regulars he'll have on hand to face the Leafs tonight. Abel elaborated:
"Every time the phone rings or there's a knock on the door, I'm afraid another of my men has picked up the flu or some other virus.
"We brought defenceman Bob McCord up from Pittsburgh to replace Bart Crashley, who is out with the flu.  Bob showed up in terrible shape. His mouth is covered with blisters, he's running a temperature and right now has to be listed as doubtful. He looks like another flu victim.
"Gary Bergman also has the flu and Bert Marshall has a battered instep or ankle. But they'll both have to dress because we're desperate for defencemen.
"Bryan Watson is out, too. He damaged his knee in our first game with Chicago. We've brought Ab McDonald in from Pittsburgh to take his place."
Also missing from the Wings' lineup is defensive forward Val Fonteyne. Fonteyne broke a thumb in a pre-season game against Toronto and is now expected to miss about 10 weeks. Abel said that since Fonteyne is left-handed (that's the thumb that is broken) he hasn't even been able to sign his 1966-67 contract.
Junior Wings Cruise Past Nationals
The Hamilton Red Wings had an easy time of it last night as they took a convincing 4-0 win over the London Nationals at Treasure Island Gardens in London.
Eddie Hatoum, Renald Leclerc, Ron Climie and Harold Smith scored for Hamilton. Gerry Gray recorded the shutout for the Wings.
Notes: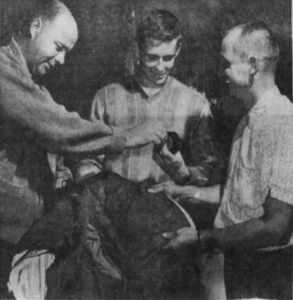 New York Rangers F Jean Ratelle will be examined by doctors this week to determine when he can resume playing. Ratelle had spinal fusion surgery in April. Rangers hope he can be back on the ice some time around November 1.
Rangers have sent F Larry Mickey to Omaha Knights of the CPHL.
Leafs have sent F Ron Ward to Tulsa of the CPHL.
The Russian national team will be an all-star team from the Western International Hockey League in Trail, B.C. on December 16.
Montreal Canadiens will still be without LW's Gilles Tremblay and Dick Duff for their game tonight against Chicago. Both are sidelined with injuries.
Western Hockey League president Al Leader ruled that forwards Tom McVie and Willie O'Ree both belong to the Los Angeles Blades. McVie had been obtained by the Blades from Portland Buckaroos in a trade for O'Ree. Portland management sent O'Ree back to the Blades, claiming the forward had an eye injury. Leader gave the Buckaroos until yesterday to name a replacement for O'Ree and they failed to do so.
Nashville Dixie Flyers open their Eastern Hockey League home season tonight against the Knoxville Knights.
Retired police detective, involved in hockey at all levels for over 50 years. Member of Society for International Hockey Research and presently a video analyst for the leader in advanced hockey analytics (we work exclusively for 2 NHL clubs, and provide advice on an ad hoc basis to many other clients). Currently the Assistant General Manager for the Pelham Pirates of the Greater Ontario Junior Hockey League. Previously owned the Faceoff computer hockey simulation and also provided all player ratings for the EA Sports series of NHL computer games from the late 90's into the mid 2000's.