Frank Mahovlich gave ample evidence that he is all the way back from his mystery  illness as the Toronto Maple Leafs doubled the Boston Bruins 6-3 last night at Maple Leaf Gardens in Toronto.  The game was one of three National Hockey League contests.  In the other games Montreal annihilated New York 7-1 and Chicago eked out a 3-2 win over Detroit.
New line clicks
In Toronto, a newly formed line of George Armstrong at centre between Frank Mahovlich and Andy Bathgate did most of the damage against the Bruins.  Armstrong and Mahovlich each netted two goals and two assists, while Bathgate contributed three helpers.  Rookie Ron Ellis and seldom-used Billy Harris also scored for the Leafs.  Harris' marker was his first of this season, while for Ellis, it was his 10th of a fine rookie campaign.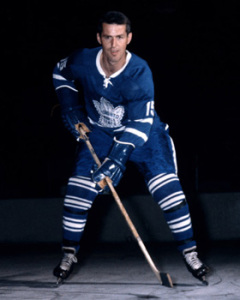 Johnny Bucyk, oft-rumoured as a trade target of Punch Imlach's, fired a pair for the Bruins, with rookie Wayne Maxner getting the other.  One of Bucyk's goals was scored on a rarely-called penalty shot.  Bucyk was in the process of breaking in alone on Leaf goalie Terry Sawchuk when Kent Douglas hooked him, causing him to lose control of the puck.  Referee Bill Friday awarded the free chance to Bucyk, who made no mistake on Sawchuk.
Paille poor against Habs
In Montreal, the Canadiens took advantage of an off-night for Ranger goalie Marcel Paille in their lop-sided win.  The Habs jumped out to a 3-0 first-period lead on goals by Dave Balon, Henri Richard and Gilles Tremblay and never looked back.  Richard ended up with two goals on the night.  The Montreal markers came from Claude Larose, Jean-Guy Talbot and Ralph Backstrom.  Vic Hadfield had the New York goal.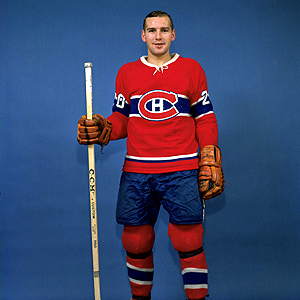 Paille faced 37 Montreal shots and was very weak on at least three of the goals against him.  Charlie Hodge had an easy time of it in goal for the Habs, making 21 saves.
Three quick ones does the trick for Hawks
Chicago accomplished all they had to do in a span of only five minutes during their visit to Detroit.  After a scoreless first period, the Hawks struck for three goals in quick succession, starting just before the ten minute mark of the middle frame.  Bobby Hull began the onslaught with his 22nd at 9:54.  Doug Mohns followed up with his second of the year at 13:30, and Phil Esposito ended the flurry with his 9th at 14:55.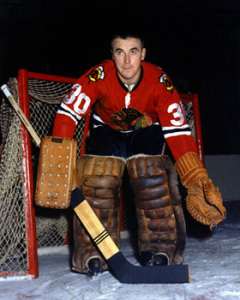 The Red Wings, or more specifically Ted Lindsay, attempted to mount a third period comeback, but it was a case of too little too late to make up the difference.  Lindsay scored his third and fourth goals of the season to make it close, but Black Hawks' netminder Denis DeJordy, filling in ably for an exhausted Glenn Hall, prevented any further Detroit damage.
Retired police detective, involved in hockey at all levels for over 50 years. Member of Society for International Hockey Research and presently a video analyst for the leader in advanced hockey analytics (we work exclusively for 2 NHL clubs, and provide advice on an ad hoc basis to many other clients). Currently the Assistant General Manager for the Pelham Pirates of the Greater Ontario Junior Hockey League. Previously owned the Faceoff computer hockey simulation and also provided all player ratings for the EA Sports series of NHL computer games from the late 90's into the mid 2000's.