When the Montreal Canadiens are allowed to engage in their free-wheeling style of play without being challenged, the results are fairly easy to predict.  The Toronto Maple Leafs found that out last night as the Habs skated them into the ice and cruised to a 5-2  win  at Maple Leaf Gardens.
In the other NHL game the New York Rangers smothered the Boston Bruins at every turn to claim a 3-1 home ice win.
Larose connects for two goals
Young Claude Larose, in his first full NHL season, fired a pair of goals for Habs, including the game winner just 28 seconds after Toronto had tied the score at two. Claude Provost, Bobby Rousseau and Ralph Backstrom also scored for Montreal.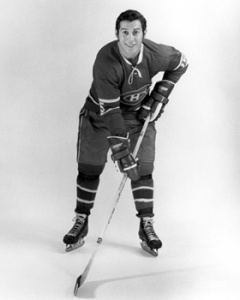 Toronto actually had the early lead, thanks to a Don McKenney goal.  Ron Ellis had the other Toronto tally, scoring after taking a Frank Mahovlich pass and then using Canadiens defenceman J.C. Tremblay as a screen to beat netminder Charlie Hodge.
Blake praises Backstrom, Hodge
Montreal coach Toe Blake identified centre  Backstrom and goaltender  Hodge as his key performers on the night.
"Ralph started us moving in the first period and Hodge came up with several big saves – two in a row in the third when we had only a 3-2 lead."
"Our forwards, with the exception of John Ferguson who had his first off-night in six games, all played well, but our defence was loose and Charlie had to be great in the clutch."
Imlach: older Leafs were tired
The Leafs' lacklustre performance was likely owing to the intensity of the previous evening's contest in Chicago.  Punch Imlach certainly thought so:
"Our older fellows aren't ready for two tough games in as many nights.  They have to build up to the rugged schedule and our younger fellows, with the exception of Ellis, couldn't take up the slack."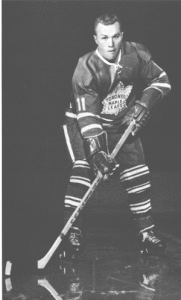 "You have to hit Canadiens to beat them, and our fellows couldn't catch them to hit them."
The usually reliable Dave Keon had a rough night for the Leafs.  He missed three golden scoring opportunities, and was on the ice for four goals against.  Three of those, however, were power-play markers.
Paille leads Rangers
In New York, the Rangers finally won their first of the season at home after four previous tries.  It was a good all-round team effort for the Blueshirts, from goaltender Marcel Paille on out,  Vic Hadfield scored in the first period, then Phil Goyette and Earl Ingarfield added second stanza counters to give the New Yorkers a comfortable 3-0 lead.  Only Ron Schock's second goal of the season with about seven minutes left to play kept Paille from recording a shut out.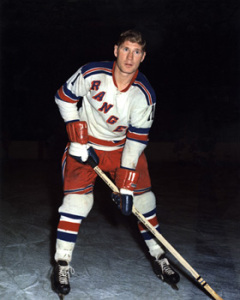 Campbell concerned with Mikita
As for the brouhaha that took place two nights ago in Chicago, NHL prexy Clarence Campbell said that he was more concerned about Chicago centre Stan Mikita charging into linesman Matt Pavlich than he was about Billy Reay's verbal dressing down of the linesman and referee John Ashley after the game.
Campbell felt that Mikita should have been assessed a game misconduct by referee John Ashley, but was instead given two 10-minute misconducts.  Ashely's action saved Mikita a few dollars over a fine he would have paid had the penalty been a game misconduct.  Campbell said he planned to question Ashley over that decision.
Hershey's hex in Pittsburgh continues
In the American Hockey League, the Pittsburgh Hornets blew a 2-0 lead to the Hershey Bears and ended up dropping a 4-2 decision to the visitors from the Chocolate City.  In the other AHL match, Springfield and Cleveland battled to a 4-4 draw.
At Pittsburgh, the Bears won their ninth straight game at the Civic Arena.  Pete Goegan and Yves Locas had given the Hornets a 2-0 lead when the roof caved in on Wasps' goalie Hank Bassen.  The Bears fired four unanswered goals, three of them in the second period, to claim the victory. Hershey marksmen were Myron Stankiewicz, Roger DeJordy, Keith McCreary and Bruce Draper.
In Cleveland, the Barons had jumped out to a 4-1 lead, only to have Springfield battle back for the tie.  Bill White's 35-foot shot deflected off Barons' defenceman Bill Speer and eluded goaltender Andre Gagnon to draw the Indians even.
WHL Buckaroos grab a share of first
In Western Hockey League action the Portland Buckaroos scored five first period goals, then hung on for a 5-3 win over the Vancouver Canucks. The win, played before 5,000 fans in Portland, moved the Bucks into a share of first place with Seattle.
Portland scorers were the Schmautz brothers, Arnie and Cliff, along with Andy Hebenton, Mike Donaldson and Ron Hergott.  Jim Baird, Dave Duke and Howie Hughes replied for Vancouver.
Seattle announced they they have sold forward Tom Burgess to Springfield of the AHL.
Retired police detective, involved in hockey at all levels for over 50 years. Member of Society for International Hockey Research and presently a video analyst for the leader in advanced hockey analytics (we work exclusively for 2 NHL clubs, and provide advice on an ad hoc basis to many other clients). Currently the Assistant General Manager for the Pelham Pirates of the Greater Ontario Junior Hockey League. Previously owned the Faceoff computer hockey simulation and also provided all player ratings for the EA Sports series of NHL computer games from the late 90's into the mid 2000's.