No more than a few hours after my article discussing why player movement is imminent in Nashville, the Predators announced that Matt Cullen was taken off injured reserve, Rich Clune has been waived, and Viktor Stalberg has been sent to the Milwaukee Admirals in the AHL on conditioning assignment.
"Viktor has had some unfortunate injury trouble during his last two training camps," Poile told Brooks Bratten of NashvillePredators.com. "We want Viktor to have some time in Milwaukee to fine tune his game and we look forward to having him back in Nashville."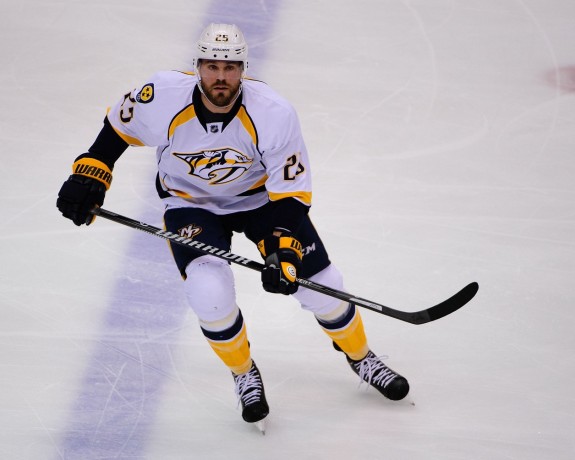 It is not a surprise that Cullen has been activated, forcing Nashville to waive Clune to meet the 23-man roster rule, but to send Viktor Stalberg to Milwaukee is shocking — and telling. Personally, I believe the move is to give Stalberg a wake-up call.
Stalberg, 28, has yet to tally a point this season in 5 games. He suffered a lower-body injury during training camp, keeping him out of the first three games of the year.  The injury may be the cause of the Gothenburg, Sweden native's absent scoring, but with several games to make an impact, it has yet to happen.
Since Nashville signed Stalberg to a 4-year, $12 million contract in the 2013 off-season, he has not seen much success in the organization. In 70 games in 2013-14, Stalberg totaled just 18 points (8 goals, 10 assists) and a -14 rating, a considerable scoring decrease compared to his previous two seasons in Chicago. He amassed 43 points in 79 games during the 2011-12 season and 23 points in 47 games of 2012-13. To do the easy math, his point production dropped to approximately half of what he was previously scoring.
The idea of signing Stalberg was to grant him the opportunity to be a top 6 forward in Nashville without having players like Marian Hossa, Patrick Kane, Patrick Sharp, and Jonathan Toews logging the majority of the ice time. Also, it gave the Predators a speedy weapon that should have worked under former head coach Barry Trotz's system. In Nashville, Stalberg was to be the man…supposedly. While Poile had that idea in his brain, Trotz had other ideas.
Whether it was because Stalberg was not buying into Trotz's system (different from previous head coach Joel Quenneville's) or Trotz not effectively using the winger, things were not working out for number 25 in the Music City. Often times, Stalberg could be seen on the offensively-challenged team's fourth line alongside Rich Clune and Paul Gaustad, which was a waste of his talents. Under Trotz, his average time on ice decreased from 14:07 in Chicago to 12:35 last season.
The second chance has arrived, but it has not been capitalized on. Head coach Peter Laviolette's up-tempo system is supposed to be the nice fit for Stalberg. Possibly this "conditioning assignment" in the AHL may be a signal that his time in Nashville is coming to an end shortly.