In the only National Hockey League game played last night, Rod Gilbert scored the winning goal as the New York Rangers edged the Detroit Red Wings 2-1 at Olympia Stadium in Detroit.
Wings still in first
Camille Henry scored the other New York goal, while Alex Delvecchio counted for the Wings.  The win vaulted the New Yorkers into third place in the NHL standings, one point ahead of Stanley Cup champion Toronto.  Detroit maintained a tenuous one-point hold on first place, with the Montreal Canadiens close behind.
The Red Wings were without Larry Jeffrey, Floyd Smith and Eddie Joyal, all out with injuries.  Delvecchio and Pit Martin played, but both were forced to wear protective headgear to protect face and head injuries.  Claude Laforge and Lowell MacDonald took regular turns as replacements, up from Pittsburgh of the AHL.
Emile Francis, new general manager of the Rangers, was in good spirits after the game.
"We think we're going now.  We're skating better and we've tightened up on our checking.I thought that (Phil) Goyette played one of his best games for us tonight. "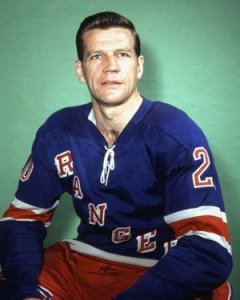 "(Bob) Nevin is doing a good job for us and (Dick) Duff goes up and down well.  (Jacques) Plante had that good 1-0 game in Toronto and he was big again for us tonight."
Plante was once again at the top of his game, especially in the final frame when he made nine saves.  Overall, he had 24 stops on the night.  Roger Crozier got in the way of 19 New York drives.
Mahovlich to be out at least 3 weeks
Dr. Hugh Smythe, specialist in charge of the case of Toronto's Frank Mahovlich, says the big left winger might be released from hospital by the end of this week, but it will be at least three weeks before he will be permitted to resume hockey-related activities.  Once again, Dr. Smythe refused to disclose the nature of the Big M's illness, saying only that more tests are scheduled.
"His progress since he first came in has been satisfactory.  If he carries on as at present, there is no reason he will not be able to resume his normal playing career.  He might even be skating in a couple of weeks."
Dr. Smythe said that he prefers not to discuss any case publicly, but he was making a statement in this instance to prevent wild speculation.  "I don't propose to discuss what's wrong with him.  If he wants to say after he's out of the hospital, that's up to him."
Powers:  Won't work for Campbell again
Eddie Powers, the former NHL referee who settled his slander suit against Toe Blake on Monday, said yesterday that he would never work for NHL president Clarence Campbell or referee-in-chief Carl Voss ever again.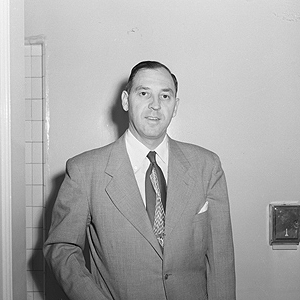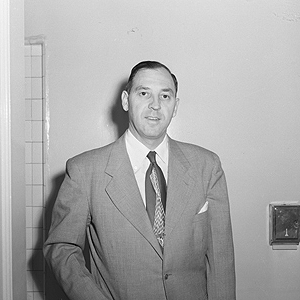 Powers' lawyer, Allan Austin, said that a meeting being scheduled between Powers and the NHL governors was not part of the settlement, nor was the question of future employment raised.  He did say that the parties had agreed to refrain from discussing publicly the subject matter of the meeting.
Campbell had said that while the governors will meet with Powers, "there is certainly no guarantee that anyone will listen."
Powers responded, "The purpose of the meeting has nothing to do with my future employment.  This was well known to Mr. Campbell and his remarks as quoted in the newspapers are a gratuitous insult to me."
Habs recall Peters
With their lineup riddled by injury as they get set to face the Toronto Maple Leafs tonight, the Montreal Canadiens have called up centre Gary Peters from Omaha of the Central Professional Hockey League.  The Habs will be without Henri Richard and Jacques Laperriere, while Jean Beliveau and Claude Provost are on the limp but expected to suit up.
Peters has been one of the CPHL's top scorers this season, his first as a professional.  He had a stellar career with the Regina Pats of the Saskatchewan Junior Hockey League.
Three Marlies lead OHA scoring race
Three Toronto Marlboros sit atop the OHA Junior A scoring race this week.  Paul Laurent, with 15 goals and 18 assists has 33 points to lead Mike Corrigan by two points.  Corrigan has 7 goals and 24 assists.  Third place belongs to Brit Selby, a 16-goal scorer, who has 14 helpers for 30 points.  Jimmy Peters of Hamilton and defenceman Bobby Orr of Oshawa are tied for fourth with 28 points.  Orr's totals are 11 goals and 17 assists.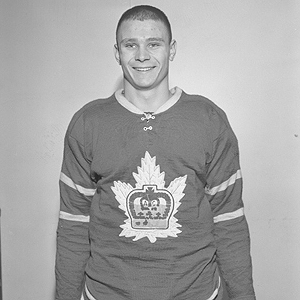 Top goaltender in the loop is Peterborough's Chuck Goddard, with a nifty 2.65 goals-against average.  Rogatien Vachon of Montreal is next at 2.80, followed by Niagara Falls Flyers' Bernie Parent with 2.83.