Pep Talk is a semi-regular series where current Blues playing trends are discussed in a constructive way. Find more musings about your St. Louis Blues by following Mike Poepping on Twitter: @pep30
The St. Louis Blues are among the hottest teams in the NHL right now, and it's no secret why. The newly-dubbed 'STL' line has been on a tear over the past month, and have gained league-wide recognition for their impressive individual skill and chemistry as a unit. They seem to get the whole team going, their play has been infectious, and they have amassed 33 points in the last 8 games, wow. This is a major reason the Blues are winners of 10 out of the last 11 contests they've played, and why they seem to be so consistently unbeatable as of late. However, the team still has some minor issues to work through such as fine-tuning their passing, and continuing to develop the stalwart penalty kill that everyone is accustomed to from this Blues' club.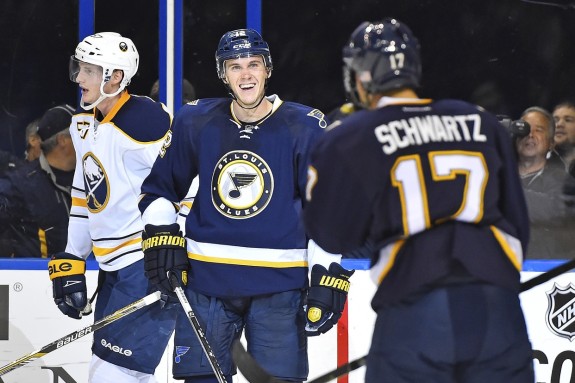 Penalty Kill was Singing the Blues, now Finding Consistency
Though the team has had penalty kill problems in season's past and are currently ranked 21st overall, the stats show a much different story over the current 10-of-11 streak the team is on. They sit at 78.6% while down a man on the season, which is shocking given the history of the team's penalty kill. Even through the rebuilding years from 2005-2010 the team managed to keep great numbers while shorthanded. They never went below 80% on the kill (and in 2006-07 when the PK was at 80% they were ranked 25th overall on the kill), and averaged an 83.44% kill-rate, which would have them ranked 12th overall this season.
The St. Louis Blues can go ahead and take their 2014-15 team photo from the penalty box…

— Ryan Porth (@PorthGame) November 14, 2014
Consistency is Key to a Good Kill
When looking at the current Blues' season fans may think the penalty kill needs drastic changes, but over the team's 10-of-11 streak mentioned earlier they have managed to stay above that 80% plateau, coming in at just under 81%. When the games are broken down even further stats show the team was able to blank the opposition's special teams in 5 out of the 11 games, on 12 total chances (the Washington game doesn't technically count towards this because there weren't any penalties solely against the Blues on Saturday), and with the exception of the Colorado shootout victory that saw them score 2 special teams tallies, the Blues were able to hold their opposition to just 1 power-play goal in each contest (5 out of the 11 games). That means Colorado has been the only team over this current stretch of great hockey the Blues have been playing to score more than 1 power-play goal in a single game. Now it's easy to see that the Blues penalty kill is looking a lot better than stats may indicate, and is a big reason why the club continues to win so many close games.   
Blues Penalty Kill Numbers During 10-of-11 Streak
Opponent
Date
PK Atmpts
PK GA
PK %
Chicago
25-Oct
3
1
67%
Dallas
28-Oct
4
1
75%
Anaheim
30-Oct
4
0
100%
Colorado
1-Nov
4
2
50%
New York
3-Nov
4
1
75%
New Jersey
4-Nov
3
0
100%
New Jersey
6-Nov
3
0
100%
Nashville
8-Nov
2
0
100%
Buffalo
11-Nov
3
1
67%
Nashville
13-Nov
4
1
75%
Washington
15-Nov
0
0
0%
TOTALS
11
34
7
81%
Comparing Numbers Shows Blues are Doing What Good Teams Do
In the chart above you can see how the St. Louis penalty kill fared against their competition over the 10-of-11 win streak, but what it doesn't show you is how dynamic the kill was over that span. Looking at the opponent's power-play ratings will illustrate this more clearly. Though the Blues played a clean game against the Capitals on Saturday and didn't give them an opportunity to showcase their 3rd-best power-play, the team has proven themselves against other competition over this very same streak (NOTE, the Blues have played the following teams over their 10-of-11 win streak: Dallas, Washington, New York Rangers, Anaheim, Colorado, Chicago, Buffalo, and Nashville and New Jersey twice each).  
Some may argue that all of these teams with the exception of Anaheim and Nashville are trending downward in terms of power-play percentages, but that doesn't discount what the boys in Blue have been able to do against the man advantage. The Blues are doing what good teams do and shutting down the power-plays of every team, regardless of their current rankings and how their special teams are perceived. Whether it's an Anaheim team that has a 25% conversion rate over their last 5 games (18.5% on the season), or Dallas that is currently experiencing a special teams drought (only 9% over their last 5 contests), the Blues are able to stay focused on keeping the puck (and play) to the outside, and to keep sight lines clear for Jake Allen and Brian Elliott to get into position and make key saves throughout the penalty kill.  
What Needs to Change (Answer Sneak Peak: Not Much)
Though there is very little that needs to be said about the Blues special teams at the moment, tweaks can always be made to ensure the team continues to experience better and better penalty kill numbers throughout the season. If the team can manage to clear pucks more efficiently and to bog down the opposition as they enter the zone making it more difficult to get and stay set up, they will continue to see their penalty kill stats increase while easing the workload of kill regulars such as Alex Pietrangelo and Jay Bouwmeester. This will also further help the goaltending tandem continue their amazing start, as the less power-play chances they have to turn aside, the lower quality shots they should have to face as a whole. While this is a relative statistic because sometimes power-plays get 5 shots but all are from the point and straight into the goalie's chest, and other times goalies see 2-on-0's and 3-on-1's during 5-on-5 play, it does play a big part in the mental aspect of the game from a goalie's perspective. A lot of the best goalies are those who can make the game look easy because of their impeccable rebound control, and communication with teammates. Traits that are made difficult by lots of in-zone action due to opposition power-plays and other things of that nature.  
Congratulations to @Lempaalanpoika, who has been named the NHL's No. 1 Star of the Week. >>> http://t.co/EjqzvvwPpx pic.twitter.com/0IrH2NFCKd

— St. Louis Blues (@StLouisBlues) November 17, 2014
The St. Louis Blues have managed to put together an awesome first 20% of the 2014-15 season, but they still have some minor adjustments to address (which is actually a good thing). One of those small tweaks will be made to the penalty kill to continue to improve their season stats, but an 88.4% kill-rate over the past 5 games is already a vast improvement (and would have the team sitting 4th overall in terms of PK% if it were their season long rate), and shows this year's group is especially special. If the Blues organization can continue to stay focused and healthy throughout the season they may end up setting team and league records in a majority of categories which is exciting for any fan of the sport. More importantly, it will make the postseason run a lot more manageable for this Blues club.
Like what you've just read? Follow me on Twitter: @pep30