Howe's pair beats Leafs
Gordie Howe showed last night why he is still considered the best hockey player on the planet as he scored twice to lead the Detroit Red Wings past Toronto 4-2 at Maple Leaf Gardens.
The 37-year-old superstar is certainly showing few signs of slowing down.  Playing his fourth game in five nights, he put in 27 minutes of ice time, and was dominant during all of it.  Only 24 hours before, he set up all three Detroit goals in their win over Montreal.  He also earned an assist in this one.
Norm Ullman was also a two-goal scorer for the Wings.  Ron Stewart and Red Kelly replied for the Leafs.
Toronto goalie Terry Sawchuk earned a 10-minute misconduct and the accompanying $25 fine for arguing too earnestly with referee Art Skov over Howe's game-winning goal.  Sawchuk maintained that Howe had knocked him over with a not-so-subtle body check in the Toronto goal crease. After Sawchuk went down, Howe fired the loose puck into an empty cage.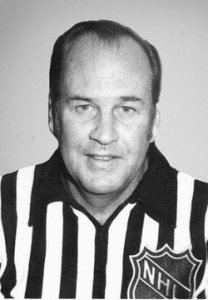 Toronto coach Punch Imlach and Montreal general manager Sam Pollock both agreed with Sawchuk's assessment.  Imlach, however, said that his team didn't play well enough to win.  He did say that Skov's work left much to be desired.
Typically, Howe shrugged off his dominant performance.
"Norm and the kid in goal (Roger Crozier) deserve the praise.  Ullman gets the big goals, skates miles and wrecks the other team's offence with his checking and the kid does everything but eat the puck.  The rest of us just tag along."
Howe also commented on Sawchuk's argument about the winning goal.
"Terry is so wrong.  It was an accident, I didn't see him and the puck (shot by Doug Barkley) hit me on the hip as Terry fell and I just back-handed it into the net."
Red Wings coach Sid Abel was surprised by his team's strong play despite their recent hectic schedule.
"They really surprised me.  I thought they'd be tired – this is the fourth game in five nights.  I didn't think they'd be able to skate like that.
"We got off to a good start, though.  And Howe played such a great game and Crozier – he picks them off.  No one else sees the puck but that glove shoots out and he's got it."
Hall, Paille stage goaltending duel
Goaltenders Glenn Hall of Chicago and Marcel Paille of the New York Rangers were the stars in a 1-1 tie played by those two teams at Madison Square Garden in New York.
Hall was especially spectacular in a first period where he faced 16 Ranger drives.
Paille stopped 21 of the 22 Chicago shots he faced, and even scored his first point of the season.  He was credited with an assist on captain Bob Nevin's goal.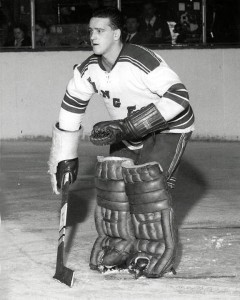 The play came about when Paille cleared a loose puck to Donnie Marshall, whose quick pass sent Nevin into the clear.  Nevin beat Hall cleanly with a low wrist shot.  The Rangers were playing a man short with Billy Hicke in the penalty box.
Chicago tied the game 26 seconds later.  Phil Esposito picked up a loose puck in front of the Ranger goal as the power play continued after Nevin's goal.   He picked the corner on Paille with a shot on which few goaltenders would have a chance.
New York defencemen Arnie Brown and Harry Howell were standouts on the New York blueline and stymied numerous Chicago rushes.
Canada may withdraw from international hockey
Canada may withdraw from international competition after being snubbed in their bid for the 1967 World Hockey Championships.  It was the Canadian hope to make the tournament a showpiece for the 1967 Canadian centennial celebrations.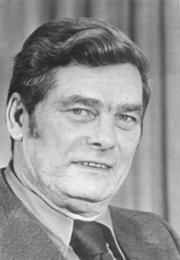 Vienna, Austria was picked as the site for the 1967 tournament.  Apparently, Russia and Sweden were the two countries that were chiefly responsible for blocking Canada's application.
Disappointed Canadian hockey officials hinted that they may not send a team to the 1966 tournament, to be  played in Yugoslavia.  There was talk that Canada may withdraw from international competition altogether.  What this means for the national team program isn't clear.
Former Canadian Amateur Hockey Association president Frank Sargent went so far as to say that he will bring forth such a motion at the CAHA's annual meeting in late May at Victoria, B.C.
There were good reasons, according to the IIHF, to deny Canada's bid.  The Canadians wanted to stage a restricted event, with only the A Pool competing in Canada.
The A Pool competes for the gold, silver and bronze medals, and the first eight positions.  The B Pool plays for positions 9-15.
In addition, Canada wanted to limit the A Pool to only five teams – Canada, the United States and the three top European teams.  The IIHF did not feel that these restrictions were in the best interests of the World Championship Tournament. No country in Europe offered to host the B Pool section, which also damaged Canada's chances of gaining approval.
Gordon Juckes, secretary-manager of the CAHA,  blamed Sweden.
"The Swedes raised the point that the championships had never been split before.  We had offered to play the expenses of three European teams coming for a five-team tournament.  We thought it would be more economical to hold the B Pool in Europe.
"Now we will have to assess our position as far as World hockey is concerned.  The problem is whether Canada can continue to organize a national team.  It is hard to expect university students to come over to Europe year after year to play in the World championships.
"The Canadian public and government have been behind us, on the supposition that we had the support of the World organization, too.  They may feel now that we don't have that support.
"Our Czech friends did everything they could for us.  So did Bunny Ahearne."
Notes
Hal Laycoe, coach of the Portland Buckaroos of the Western Hockey League says there is no truth to rumours that he will become the next coach of the Boston Bruins.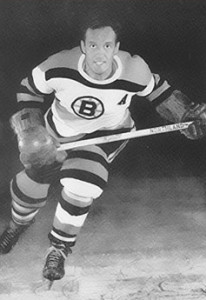 Bill Gadsby of the Detroit Red Wings is playing with torn rib cartilage.  The area is frozen before each game, but is still very painful.
Former NHL player Jackie Leclair, 34,  yesterday signed on as player-coach of the New Haven Blades of the Eastern Hockey League.
Retired police detective, involved in hockey at all levels for over 50 years. Member of Society for International Hockey Research and presently a video analyst for the leader in advanced hockey analytics (we work exclusively for 2 NHL clubs, and provide advice on an ad hoc basis to many other clients). Currently the Assistant General Manager for the Pelham Pirates of the Greater Ontario Junior Hockey League. Previously owned the Faceoff computer hockey simulation and also provided all player ratings for the EA Sports series of NHL computer games from the late 90's into the mid 2000's.