The Chicago Black Hawks rode Glenn Hall's goaltending to a convincing 4-0 rout of the Detroit Red Wings last night in noisy Chicago Stadium.  The Chicago win forces a seventh and deciding game, to be played in Detroit tomorrow night.
The win followed the "homer" pattern of the series, as a road team has not yet been successful.
The two key performers for the Hawks were Hall, who made 33 saves, and centre Stan Mikita.  Mikita, who was the subject of much criticism so far in the series, scored his second goal. He was all over the ice and easily Chicago's best skater.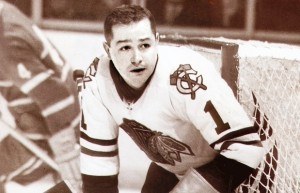 After a scoreless initial frame, Kenny Wharram netted his first of the playoffs 3:38 into the second period.  Wharram is another Hawk whose play drew complaints from the Chicago faithful.
The Black Hawks broke out for three goals in the final half of the third period to salt this one away. Phil Esposito started the parade with his second, followed in short order by Mikita's marker. Red Hay closed it out with a goal with just over three minutes left in regulation time.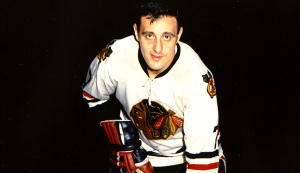 Rookie goalie Roger Crozier could not be faulted for the loss, and he did receive ample support from his defence.  Bill Gadsby was a shot-blocking wizard, while the entire defence unit cleared pucks with aplomb until the fateful final eight minutes.
A key Detroit defender, Marcel Pronovost, was injured in the first period when he blocked a Chico Maki shot.  He sustained an eight-stitch cut on his lip and a broken dental plate.  Pronovost did return, but was obviously not working at full speed.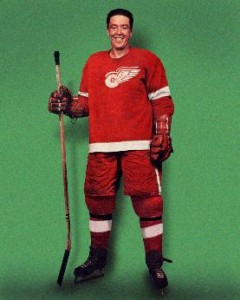 Warren Godfrey, the 34-year-old call-up from Pittsburgh of the AHL, also played a strong game for the Wings.
Chicago coach Billy Reay was not as enthusiastic as one might expect after such a key victory.
"We played a couple of games as well as that in Detroit and lost.  I'd have to say we'll have to play better to win on Detroit ice."
Detroit coach Sid Abel felt that his club was in it until the final eight minutes.
"It was anybody's game until they got that second goal. After that, school was out.  As long as it was 1-0, we had a chance.
"Hall made all the big ones. I'd rather lose 4-0 than 1-0.  But we have the home ice advantage for the seventh game and that's been a big edge so far."
The Red Wings sorely missed defenceman Doug Barkley, out with a concussion. Abel says that the big red-head will be back for the seventh game.
"He's been up walking around, so I guess he's all right."
Marlies grab first win
The Toronto Marlboros finally managed a win against the Niagara Falls Flyers last night, but they will have to win three more straight games if they have any hope of repeating as Memorial Cup champions.
The Marlies edged the Flyers 2-1 in a wild game  at Niagara Falls.  The Marlies had to contend not only with a tough Niagara squad, but also with raucous fans.  At one point, a rink-side spectator stole Ray Winterstein's stick and then threw it back at him.  Marlie trainer Rick Noonan also had to duck to narrowly avoid a punch thrown at Winterstein.
Paul Laurent scored the first Toronto goal, on a nice setup from Mike Corrigan.  Laurent's shot squeezed just between Niagara goalie Bernie Paarent's pads.
Derek Sanderson's breakaway goal evened things up late in the first.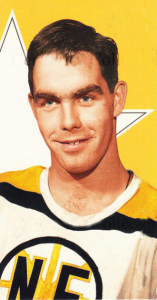 After a scoreless second period, Corrigan netted the game winner with just over five minutes left in the third.
The game ended on a wild note, as a riot nearly broke out at the final whistle.  Sanderson and the Marlies' Jim Keon scuffled, and players from both teams became involved as the benches emptied. Police were called onto the ice to restore order, and many of the over 3,000 fans decided to join in on the fun on the ice.
Coaches Jim Gregory of Toronto and Bill Long of Niagara Falls, ordered their players to the dressing rooms, and what could have been a disastrous situation was averted.
Notes
NHL president Clarence Campbell is being moved to a Montreal hospital.  The NHL will begin to seek an assistant to the president, to take some of the workload off Campbell.
Rookie Boston goalie Jack Norris is picking the Chicago Black Hawks to make the final and defeat Montreal.
Sports Illustrated says that the NHL is not serious about its announced expansion plans.  It called the league "a tight little island of close-fisted, inbred standpatters with a stranglehold on a grand professional game."
James Norris, co-owner of the Chicago Black Hawks, says that his club would pay $1.5 million for Toronto's Frank Mahovlich and Bob Pulford.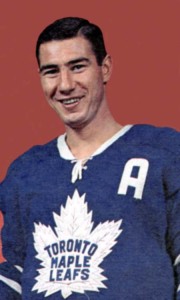 Mike McMahon of the St. Paul Rangers has been named the most valuable defenceman of the Central Professional Hockey League.
Hershey Bears blanked the Buffalo Bisons 3-0 to tie their semi-final AHL series at 1-1.  Claude Dufour earned the shutout for the Bears.
Toronto goalie Terry Sawchuk doesn't think the Leafs will protect him this summer's league draft.
Boston hockey writer Leo Monahan says that new Boston GM Hap Emms told him that he hopes to buy players from both the Maple Leafs and Canadiens.