by Eldon MacDonald (edited by @ChrisRalphTHW)
To go with the release of THW's April War Room Draft Rankings as well as NHL Central Scoutings' Final Rankings Combined, here are seven prospects who have seen their stock slide somewhat from where Central Scouting had them ranked in their midterm release. These prospects still possess a lot of potential and in many cases their slipping is in part due to other prospects excelling as the hockey season progressed.
Nick Merkley – Kelowna, WHL – RW, – 5'11, 191
NHL Combined – To 25 (Final) from 14 (Mid)
(E-Mac: 21 – Apr-15)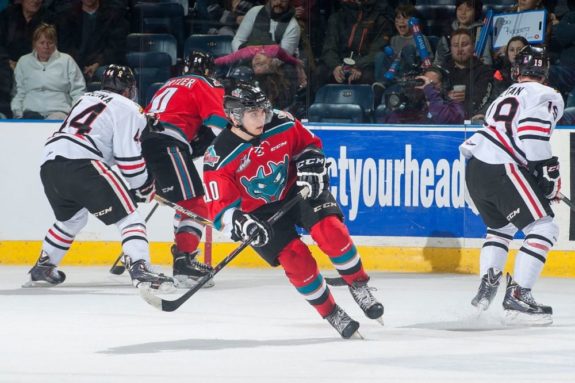 Nick really had two seasons. In the first one which ended January 3, Nick averaged 1.7 points per game – high-end enough that the top ten seemed within reach. After January 3rd, Nick averaged 1.2 points per game – still good but not quite top 10 elite. Therefore, Central Scouting lowered him to 25 from 14. I have him at 21. Nick's team, the Kelowna Rockets, is still playing and could be poised for a long run – long enough for Nick to trend back up.
Editor's Note: I still like Merkley's complete game and compete level. His hockey sense is also right up there in this draft class. The playmaking forward is a catalyst for impactful plays all in all three zones.
Nick Merkley just had a shift and a half for Kelowna to draw a penalty. He has a motor that just does not stop. #WHL #NHLDraft

— Zenon Herasymiuk (@ZenonHerasymiuk) April 12, 2015
Brandon Carlo – Tri-City, WHL – D, LR– 6'5, 196
NHL Combined – To 27 from 17
(E-Mac: 17 – Apr-15)
The highlight of Brandon's season was the IIHF U20's  when he looked not that far off the higher ranked defenders on Team USA, Noah Hanifin and Zack Werenski. However, Brandon's game did not elevate once back in Tri-City. In particular, his offensive game stagnated. Central Scouting lowered him to 27 as the expected further improvements in his game did not occur. I have not marked him down as the sotck for a 6'5 defender who can skate and has a nasty streak in him remains sky-high.
Oliver Kylington – Farjestad, SWE 1 (SHL) – D, L – 6'0, 180
NHL Combined – To 43  from 8
(E-Mac: 25 – Apr-15)
Oliver's elite physical skills (particularly, skating and passing) has perplexed the scouting community as it has yet to translate into an elite game, particularly on defense. Central Scouting marked him hard at 43. I still think that some NHL team will still take him in the teens on the belief his high-end skills will eventually produce a high-end game. I have him at 25.
Oliver Kylington ranked 6th among International Skaters by CSS, behind Rantanen, Carlsson, Larsson, Ericsson Ek, and Spacek. Ouch.

— Scott Wheeler (@scottcwheeler) April 8, 2015
Jens Lööke – Brynäs, SWE 1 (SHL) – C/RW, R – 6'0, 180
NHL Combined – To 59 from 24
(E-Mac: 66 – Apr-15)
I'm beginning to think that with Jens Lööke, it was just one look, that's all it took. Put another way, the look that scouts got at the Five Nations tournament was not too kind to Jens Lööke – too peripheral, not intense enough, not committed enough to defense – just not first round material. Central Scouting reduced his ranking to late second (59) from first round (24). Similarly, I have him at 66.
Jeremy Bracco – USA U18 NDTP, USHL – C, R – 5'9, 173
NHL Combined – To 79 from 46
(E-Mac: 45 – Apr-15)
Jeremy Bracco is a smallish center with a largesse of talent. He showed that talent early in the year averaging nearly 2 points a game over his first 21 games. Then he hit a three month dry patch over the next 29 games when his production plummeted to just .8 points per game. A .8 points a game means a 5'9 prospect often may not get drafted. Central Scouting took note of the drop in output and marked him down to 79 like it was a Boxing Day blow-out at Best Buy. Jeremy may yet turn into a gate crasher special as he re-upped his production to 2 points a game in the last seven games. Jeremy could regain his first round ranking with a strong U18. Currently, he is at 45 on my rankings.
#NHLDraft Watch: Missed this over weekend, Jeremy Bracco notched his 100th career assist at NTDP. Old record was 88 co-held by Patrick Kane

— Chris Peters (@chrismpeters) March 11, 2015
Adam Musil – Red Deer, WWHL – C, R – 6'3, 202
NHL Combined – To 81 from 39
(E-Mac: 78 – Apr-15)
At the start of the season, Adam looked like he might break into the first round with his size, his family pedigree (father Frantisek was an NHLer and his brother David looks like he will be too) and physical presence. His first 25 games looked promising at .9 points per game. After that, the bottom fell out of his offense (.4 points per game) and he no longer looked nearly as promising. Central Scouting reduced his ranking to mid-third (81) from early second (39). I have him at 78 as I still think he has major league potential even if he didn't show much of it in the latter part of the season.
Matthew Spencer – Peterborough, OHL – D, R – 6'2, 203
NHL Combined – To 92 from 68
(E-Mac: 72 – Apr-15)
Matthew Spencer is another player whose production dropped drastically in the latter part of the season – just .2 points per game in the last 21 games after .6 per game in his first 45. Central Scouting knocked him down 24 places to 92. In my opinion, this is rather harsh as Matthew still looks like a winner in the long run – physical presence, size, leadership. Even my 72nd ranking may be a bit harsh as he still may have some second round suitors who are looking for that big strapping, physical, defensive defenseman with strong leadership skills.
ICYMI, @neatebuzzthenet Draft Tracker on Oakville teen/Petes D-man Matt Spencer. https://t.co/5rMNh9c3Mz

— Steve McAllister (@StevieMacSports) February 4, 2015
Conclusion
Performance does matter. While there will always be a few players ranked on the potential they have yet to deliver, for the most part, results carry a heavy weight.
Chris is THW's senior draft/prospect analyst and a Managing Editor. Watch for "The Next Ones" Prospect Profile series, exclusive rankings, mock drafts, as well as the annual THW NHL Entry Draft Guide. Follow @ChrisRalphYQ on Twitter as he infiltrates, dissects and analyzes all happenings of hockey prospects and the NHL entry draft. Email: cralph[at]thehockeywriters[dot]com