by Eldon MacDonald (edited by @ChrisRalphTHW)
To go with the release of THW's April War Room Draft Rankings as well as NHL Central Scoutings' Final Rankings Combined, here are thirteen prospects whose stock has been surging from where Central Scouting had them ranked in their midterm release.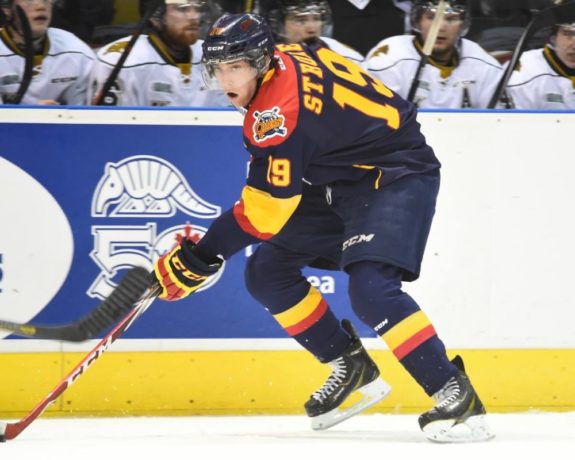 Dylan Strome – Erie Otters, OHL – LW, L – 6'3, 185
NHL Combined – To 4 (Final) from 5 (mid)
(E-Mac: 4 – Apr-15)
He needed four points to win the OHL scoring championship; he got six – what more do you need to know? Both Central Scouting and I have him at a well-deserved 4th overall.
Ivan Provorov – Brandon, WHL) – D, L – 6'1, 209
NHL Combined – To 7 from 11
(E-Mac: 9 – Apr-15)
Ivan Provorov's stats were remarkably consistent over the year which only helps to strengthen the argument that Ivan is one of the more NHL ready players in the draft. However, on the ice, Ivan's game matured over the year as all the little things he does just got a little bit better. So it is not surprising to me that Central Scouting moved Ivan into the top 10 at 7; I have him at 9th.
Ivan Provorov with a beauty rush and rocket shot for his 1st ever playoff goal. Upping his draft stock. #WHLPlayoffs

— Dean Millard 🎙🦆🎧 (@DuckMillard) April 11, 2015
Mikko Rantanen – TPS, FIN 1 (Liiga) – RW, L – 6'4, 209
NHL Combined – To 8 from 19
(E-Mac: 7 – Apr-15)
Those who watched the IIHF World U20 Tournament know Mikko Rantanen had a great tournament and put himself into contention to be a high draft choice in 2015. However, most thought he would go back to Finland and more or less get lost on a very poor TPS team in the Liiga (top Finnish professional league) and probably not get much ice time. Thus, he might eventually drop in the rankings. Nobody could have told Mikko Rantanen this or if they did, he didn't listen. What happened was Mikko Rantanen went back to Finland and turned up his game about five notches and became about the only reason to go to TPS games. Central Scouting obviously was watching as Mikko was moved up to the top prospect playing in Europe in this draft.
Timo Meier – Halifax, QMJHL – RW, L – 6'1, 209
NHL Combined – To 11 from 13
(E-Mac: 10 – Apr-15)
When your team is down and almost out in the playoffs, you want your players to deliver the works until the last whistle – whether it is regulation time, overtime or even double overtime. When the Halifax Mooseheads were down three games to two to the Shawinigan Cataractes, Timo Meier did just that; he delivered the works – offense, defense, forecheck, backcheck, skating, passing, shooting, all out effort, all out compete – 16 shots on goal – 12 considered dangerous – two goals included the winner in double overtime. While this game is but one example of the all-out Timo Meier, there were enough others than Timo moved up to 11th overall from 13th on Central Scouting's list. I have him at 10 by comparison.
Would you look at that! RT @HFXMooseheads: Timo Meier leads the QMJHL Playoffs with 3 Game Winning Goals. #MooseFact

— Megan Smith Vondrak (@MeganVondrak) April 14, 2015
Kyle Connor – Youngstown, USHL – C, L – 6'1, 177
NHL Combined – To 14 from 15
(E-Mac: 13 – Apr-15)
Kyle started the season at a nice but mundane pace – 1.1 points per game in his first 16 games. Since that time, Kyle has upped his pace to 1.6 points per game and the won the USHL scoring crown. More importantly, he was the catalyst to move his team from the ordinary ranks to a 17 game undefeated streak and first place in the USHL standings. The only reason that I can see that he didn't rise more was that Central Scouting had already factored in the rise in his game when they did the previous rankings. Central Scouting has him at 14; 13 for me.
Evgeny Svechnikov – Cape Breton, QMJHL – LW, L – 6'2, 199
NHL Combined – To 18 from 23
(E-Mac: 14 – Apr-15)
Evgeny Svechnikov finished the season at a white hot pace with 22 points in his last 10 games. Central Scouting rewarded Evgeny for his results by moving him up 5 places to 18. I have Evgeny a little higher at 14.
Daniel Strong – Charlottetown, QMJHL – RW, R – 6'0, 180
NHL Combined – To 21 from 22
(E-Mac: 15 – Apr-15)
Who was the hottest forward prospect in the last month of the regular season? Future Considerations says it was Daniel Sprong. McKeen's Hockey calls Daniel Sprong "a potential 2015 draft steal." Many (including me) say his talent is at the top five level in this draft. He is a student of the game, committed to only getting better, possessing the talent of a Phil Kessel with a passion for fitness. So why did Central Scouting only increase him one place to 21 and I have him only a little bit better at 15. Well, there are issues which are better explained in Damien Cox's article at Sportsnet.ca. A team willing to show Daniel a little love and has the ability to address those issues could really get a difference maker type of player. Detroit, Tampa, Anaheim, Columbus and a few others, are potential landing pads.
Noah Juulsen – Everett, WHL – D, R – 6'2, 174
NHL Combined – To 24 from 49
(E-Mac: 37 – Apr-15)
I thought that I loved Noah Juulsen better than everyone else when I had him at 37 but Central Scouting has him at 24 (from 49). I think Noah Juulsen is just a player you like more and more every time you every time you see him. Not only does he provide offense but he can hit too. I saw him send Sam Reinhardt into the middle of the previous week. When I put Noah on this list, I thought I would see a big difference in his offensive numbers in the second half of the season but that was not the case – just a modest improvement.
@Juuls16 delivers a punishing hit near the benches tonight pic.twitter.com/TNnsmyZyCq

— Chris Mast (@MastImages) March 1, 2014
Dennis Yan – Shawinigan, QMJHL – LW, L – 6'1, 184
NHL Combined – To 32 from 44
(E-Mac: 50 – Apr-15)
If you are going to get hot, the best time to do it is at the end of the season and in the playoffs. Dennis did just that – a fine March with 12 points in 9 games plus a goal a game in the thrilling overtime filled seven game series against Halifax. However, it was not just the quantity of goals in the playoffs that impressed me. It was the compete, the intensity, the willingness to be a difference maker plus the skills to be the difference maker that impressed even more. Central Scouting moved him up to 32, probably without the benefit of seeing some of those games. I have him at 50 which may be too low. I just didn't see the all-out game and compete level in him earlier in the year in the games I watched that I saw in the playoffs.
WATCH @Cataractes_Shaw Dennis Yan score OT winner in 3-2 decision over Mooseheads. http://t.co/XmDcfeHL1U#QMJHL

— John Moore (@rinkrant) April 1, 2015
Vince Dunn – Niagara, OHL – D, L – 6'0, 187
NHL Combined – To 35 from 70
(E-Mac: 39 – Apr-15)
I was a slow-comer in showing my love for Vince Dunn – a smaller d-man whose defense is still a work in progress. Part of the slowness can be attributed to Vince's good but still ordinary output in the first half of the season – .6 points per game in his first 35 games. After that, Vince just poured it on averaging 1.1 points per game for the rest of the regular season plus almost a goal a game in the playoffs. It's not just the stats – it is the skating, the agility, the shot, the passing and the excitement on the power play when he is on the ice. I still have some reservations on the defensive side or I would put him into the first round. Central Scouting and I are close to agreement on Vince – I have him at 39, Central Scouting at 35.
Joel Eriksson Ek – Färjestad, SWE 1 (SHL) – C, L – 6'2, 180
NHL Combined – To 37 from 119
(E-Mac: 23 – Apr-15)
Joel Eriksson Ek is a big centre who had a coming out party in the recent Five Nations Tournament where he was one of the most prominent players for Team Sweden. I have him in the first round at 23 based on potential because although he is very good right now, he is still very lean and raw. Imagine how good his game could become with a little more, weight, strength and finesse. He is also one of Central Scouting's biggest risers going from 119 to 37. I think the difference between me and Central Scouting is that I am giving a lot more weight to his potential.
http://t.co/XjymQcv3NG
#21 Joel Ek Eriksson @EkEriksson
2015 – 20GP 2G 1A 3PTS. Developing all-around center. Great skater & IQ on the puck.

— ISS Hockey (@ISShockey) March 21, 2015
Gabriel Gagné – Victoriaville, QMJHL – RW, R – 6'5, 186
NHL Combined – To 42 from 62
(E-Mac: 38 – Apr-15)
I had high hopes for Gabriel Gagné coming into the season but Gabriel did not have the start to the season that he had hoped to have – averaging just .6 points per game over the first 17 games. Since then Gabriel ratcheted his game up a few notches, averaging a point a game for the rest of the season, demonstrating his excellent hands, excellent shot and fine finish with 35 goals for the season. Central Scouting took note of his successes and moved him up to early-mid second at 42. I have him at 38 and would have him first round if he had made just a few more improvements to his first steps and acceleration.
Jack Roslovic – USA U18 NDTP, USHL – C, L – 6'1, 182
NHL Combined – To 48 from 69
(E-Mac: 29 – Apr-15)
Let's keep it simple – Jack simply upped his game from .4 per game to 1.5 games for the rest of the season so he left Central Scouting with no choice but to up his ranking substantially from 69 to 48. I think he is more late first – early second and have him at 29.