by Eldon MacDonald (edited by @ChrisRalphTHW) 
Dylan Strome – Ranked #5 – March 2015 Rankings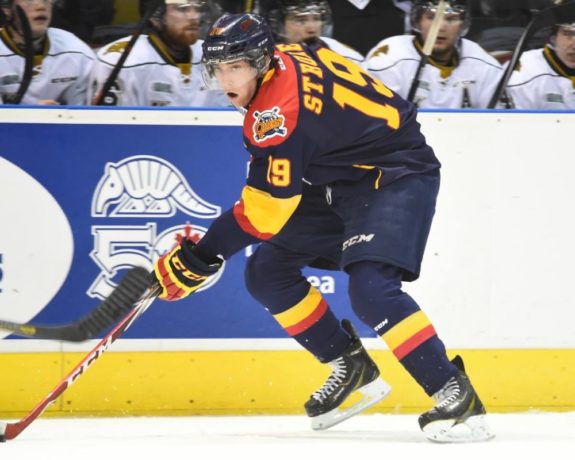 Hashtag: #MrBestIsYetToCome
Team: #19, Erie Otters, OHL
Position: Centre
Shoots: Left
Height: 6'3
Weight: 187 lb.
Born: Mississauga, ON, 7-Mar-97
Twitter: @stromer19
Stats
Dylan Strome just got into a tie for the overall CHL scoring lead with that assist. Has 4 goals, 2 assists today.

— Mark Scheig (@markscheig) March 22, 2015
Other Rankings
From THW's Draft War Room
Eldon MacDonald, THW:  A few words on Dylan Strome:
Mr. Best is Yet to Come : The reason that  I am sure that Dylan Strome will be a success in the NHL is his willingness to constantly improve, his willingness to do what it takes to get better, whatever the area of his game.
http://t.co/XjymQcv3NG
#6 Dylan Strome @stromer19
2015 – 23GP 12G 30A 42PTS. Smarts, protection elite. Linemates thrive through his vision.

— ISS Hockey (@ISShockey) March 10, 2015
Five Reasons Dylan Strome Will Be Chosen in the Top 5 of the 2015 NHL Draft
Size – One of the pieces that are hardest to find for an NHL team is that skilled, big-man centre. Dylan Strome, at 6'3, 187, is that skilled, big-man centre.
Competitiveness – Driven to be successful, a want to win mentality – honed at home with his NHL brother, Ryan (NY Islanders – 2011, 4th overall).
Willingness to Get Better – This is what I wrote about Dylan's brother, Ryan way back in 2011, "The thing I most like about Ryan Strome is that this year's enormous success just didn't happen because of luck and good fortune. It happened because Ryan had the intelligence to know what he had to do make it happen, he had the common sense to do something about it and he had the work ethic to carry it out. That combination is a winner in my books and makes good things happen." You could just substitute Dylan for Ryan and that would update you to 2015. And yes, Dylan Strome is a winner in my books too.
Good Down Low – Has the patience to wait for an opening to exist, has the lateral ability to penetrate an opening, has the vision to know when an opening will come, has the puck possession skills to work in traffic.
Face-off King – You know that you are pretty good at something if you can do it better than Connor McDavid, Dylan's teammate and projected number one pick in 2015. And yes, Dylan takes most of the face-offs when he and McDavid are on the ice together which is mainly on the power play.
Offense
Vision – First rate along the patience to let the play develop.
Passing – Pass first mentality with the vision and skills to make it happen.
Shooting – Lethal wrist shot.
Stickhandling – Very good, especially in heavy traffic.
Puck Protection – Will not let go of his puck, a real dog with a bone mentality. A real strength.
Defense: Could improve his play without the puck; however, this is more a commitment to improve his skating than a commitment to more concentration on defense.
Myth: Dylan Strome is a bad skater. He's not. He's just not Ehlers, Marner, Konecny, Nylander, etc.

— Scott Wheeler (@scottcwheeler) March 20, 2015
Awards and Achievements
2012-13: Greater Toronto Hockey League – Player of the year
2014: World U-17 Hockey Challenge – All Star
2014: Ivan Hlinka Hockey Tournament – Gold medal with Team Canada
Sep-14: Pacific 4 Forward of the Month
2015: BMO MHL/CHL Top Prospects Game – Player of the Game for Team Cherry
2014-15: OHL Scoring Champ; tied for CHL Scoring lead with Connor Garland
Improvements to make: Dylan has been working very hard to improve his acceleration and top-end speed with Toronto Maple Leafs Skating Coach Dawn Braid. His lateral movement, however, is good which works well down low a la Alex Galchenyuk.
NHL Projection: Dylan Strome possesses the size, vision, passing, shot, puck protection, face-off and down-low skills that NHL teams look for in a number one or two centreman. He currently has that big-man, pass first mentality not unlike Joe Thornton of the San Jose Sharks. However, his shot is so good that I think he will evolve into having more of a shooter mentality like John Tavares or Ryan Kesler.
Draft placement: The rankings have Dylan tightly bunched in the 4 to 6 range. With the size and OHL success he has shown to date and the proven NHL success of his brother, it is likely he will be chosen sooner rather than later – don't expect any slippage.
Quotable
Quote 5: OHL Prospects Blogspot – Dan Stewart, Director of Scouting for Future Considerations, "Strome has been progressively more impressive in each of my views this season and is someone who really does not yet know how dominant he can be in this league. His game will only become more impressive as he learns to fully utilize his great size, reach and adds more strength to his frame. This kid will breakout eventually and will be almost impossible to contain once he does."
Interviews
ICYMI – I went 1 on 1 with @stromer19, who is projected to go in Top 10 in this June's draft. http://t.co/mdBXm2vaUz #THW

— Mark Scheig (@markscheig) March 14, 2015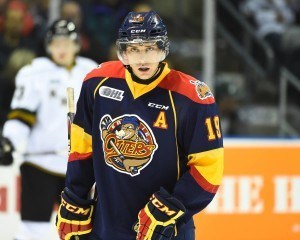 Profiles
Videos
#GottaSeeIt: Erie Otters' Dylan Strome nets four goals and adds two assists vs Niagara to win the OHL scoring title: http://t.co/rRpGma7qCz

— Sportsnet (@Sportsnet) March 22, 2015
Chris is THW's senior draft/prospect analyst and a Managing Editor. Watch for "The Next Ones" Prospect Profile series, exclusive rankings, mock drafts, as well as the annual THW NHL Entry Draft Guide. Follow @ChrisRalphYQ on Twitter as he infiltrates, dissects and analyzes all happenings of hockey prospects and the NHL entry draft. Email: cralph[at]thehockeywriters[dot]com