Saturday evening saw a full slate of three games in the National Hockey League.  In the most entertaining match of the night, former Montreal Canadien forward Bill Hicke, traded to the New York Rangers less than a month ago, fired three goals against his former team to lead the New Yorkers to an exciting 6-5 over the Canadiens in Montreal.
The other two games saw Toronto edge Boston in a snorefest, while Bobby Hull continued his attack on the record book, leading Chicago to a 7-4 over Detroit.
Hicke nets winner
Hicke, traded to the Rangers for Dick Duff just before Christmas, had not scored a goal in the NHL this season going into last night's contest.  He scored once in the first period and added a couple of more goals in the final frame to break out in a big way against his former employers.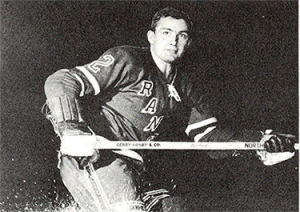 Vic Hadfield, Phil Goyette and Bob Nevin also scored for New York.  Ralph Backstrom paced the Montreal attack with a pair of goals.  Singles came from John Ferguson, Bobby Rousseau and Claude Larose.
Did Hicke find some extra motivation facing his former team?
"I had a feeling I'd score a goal or two tonight because I've been coming close and getting a lot of ice time with Rangers.  You know something – I might have had five.  I hit the post twice.
"I didn't score a goal in 25 games and now they're coming in bunches.  I had a few twos with Canadiens but this was my biggest game."  The hat trick was a career first for Hicke.
Montreal coach Toe Blake was exasperated after the game.  "It looks as though we can't win unless (goalie) Charlie Hodge has a fantastic game."  Hodge has given up 11 goals in the past two games, while the Habs have scored nine times.  His work left a lot to be desired and Blake is hoping the little netminder can turn things around, and quickly.
Ranger goaltender Jacques Plante's game wasn't an artistic success, but he did entertain the crowd when he removed a muskrat that had been thrown onto the ice.  The animal landed at Plante's feet in front of the Ranger goal.  Referee Frank Udvari skated over, took one look at the thing and headed the other way.
Plante picked up the animal, thankfully deceased, and nonchalantly dropped it over the glass.  Hopefully it did not land in the laps of the loyal Forum fans sitting at rinkside.
Hull half-way to 70
In an afternoon contest at Detroit, Bobby Hull fired his 34th and 35th goals of the season to lead the Chicago Black Hawks to a 7-4 win over the Red Wings.  Hull added an assist for a three-point night, giving him 57 points in only 37 games.  He is on pace to become the first NHL player to amass 100 points in an NHL season.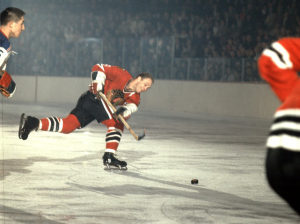 Other Chicago goal-getters were Stan Mikita, Ken Wharram, Dennis Hull, Pierre Pilote and Doug Jarrett.  Detroit got goals from Parker MacDonald, Paul Henderson, Eddie Joyal and Ron Murphy.
Detroit coach Sid Abel expressed concern over the play of rookie goalie Roger Crozier.  The youngster, so good early in the season, gave up all seven goals on only 19 shots over the first two periods.
"Naturally I'm concerned.  Roger hasn't been sharp.  He's allowed some bad goals in the last three games.  I don't know what the reason is, whether he is tired or something else is wrong."
Lacklustre game in Toronto
In a somewhat boring affair at Maple Leaf Gardens, Toronto edged the Bruins only due to the fine work in goal by Johnny Bower and the forward line of Jim Pappin, Red Kelly and rookie call-up Pete Stemkowski.
Pappin scored once and added an assist on Red Kelly's goal to top the Toronto offensive output.  Young Stemkowski had two assists.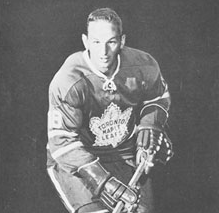 Bower, who is rounding into form nicely after a slow start, fashioned 32 saves, 13 of them in the final period.  The only goal to beat him was scored by Ab McDonald on a screened shot Bower still hasn't seen.
McDonald, incidentally, is the forward it is rumoured Leaf manager – coach Punch Imlach covets in trade talks with the Bruins.  Imlach, however, is not going to surrender Eddie Shack in any deal with the Bruins for McDonald, whose goal was only his fourth in 32 games.
Shack played only two shifts for Toronto.  Still darling of the Toronto faithful, the crowd took to chanting "We want Eddie Shack" in the third period.  Imlach did not oblige.
As far as the trade rumours swirling around the Leafs and Bruins go, Boston general manager Lynn Patrick is desperately trying to make something happen to shake up his moribund outfit.  He has tried to pry Shack loose from Imlach's grip, but has instead been offered only little-used centre Billy Harris.  If the truth be known, Boston has very little that interests Imlach, especially after left wing Dean Prentice was lost for the season with a back injury.
Habs offered Berenson
Montreal general manager Sam Pollock is interested in McDonald, a former Canadien.  However, his motives are more in the way of keeping Toronto or Chicago from improving rather than bolstering his own forces.  Milt Dunnell of the Toronto Star reports that the Canadiens have offered young centre Red Berenson to the Bruins for McDonald, but were turned down.  Berenson is with Quebec Aces of the American Hockey league.