Nashville Predators general manager David Poile could be seeking a trade with the Toronto Maple Leafs to acquire right-winger Phil Kessel. This idea came about after Poile defended Kessel on TSN 1050 when it was suggested he was a difficult player to coach, leading to Randy Carlyle's firing in Toronto.
Said Poile:
"I love Phil as a player. Who wouldn't want to have what he produces offensively? I've read all the things about him being uncoachable, and from my experience, that is not the case. In terms of him having issues getting along with teammates, playing his role and performing for his coach, absolutely not."
Kessel, 27, leads the Leafs in scoring with 43 points (19 goals, 24 assists) in 42 games, more than any player on the Predators.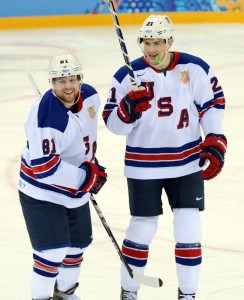 As GM of Team USA for the 2014 Olympics, Poile saw Kessel dazzle for the Americans tallying 5 goals, 3 assists in the tournament.
Predators fans may remember in September 2009 when Kessel was a Boston Bruin, Poile discussed a trade with Bruins GM Peter Chiarelli to acquire Kessel.
From John Glennon of The Tennessean:
[Predators GM David] Poile said he doesn't think he'd be interested in making an offer sheet for Kessel, since compensation for signing him would be a first-, second- and third-round pick in the 2010 draft.

A trade would be a different matter.

"We've talked concepts," Poile said of his conversations with [Bruins GM Peter] Chiarelli. "I'd be very interested to see if there might be something he would like from the Predators."
To quote Bert Lance, "If it ain't broke, don't fix it." Adding Kessel could set the Predators as a Stanley Cup favorite, but in order for the trade to be positive for them, the return to hockey's mecca would have to be one-sided enough to make Leafs fans want to burn down the Air Canada Centre — which may not take a lot for a rabid Leafs fan to do. A line with Kessel and James Neal would be jaw-dropping, but remember, depth is key in the playoffs, and it is the bottom two lines who win important games.