Toronto Maple Leafs scored two first-period goals against the Montreal Canadiens last night but couldn't hang on and had to settle for a 2-2 draw with the Habs at Maple Leaf Gardens. It was the only game on the National Hockey League schedule. Over 15,800 fans, largest at the Gardens since 1946, took in the match.
Big M Scores Goal of the Year
John Brenneman and Frank Mahovlich each scored their second goals of the season to stake the Leafs to the early lead. Mahovlich's goal at 12:46 electrified the crowd and was a thing of beauty to watch.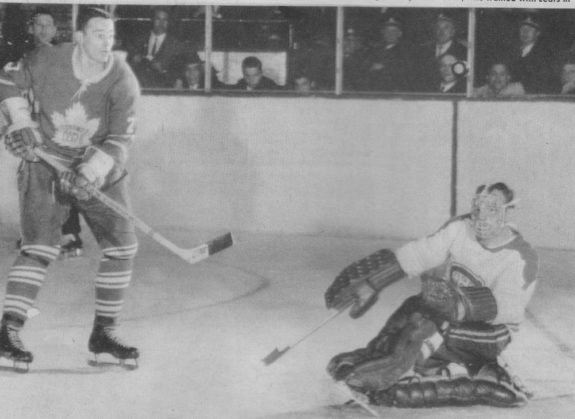 The Big M took the puck at the Toronto blue line and circled around Bobby Rousseau of the Canadiens who was helpless to resist. He then shredded the Montreal defence of Ted Harris and J.C. Tremblay in a move that looked more like the parting of the Red Sea. He then fired a quick shot that Montreal goalie Charlie Hodge somehow managed to get a piece of. Mahovlich recovered his own rebound, almost as if it had been planned that way and deposited the puck behind Hodge in the blink of an eye.
The ovation Toronto fans afforded big Frank after that goal was such that has not been heard at a Maple Leaf game likely since 1951 when Bill Barilko scored his famous goal.
Red Sullivan, who will coach the new Pittsburgh Penguins next season, couldn't contain his enthusiasm for the play Mahovlich made:
That first-period goal by Frank Mahovlich was worth the price of admission alone. Not even Bobby Hull could top that one. The Big M lifted me out of my seat. Those fans won't see a better goal all season.

I'd like to have a film clip of that play just to show our fans a truly sensational goal.
Unfortunately for Toronto, that play was the big highlight for the night. Once again the Leafs surrendered a lead to the opposition in the third period and that is becoming a serious problem for the club. Toronto has been outscored 6-1 in the final frame in five games this season.
Yvan Cournoyer and J.C. Tremblay scored Montreal's goals. Cournoyer netted his early in the second period when he fired a high shot over Toronto goalie Terry Sawchuk's shoulder. It was a power play goal, coming while Leafs' Tim Horton was sitting out a penalty.
Tremblay's tying goal after only 33 seconds of the third was a bit of a fluke. The smooth-skating Montreal defender has made a specialty over the past few years of floating in those long, crazily-bouncing shots that give goalies nightmares and this was one of those.  He flipped the puck toward the Toronto goal just after crossing the centre red line. It took a couple of erratic hops and somehow found its way through Sawchuk and into the net.
Hodge was a surprise starter in the Montreal goal. Gump Worsley was slated to go for the Habs, but suffered an arm injury in warmups and Hodge was rushed into the breach. He made 28 saves. Sawchuk, other than Tremblay's goal, was solid for the Leafs, blocking 32 Montreal drives.
Springfield Finally Loses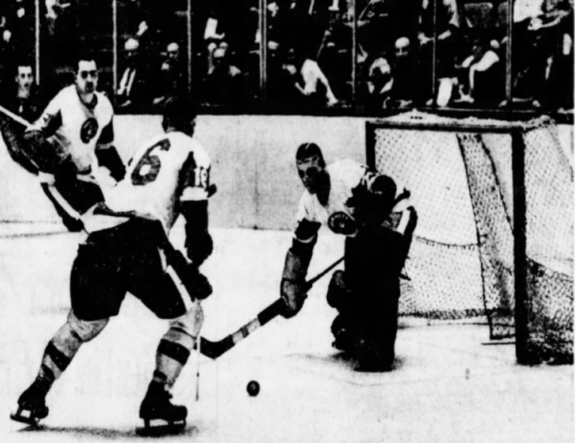 The Pittsburgh Hornets became the first American Hockey League team to defeat the Springfield Indians as they blanked the Tribe 5-0 last night in Pittsburgh. It was the lone AHL game on the schedule.
Rookie goalkeeper Don Caley recorded his first professional shutout in the game. He made 23 saves, including 12 in the second period.
Ray Cullen gave the Hornets all the offence they needed with a pair of goals. Don McKenney, Terry Gray and Ted Taylor scored the others.
Caley credited the Pittsburgh defence with shutting down the Indians attack:
They stopped more than their share of shots. They played 110 per cent.
Wasps defenceman Bob McCord was the best player on the ice for either team. He was called up to the parent Detroit Red Wings after the game.
No More Dives
Milt Dunnell of the Toronto Star reports on a change in style by Montreal's Bobby Rousseau. Dunnell says that Rousseau has had the reputation around the National Hockey League as a "swan diver."  He took dives to draw penalties against opposing players. NHL referees got wise to Rousseau's play and began to ignore fouls on the speedy winger that actually should have been called. Canadiens management quietly took Rousseau aside and told him to stop the practice this season.
Mitchell Recalls Barilko Signing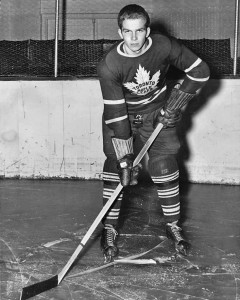 Johnny Mitchell, now working for the Detroit Red Wings, was in Toronto recently and recounted to Milt Dunnell how he inked Bill Barilko to his first professional contract:
He was so anxious to play pro hockey he would have signed for an ice cream soda. I signed him for Pittsburgh but the Leafs had a working agreement with us. When Conn Smythe came back from overseas he said 'There's the one I want.' He also ordered that I was to be paid a bonus of $1,500.
Notes: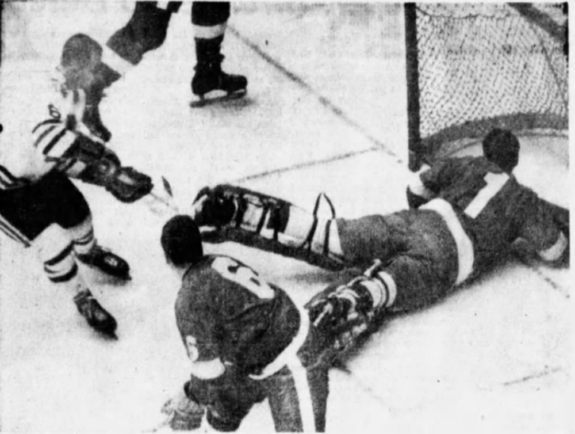 Leafs sent rookie forward Wayne Carleton to Tulsa of the CPHL to get him more ice time.
Canadiens report that injured winger Dick Duff has started skating but won't be back in the lineup for about a week.
New York Rangers captain Bob Nevin, who has been nursing a knee injury, will return to full duty tonight against the Boston Bruins.
Montreal defenceman Jean Guy Talbot dabbles in racing and has a horse named Peter Gunn presently running at Western Fair Raceway in London.
Willie O'Ree scored a goal in the final minute of play to give the Los Angeles Blades a come-from-behind 7-6 win over the Portland Buckaroos in WHL action.
Seattle Totems edged Victoria Maple Leafs 3-2 in the other WHL game. Bill Dineen had the winning goal for Seattle.
Howie Young of the LA Blades is drawing praise from coach Fernie Flaman for his fine play this season. He has only four minutes in penalties. Blades D Gary Kilpatrick leads the WHL in penalties with 78 minutes.
Alex Faulkner had one goal and added an assist as Memphis Wings tied St. Louis Braves 3-3 in a CPHL game.