The season is 10 games old for the Winnipeg Jets. It's been an up and down start, but surely, nobody will jump to conclusions about the entire season based on one-eighth of its content. Right?
Unfortunately, that's not the case. And honestly, it's not fun. Overreacting is your right as an NHL fan. So to help you out, let's take a look at the Jets' season so far and figure out whether we should actually be overreacting, or if we are correct in our assumptions.
Offence
The Problem So Far?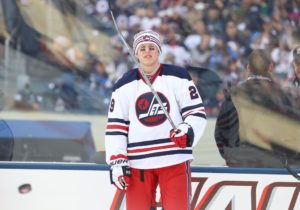 The Jets seem to be unable to score. Not just that, but they aren't even getting the puck towards the net. The team ranks in the bottom half in terms of goals per game. While Mark Scheifele and Blake Wheeler have cemented themselves as some of the best in the NHL, the rest of the team hasn't quite caught up yet, with only Byfuglien having more than four points.
Oh, and Patrik Laine. He sits tied for second on the team in points, even though he has only played 10 games in his NHL career. So Winnipeg has rewarded his six goals and league-leading four power play goals by placing him on the second unit. Instead of being set up by Scheifele, Wheeler, Ehlers or Byfuglien, it's Enstrom, Perreault, and whoever else they throw together.
Speaking of rookies, Kyle Connor has not shown the promise he flashed in the preseason. He only has three points and spends most of his time on the third line or in the press box. Only injuries have brought him back out.
Are We Overreacting?
For the most part, yes. We're only 10 games into the season and if there is anything that NHL fans have been taught over the analytics age, it's sample size. The team sits in the bottom half of the league in shooting percentage. Only 10 players have scored a goal, and Byfuglien has not. That will change. If he converted at an 8 percent rate, he would have two goals already. That shooting percentage would also mean that Josh Morrisey would have a goal and Mattieau Perreault would have another.
The eye test also reminds you they are a young, fast and incredibly skilled team. They have also run into hot goalies, with the opposing team's goalie riding a .933 save percentage at even strength. They have been unlucky in many situations, whether it's hitting the post, barely missing the net or not getting a call that they should have.
https://twitter.com/myregularface/status/793629696185466880
Of course, there is cause for concern. Laine's shooting percentage is insanely high, and while talented snipers can have a higher-than-average shot conversation, it's likely to fall. Bryan Little is a solid point producer who isn't in the lineup for the next while and Drew Stafford is out for a while now as well.
What's most concerning is the SAT% (shot attempts percentage). It currently sits just north of 45 percent, which is abysmal. Kyle Connor is sitting below 40 percent. Of course, both Scheifele and Laine are below 50 percent, which we can expect to change. Scheifele finished at 54.02 percent, and Laine appears to be locked into that first line winger spot. As a whole, that number should drastically improve as the season progresses.
At the end of the day, let's remember that the average age of the Winnipeg roster is under 26 years. They will get better.
Defence
The Problem So Far?
Frankly, the defence has been atrocious. The eye test shows them allowing multiple odd-man rushes a game and turnovers seem to constantly be capitalized on by the opponent. And as we mentioned before, the SAT% is not good at all. In close games, not a single Jets defenceman is over 50 percent. This means when the game is on the line, they are defending more than they are attacking.
Of course, you'll have a hard time keeping your SAT% up if you can't win any faceoffs. Perreault and Lowry are the only centers in the lineup who win more than half the faceoffs they take (51.5 percent and 50.7 percent, respectively). The player who takes the most faceoffs, Scheifele, is only winning 40.3 percent of his draws. You cannot be a dominant team if you spend the beginning of every play chasing the puck.
Are We Overreacting?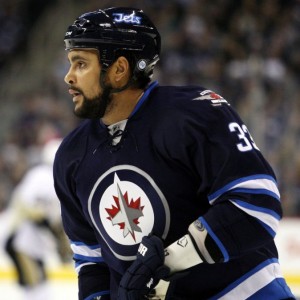 Ummm….
This one is tough. The defence has been bad so far this year, but we can use the sample size argument for most of it.
Byfuglien is a polarizing player that probably drives coaches insane. He takes chances, which leads to lots of odd-man rushes. But that goes both ways. The problem this year is that he has yet to capitalize on one of the chances, which makes it his style of play right now reckless and not game-changing. But Byfuglien will score, especially considering how much ice time he is logging. And his partner, Morrissey, has looked right at home in the NHL. While the points aren't piling up, he has played a solid game and made very few fatal mistakes.
The biggest problem right now is the one player who hasn't even put his blades on the ice. Jacob Trouba was supposed to be a top-two defenceman for this team, which meant Morrissey going down with Myers and Enstrom bumping Stuart out on the third. And when injuries mount, they had Stuart or Postma to lean on. With Myers and Trouba out, the defence has shown some major holes. The depth does not appear to be there and the pressure will be on Kevin Cheveldayoff to plug that whole before the entire season is lost.
Of course, the defence isn't completely to blame for the goals …
Goaltending
The Problem So Far?
More or less everything. The goaltending has been bad. The club has allowed less than three goals only two of the 10 games played. And until the last three games, the save percentage of both goalies was below .900.
It's a very young tandem, and if the bad play keeps going, there is a reason to believe it will snowball, as neither may be ready for full-time duty.
Are We Overreacting?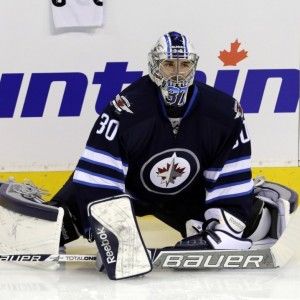 Yes. 100 percent yes.
Jets fans have been treated to five years of subpar goaltending from a few different goalies, so it's understandable when we overreact. When Ondrej Pavelec was sent down to the Manitoba Moose, fans went crazy with joy.
Then the Jets allowed four goals in each of their first three games. Suddenly the joy turned to anger and we lashed out at our incredibly young, brand new goaltending tandem of Connor Hellebuyck and Michael Hutchinson.
To clarify: just because #Pavelec is not the answer, doesn't mean #Hellebuyck or #Hutchinson are the answer. We will find out.

— Jets Hockey Forum (@NHLWinnipeg) October 27, 2016
Hellebuyck had a shaky start, but he is already back to a .914 save percentage. And this early in a season, one goal can be the difference between an American Hockey League goalie and a superstar. One extra save bumps the percentage up to .920.
We also need to remember that this is the goalie who ended his first season in college with a 1.37 goals against and a .952 save percentage, playing against guys that were upwards of four years older than him. In the American Hockey League, on an otherwise bad Manitoba Moose team, Hellebuyck still managed a respectable 2.49 and .922.
Why Are We Overreacting?
Because we are hockey fans. It's almost required. Because hockey is still working on its advanced stats, the one thing we always want to trust is our eyes. But you also need to look at the history, and at the underlying stats, before you jump to conclusions.
http://gty.im/470762402
That all said it's still unlikely the Jets will make the playoffs. But they will improve, they will make their mark and will bring that championship home to Portage and Main sooner than you think.