The Detroit Red Wings defeated the New York Rangers 7-4 last night to claim their 13th National Hockey League championship, their first in eight years.  The victory took place before 14, 253 overjoyed fans at the Olympia Stadium in Detroit.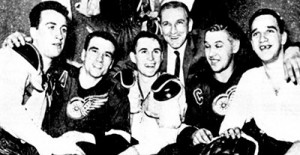 The Red Wings grabbed and 2-0 first period lead on goals by Alex Delvecchio and Paul Henderson.  They upped the count to 4-0 early in the second on Delvecchio's second of the night and Norm Ullman's 40th of the season before the Rangers could get on the board on an Earl Ingarfield goal.
Delvecchio then, with just less than five minutes left in the middle frame,  completed his hat-trick on a nice setup from Gordie Howe, his 25th of the season, and the issue was no longer in doubt.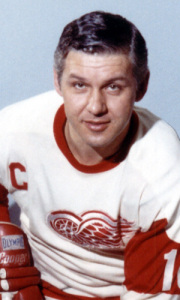 Jean Ratelle of the Rangers narrowed the gap to 5-2 about two minutes later, but Ullman notched his second of the game just before the second ended to make the score 6-2.
Eddie Joyal scored Detroit's, and his, seventh goal early in the third.  That was followed by two meaningless Ranger goals, Ingarfield's second of the game, and Doug Robinson's 10th of the season.
Winning the league championship puts some cash in each player's pocket.  The 18 players will split a pot of $40,500.
With two games left to play, it's still full steam ahead for the Wings, whose goal now is to make sure that rookie goalie Roger Crozier takes home the Vezina Trophy as well.  Crozier has fallen to second place in the goaltending race, thanks to the 10 goals he has surrendered to New York this week.
Gordie Howe said the team felt bad about allowing so many goals to a fifth-place team like New York.
"We let him down a little tonight.  We gave them a couple of goals.  Now at least we'll be fighting the guys who are ahead of him."
Although he was happy to have clinched top spot, manager-coach Sid Abel knows that his squad must play better defensively.
"Now is the time to see if we can tighten up.  We tried tonight after we were leading 7-2 and they got a couple of goals on us."
As for finishing first, Abel was unable to contain his joy.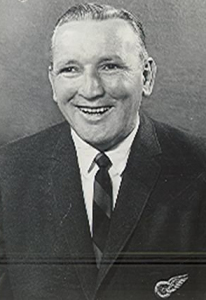 "No one thought we could do it, but we showed them…it was a tremendous team effort.
"No one picked us for first place before the season started.  In fact, only one person picked us for second place in the pre-season poll.  We were given a lot of votes for fourth and fifth place though.
"We've still got a lot of work ahead of us.  We want to win the Stanley Cup, too.  I think we can win it, if we play like we've been playing lately, if we can carry our momentum into the playoffs.  On thing is certain – the three other teams in the playoffs will have more respect for us than they did at the start of the season."
Bruins to change management setup
Weston Adams, president of the Boston Bruins, said yesterday that he plans to "reorganize the present operating formula" in an effort to resurrect the moribund franchise and finally escape the National Hockey League cellar.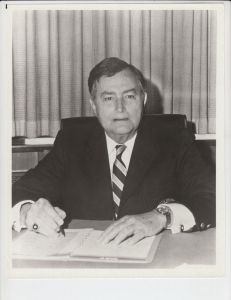 A  spokesman for Adams said that reports that coach Milt Schmidt will be let go are without foundation.  The spokesman said that Schmidt could remain coach as long as he wants the job, as long as Adams is president. There are, however, reports that Schmidt is tiring of the day-to-day pressures of coaching in the NHL and may ask out on his own.
Adams said "I have some very firm opinions on how this reorganization can best be done and intend to put together a more successful combination.  The revised setup I have in mind includes both Milt Schmidt and Lynn Patrick (Bruins general manager)."
Adams indicated that an announcement is forthcoming, possibly immediately after Boston's final game this Sunday.
Meanwhile, the Boston Record-American is reporting that Patrick will be ousted as general manager and replaced by Niagara Falls Flyers owner and manager Hap Emms.  Adams would not comment on that report.
Reached for comment at his Ontario office, Emms would not confirm or deny anything.
"It all depends.  There are a lot of 'ifs' to be worked out.  Right now I don't think this is definite.  We've talked about it.  In fact, we've talked about various things."
Another rumour making the rounds has Emms bringing his Niagara Falls coach, Bill Long, in to replace Schmidt.
Marlies square series, whip Petes 6-1
The Toronto Marlboros manhandled the Peterborough Petes last night before the third-largest crowd in Peterborough's Memorial Gardens history, to the tune of 6-1.  The result evened their best of seven OHA semi-final series at a game apiece.
The Marlies' big line of Brit Selby, Paul Laurent and Mike Corrigan did most of the damage.  Selby fired a pair of goals about a minute apart in the third period.  Laurent and Corrigan added singles.  Laurent had three assists.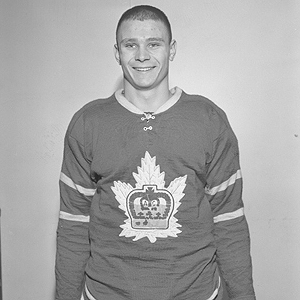 Jim Keon and Ray Winterstein had the other Toronto goals.
The Petes' Andre Lacroix ruined Toronto goalkeeper Gerry Desjardin's shutout bid with a first-period goal that gave the home side a 1-0 lead at the end of one.
Notes
The Eastern Hockey League has fined 24 players a total of $650 for their parts in that wild brawl in Knoxville Sunday night.
Toronto forward Bob Pulford suffered a leg injury at practice yesterday.  He will not play in the Leafs'  final two games this weekend against Detroit.
The Stanley Cup Playoffs will open on Thursday, April 1, in Montreal and Detroit.
The Red Wings, looking ahead to the playoffs, are thinking of resting goalie Roger Crozier for this weekend's games, replacing him with Hank Bassen.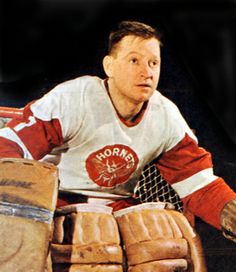 Quebec Aces whipped the Buffalo Bison 6-3 in an AHL game in Quebec.  Wayne Hicks led Quebec with two goals.  Len Lunde scored twice for the Bisons.
Hamilton Red Wings of the OHA Junior A Series, are looking for a new coach after Danny Lewicki resigned yesterday.  Hamilton finished last, eight points out of the playoffs.
Mayor Hamel of Quebec City says that he has sent a letter to NHL president Clarence Campbell expressing the city's wishes to be included in the league's expansion plans.  The team would play in the 12,000 seat Coliseum, owned by the city.
Retired police detective, involved in hockey at all levels for over 50 years. Member of Society for International Hockey Research and presently a video analyst for the leader in advanced hockey analytics (we work exclusively for 2 NHL clubs, and provide advice on an ad hoc basis to many other clients). Currently the Assistant General Manager for the Pelham Pirates of the Greater Ontario Junior Hockey League. Previously owned the Faceoff computer hockey simulation and also provided all player ratings for the EA Sports series of NHL computer games from the late 90's into the mid 2000's.