Frank Mahovlich, the Toronto Maple Leafs star left winger who has been out of the lineup since November 11 with an undisclosed illness, is all set to return tomorrow night when the Leafs face the Montreal Canadiens at Maple Leaf Gardens.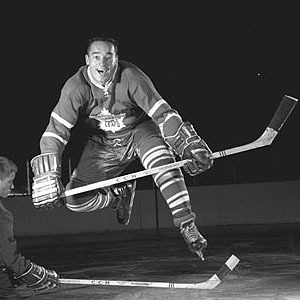 Mahovlich went through a brisk workout at Tam O'Shanter Arena yesterday and afterwards pronounced himself fit for duty:
"I feel fine and I'm anxious to play. I'll be glad to get back into a regular game."
Now it's Imlach ailing
Meanwhile, Toronto coach – general manager Punch Imlach was having physical woes of his own.  Imlach left practice complaining of pains in one leg and his chest.  He turned proceedings over to captain George Armstrong and left the arena.
Today Imlach says that he had a complete medical examination yesterday and that results will be available to him later this afternoon.  He insisted he is just fine, other than a pulled muscle in his leg.
Injured Leafs on the mend
Some injured Leafs had good news to report.  Ron Stewart had his injured foot x-rayed again and fount that it is only bruised.  It will likely bother him for another week or so, but he may be able to play through it.  Allan Stanley reports that the broken bone in his foot has healed and he's been pain-free for the past four days.  And Johnny Bower is breaking in a new set of goal pads he designed himself.  He plans on marketing them next year.
Bob Pulford may be released from hospital on Friday and might even play next weekend.  He suffered an eye injury when struck by a stick in Saturday night's 10-2 drubbing of Detroit.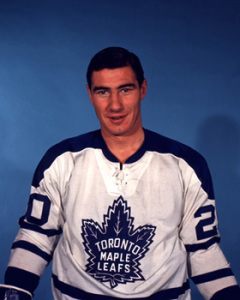 Junior Canadiens to play Russians Friday
The Montreal Junior Canadiens are slated to play the Russian national team Friday night in Montreal.  Today Jack Riley, president of the American Hockey League, gave his permission to the Quebec Aces to lend six players to the junior Habs to bolster their lineup against the Russians.
Harvey, Worsely to bolster juniors
Joining the Junior Canadiens will be goaltender Gump Worsley, defencemen Doug Harvey and Jim Morrison, along with forwards Bill Sutherland, Leon Rochefort and Red Berenson.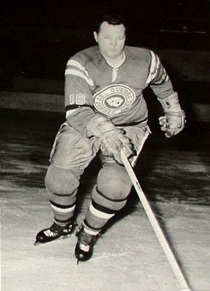 Harvey says he "can't wait" to play the Russians:
"I have only seen the Russians play on television, so I don't know how good they really are.  But I can tell you one thing, whenever the five of us are on the ice, we'll outscore the Russians.  I can't speak for the Junior Canadiens because I don't know their strength."
"All the fellows on our club are looking forward to this game and I can assure you we are not treating it like any ordinary exhibition game.  We want to win in the worst way."
Harvey was asked if he was worried about the reported speed of the Russian team:
"I can't say I'm impressed with their speed.  How can anybody possibly outskate Red Berenson?  If somebody can, I think it will be time for me to hang up my skates.  I might get run over out there."
Rangers Nielson injures knee
The New York Rangers have announced that defenceman Jim Nielson has a strained knee, sustained in Sunday night's game against Chicago.  A club spokesman said that Nielson might miss Wednesday's game against Chicago and the team will call up a replacement in the event he is unable to go.
Retired police detective, involved in hockey at all levels for over 50 years. Member of Society for International Hockey Research and presently a video analyst for the leader in advanced hockey analytics (we work exclusively for 2 NHL clubs, and provide advice on an ad hoc basis to many other clients). Currently the Assistant General Manager for the Pelham Pirates of the Greater Ontario Junior Hockey League. Previously owned the Faceoff computer hockey simulation and also provided all player ratings for the EA Sports series of NHL computer games from the late 90's into the mid 2000's.