With the National Hockey League's deadline for trading and call-ups coming up Sunday night at midnight, there is lots of talk around each team, but very little action.  We'll have a look at each club and what seems to be going on.
Boston
The last-place Bruins are the one team that probably should be most active, but general manager Lynn Patrick has indicated he is having no luck completing a trade, despite giving it the old college try.
The Buins have weaknesses everywhere, and while they have some great young players on the horizon, none of them will be ready for prime time anytime soon.  Boston does have some very useful veterans that could garner interest from the contenders.
John Bucyk, Murray Oliver, Leo Boivin and Ted Green are the most notable skaters who would look good on a playoff team.  Green has been the subject of inquiries by several teams, but the Bruins have said that he is not available under any circumstances.  Bucyk would fit nicely on Toronto's left side, and we'll discuss his possibilities in the Toronto section.
What would the Bruins be seeking in any bartering session?  The answer is young talent at any position.  They have absolutely no depth in goal, as witnessed by the necessity for the team to borrow goaltenders from other NHL organizations.  Toronto has young Gerry Cheevers, who is currently tearing it up at Rochester of the AHL, and he would be an attractive target for Patrick.  Some say he is ready to step in and play in the NHL right now.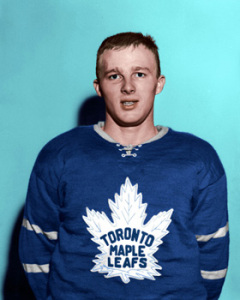 Montreal has several young forwards that Patrick has made inquiries about, but so far, the Bruins don't have what Montreal wants, unless they will give up Green. They were rebuffed when they requested rookie Yvan Cournoyer, as well as others.
The one player everyone seems to think will be a star in the league is 16-year-old Bobby Orr of Oshawa of the OHA Junior A league.  The Bruins are not giving him up, although it is known that two teams made a push for the talented teen.
Chicago
The Black Hawks, leading the league and heading for their first regular-season championship, made their big move earlier this month and aren't expected to be involved in anything significant before Sunday night.  The Hawks acquired sniper Camille Henry from the Rangers for a package of youngsters and are hoping the slightly-built veteran  will be the piece that pushes them over the top.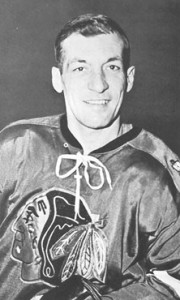 It appears more and more that coach Billy Reay is getting comfortable with using Denis DeJordy in goal in all situations, which could spell the end of Glenn Hall's tenure in the Windy City. Chicago's problem is, other than Boston, who would likely prefer the younger DeJordy, most teams are set between the pipes.  The possible exception is New York, where Hall is miles better than Marcel Paille or Jacques Plante.  Ranger GM Emile Francis, however, is likely looking for a youngster and not a grizzled veteran like Hall.
If Hall is to be moved, it won't be until the league meetings this summer.
Detroit
The Red Wings are making a push and seem to have momentum as we head into the stretch run.  The team has depth and balance and surprising skill in goal.  About the only thing the Wings might want to consider is a viable back-up netminder in case young Roger Crozier fades as the season wears on.  Don't forget that the diminutive netminder needed a vacation in Florida earlier this season to re-charge the batteries.
The Wings did make one recent pick-up when they reacquired forward Val Fonteyn on waivers from the Rangers.
The one area where Detroit might look to shore up is on the blue line.  Veterans Marcel Pronovost and Bill Gadsby (34 and 37 respectively) are getting long in the tooth and Gadsby especially is becoming a little more injury-prone.  Doug Barkley is solid, but prone to errors, rookie Gary Bergman is still pretty green.  Al Langlois' play doesn't instil much confidence in anyone.   Someone like Boston's Boivin or the Rangers' Harry Howell would certainly enhance the Wings' playoff chances, and they do have the young assets that those teams covet.
Montreal
What do you get for the team that has everything?  The Canadiens are solid everywhere, and the December addition of Dick Duff to replace the injured Gilles Tremblay was the one move they had to make.  Coach Toe Blake wouldn't mind  a depth acquisition up front, and he doesn't seem to have confidence in his goaltenders, but realistically, there isn't much tinkering that needs to be done in Montreal.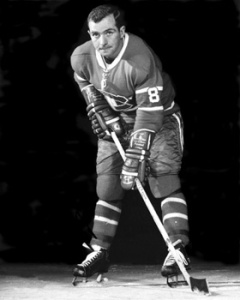 The Canadiens did make a push for young Boston defenceman Ted Green earlier in the season but were told he is not available unless they would include rookie Yvan Cournoyer in a package.  General Manager Sam Pollock is very high on the young forward and isn't about to send him anywhere.
There was some talk that the Red Wings were after centre Ralph Backstrom last summer, but his improved play this season has solidified his role with the Habs.  One deal that came very close early this season would have seen goalie Gump Worsley heading to Detroit for forward Larry Jeffrey.  That was scuttled when rookie goalie Roger Crozier played so well for the Wings, diminishing their need for another netminder.
New York
Like Chicago, the Rangers have made their big move, shipping out the veteran Henry and picking up three pieces that general manager Emile Francis feels will be Rangers for many years.  Doug Robinson and John Brenneman look to have good scoring potential, while Wayne Hillman should be a steady influence on the blue line.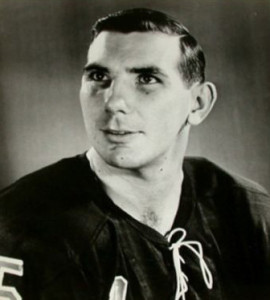 Robinson has scored seven points in his first seven games with the Blueshirts.  That includes a game-tying goal against Montreal with one second left earlier this week.
The Rangers could use help in goal.  Neither of Marcel Paille nor Jacques Plante has demonstrated the consistency needed to compete on a nightly basis in the NHL.  They don't have any standout goalkeeping prospects in the minors, although some feel that Wayne Rutledge at St. Paul of the CPHL, only 22, might have a future.
The Rangers' deal with Montreal in December, picking up Bill Hicke for Dick Duff, was a swap of players not living up to potential.  Hicke has had one great game for the Rangers, who still believe he can be a useful NHL forward.
Toronto
The Leafs are the team that most observers believe will be most active before the deadline.  Of course, history has a lot to do with that notion, given the blockbuster trade with New York that Toronto general manager Punch Imlach engineered last year at this time.  There doesn't seem to be the same urgency on Punch's part to make the same kind of deal this time around.
Imlach is not shy about saying what his team's needs are:  the Leafs are woefully thin on left wing.  He even tried George Armstrong on that side last week, with middling results.  This week he said that veteran Gerry Ehman of Rochester might be brought up to to play that wing (he's a RW like Armstrong) but the Leaf GM seems to have changed his mind on that idea.
The most rumoured solution would be to go and get veteran Johnny Bucyk from the Bruins.  Bucyk is 29, by no means over the hill and is one of the league's best on the left side.  He would fit in wonderfully with this team.  Imlach's problem is that the Bruins want young players, a commodity Punch is reticent to surrender.  According to sources in Boston, the Bruins are very interested in winger Jimmy Pappin, the effervescent Eddie Shack, and young Rochester goalkeeper Gerry Cheevers.  Two of those three would likely get the deal done for the Bruins.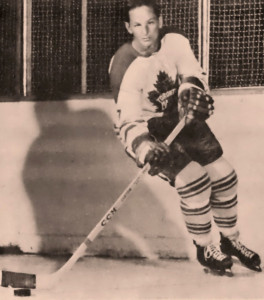 Imlach is going to have a problem keeping  Cheevers.  This summer, he must be protected or be lost for $30,000 in the league draft.  Chances of Cheevers being kept over Johnny Bower or Terry Sawchuk are very slim – Punch is well-known for his loyalty to his veterans.  So a Cheevers deal would at least be an opportunity to get something for a player who might otherwise be lost for nothing but cash this summer.
It says here that it will be very difficult for Imlach to resist the temptation to pick up a star by giving up youngsters.  Bucyk is his target and he could be a Leaf Monday morning.  Will that be enough to get the Leafs to the promised land for the fourth straight season?
Retired police detective, involved in hockey at all levels for over 50 years. Member of Society for International Hockey Research and presently a video analyst for the leader in advanced hockey analytics (we work exclusively for 2 NHL clubs, and provide advice on an ad hoc basis to many other clients). Currently the Assistant General Manager for the Pelham Pirates of the Greater Ontario Junior Hockey League. Previously owned the Faceoff computer hockey simulation and also provided all player ratings for the EA Sports series of NHL computer games from the late 90's into the mid 2000's.