The latest list of National Hockey League leading scorers is a most interesting missive released by the league office.  At first glance, the top dogs in the race for the Art Ross Trophy. awarded to the NHL player who accumulates the most points in the season, looks completely in order.
Three Hawks on top
Bobby Hull of the Chicago Black Hawks, the best shooter on this planet, sits atop the leaderboard, as one might expect.  A distant 10 points in arrears is team mate Stan Mikita, also one the NHL's premier point producers.  In fact, three Black Hawks occupy the top three runs on the NHL ladder.  But a look at that third place name raises more than a few eyebrows.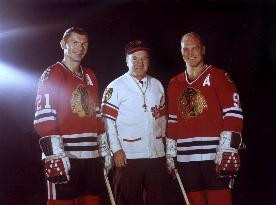 One might expect to see the name of Ken Wharram, last year's NHL all-star right wing, or possible Bill (Red) Hay, former centre of the famed Million Dollar Line with Hull and Murray Balfour.  But no, the name occupying third place, with 27 points and tied with Norm Ullman and Claude Provost, is that of Phil Esposito.  Who is this Esposito guy, anyway?
Where did "Espo" come from?
A lot of fans are asking that very question these days.  The tall, lanky centre from Sault Ste Marie, Ontario has burst in the the limelight this season after a rather inauspicious start to his NHL career last year.  In fact, over the recent Hawk hot streak, he has been almost as responsible for their seven straight wins as Hull himself.  Where did he come from?
Born February 20, 1942 in Sault Ste. Marie, Phil grew up in that northern Ontario community with his brother Tony, younger than Phil by a year.  Tony, presently playing for the Michigan Tech University Huskies, was always a goaltender and the two spent many hours on frozen ponds and in the local rinks.  These long sessions shooting pucks, tennis balls or whatever else was handy at his brother enabled Phil to hone his shooting skills.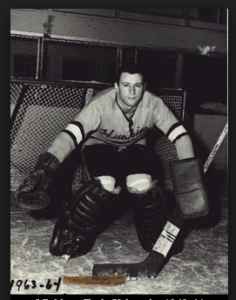 As a leading scorer in local minor hockey, the Chicago scout in the area signed Phil to a C form and he was assigned to the Sarnia Legionnaires of the Western Ontario Junior B Hockey League.  It was there that his scoring prowess really came to the fore.  In 32 games with Sarnia, Esposito scored 47 goals, added 61 assists for 108 points. That earned him a promotion to the St. Catharines Teepees of the OHA  Junior A league for 1961-62.  He even was given a brief call-up to the Eastern Professional Hockey League's Saute Ste Marie Thunderbirds .  The EPHL was the precursor to the present Central Professional Hockey League.
Phil spent the next season and a half with the St. Louis Braves of the CPHL.  He continued to be a prolific scorer but his skating seemed to be holding him back.  At least, that's what the scouts were saying.  Big Phil didn't listen to any of that, continued to work hard, and more importantly, continued to score.
Nondescript NHL debut
Last season, after 43 games in St. Louis, where he had amassed 26 goals and 54 assists, Chicago summoned him to the big team.  He wasn't a roaring success right off the bat, however.  In 27 games, Esposito managed only three goals and two assists in limited playing time.
Phil was not a lock to make the Hawks out of training camp this season, but a good pre-season and a complete lack of depth down the middle behind Mikita opened up a spot.  Working a lot with Hull, the rangy middle man has blossomed into a force to be reckoned with as he finds himself among the elite scorers in the world's best hockey league.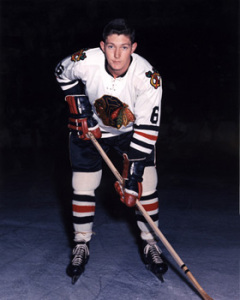 With Hull, Mikita and now Esposito leading the way, and youngsters like Freddie Stanfield, Ken Hodge, Dennis Hull and Doug Robinson on the horizon, the future is looking awfully bright in Chicago.
Vezina Trophy race tight
The race for the Vezina Trophy is the exact opposite of the scoring race, with Montreal, Toronto and Detroit all within .02 goals against per game.  Charlie Hodge has played all but one of Montreal's 28 games.  His personal average is 2.52, with the Montreal team mark at 2.46.  Roger Crozier has seen every minute of action for Detroit, with a similar 2.46 average.  And Toronto, where Terry Sawchuk and Johnny Bower are sharing the net, stands at 2.48.  Sawchuk has played 16 games, with Bower participating in 13.  Even Chicago, at 2.64, is not all that far off the pace.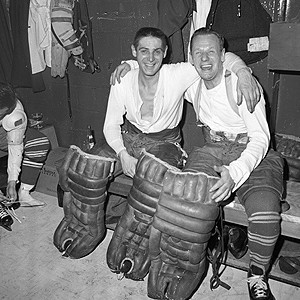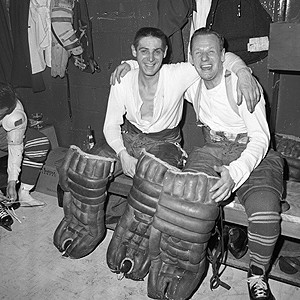 New York and Boston, at 3.10 and 3.43 respectively have some work to do before they can even contemplate being among the league leaders.
AHL leaders
Wayne Hicks of the Quebec Aces is the leading scorer in the American Hockey League, according to numbers released yesterday by the league.
Hicks, who has been leading the AHL for six weeks, has compiled a record of 16 goals and 22 assists for 38 points.  He is followed by Ted Hampson of Pittsburgh with 36.  Hicks' team mate Ed Hoekstra is next with 35.
Bob Champoux of Pittsburgh is the leading goaltender with an average of 2.20, but he has played only five games.  The league leader in penalty minutes is Bob Blackburn of Providence, who has spent 94 minutes in the sin bin.
Retired police detective, involved in hockey at all levels for over 50 years. Member of Society for International Hockey Research and presently a video analyst for the leader in advanced hockey analytics (we work exclusively for 2 NHL clubs, and provide advice on an ad hoc basis to many other clients). Currently the Assistant General Manager for the Pelham Pirates of the Greater Ontario Junior Hockey League. Previously owned the Faceoff computer hockey simulation and also provided all player ratings for the EA Sports series of NHL computer games from the late 90's into the mid 2000's.