Reset & Refreshed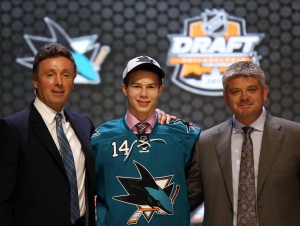 Two years ago San Jose Sharks GM Doug Wilson traded away veterans Michal Handzus, Douglas Murray, and Ryane Clowe all for draft picks. Each trade occurred shortly before the trade deadline of the lockout shortened 2013 season. Wilson deemed the moves to be a "reset and refresh" of the organization. Truth be told, it didn't need to be called anything, it was addition by subtraction. Wilson got rid of three aging, ineffective, and slow skating players and got draft picks in return. The Sharks went on to have arguably their best chance at the Stanley Cup during that playoff run.
This past offseason Wilson decided to part ways with Dan Boyle, Brad Stuart, and Martin Havlat. For a second time in two years the Sharks moved on from another group of three aging and ineffective players. All of a sudden San Jose has gotten younger and better. The key word in that sentence, is better. This team is much, much better than it was during the 2011-12 season. Just three years ago they bottomed out to a seventh place finish in the Western Conference.
Since the end of the 2011-12 season, with notable exceptions of signing journeyman fourth liners like Adam Burish, John Scott, and Mike Brown, the Sharks have gotten younger and better. It's not hard to figure out why the Sharks hit a low point at the end of 2011-12. From 2008 through 2011, the Sharks made only one first round draft selection out of those four years. That was Charlie Coyle in 2010. Since then, they have drafted Tomas Hertl, Mirco Mueller, and Nikolay Goldobin in the past three first rounds. Now while Hertl is the only one of those three to establish himself as a regular, other young draft picks like Matt Nieto, Tommy Wingels, and Justin Braun have established themselves as key players over the last couple years.
The Sharks, as mentioned here recently are actually not that old of a team. They have prospects and draft picks to dangle at the trade deadline. Along with the aforementioned Mueller and Goldobin, 2012 second rounder Chris Tierney is also a highly thought of prospect. Not to mention the hockey world is buzzing about Sharks' 2014 fifth round pick Rourke Chartier of the WHL's Kelowna Rockets. Chartier has 32 goals in 30 games this season. Nope, that wasn't a typo, Chartier has 30 goals, not points, goals. He has 32 goals in 30 games. He has 51 points. Chartier in fact, was trending world wide on twitter when he was the final cut from Canada's World Junior roster. The Sharks have a number of coveted prospects, and Wilson might not be as shy about sacrificing future as many seem to think.
Truth or Posturing?
During a tumultuous offseason this past summer,— drama and rumors up the wazoo after their playoff collapse to the Kings—Sharks GM Doug Wilson said many things. He used the term "rebuild," and said "we're a tomorrow team" but then he went out and re-signed tough guy Mike Brown and signed another tough guy in John Scott. Few people truly know what Wilson is ever thinking. Publicly right now, Wilson claims he is not willing to move draft picks nor young players/prospects. Maybe that is true but he very well could be posturing. Just a couple of seasons ago when Wilson made those moves to cut loose Handzus, Murray, and Clowe, he then brought in Raffi Torres. In 2011 he made a midseason deal for veteran defenseman Ian White, sending a second round pick back to Carolina. In 2007 he added Bill Guerin for the stretch run, giving up a first round pick and Ville Nieminen. That move didn't work out for the Sharks but Guerin was a deadline deal for the 2009 Penguins and if I remember right, that worked out pretty well for them. In 2008 Wilson added Brian Campbell at the deadline giving up a first round pick and Steve Bernier. Many fans bemoan these moves, but both players were terrific pickups. Winning the cup isn't easy.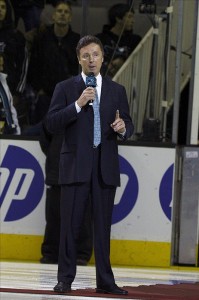 Now there is no question the Campbell, Guerin, and Craig Rivet trades in the mid-late 2000's left the Sharks' prospect cupboard rather barren. These days however, the cupboard is pretty well stocked. The Sharks have also not yet traded any of their upcoming first round picks. Wilson has the ammunition to swing a deal or two before the March trade deadline without completely emptying that proverbial prospect cupboard.
Currently Wilson's Sharks are 9-1-1 in their past 11 games, and are proving they deserve a reinforcement or two to their roster. Right now they are a good team but are getting by with a bottom six that could use some help. If they don't pick up a forward, or a defenseman that pushes Burns to forward, it is hard to fathom them beating a team like the Chicago Blackhawks. That is if they even make it out of the first two rounds within their division. While the Sharks have had Anaheim's number in recent years and the Kings look a bit weaker this year, they are still formidable foes. The Sharks need one more impact player to have a real shot at winning the cup.
San Jose could very much afford trading a first round pick for a rental right wing. Perhaps a guy like long time Buffalo Sabres winger Drew Stafford? Three times a 20 goal scorer, Stafford still managed 16 goals on a bad Sabres team last season, 13 of which came at even strength. Plop him next to Joe Thornton and Tomas Hertl? That line would be feature three forwards all of whom being at least 6'2", 210 pounds, and both a left handed and a right-handed shooter on each side of Thornton. With Stafford on that line, the Sharks could then back it up with a second line of Patrick Marleau, Logan Couture and Matt Nieto, and a third line of James Sheppard, Joe Pavelski, and Tommy Wingels. San Jose would have three legitimate scoring lines, with a top-four defense in Marc-Edouard Vlasic, Justin Braun, Brent Burns, and Brenden Dillon that looks really good right now. Even if the Sharks get nothing out of the injured Torres, these three lines would also allow them to run a fourth line of Barclay Goodrow, Andrew Desjardins, and Tyler Kennedy or perhaps Melker Karlsson.
Another way to go, one that arguably makes more sense, is to trade for Edmonton Oilers defenseman Jeff Petry, and move Burns back up to forward. Reunite a Hertl, Thornton, Burns line that kicked major booty in the regular season and playoffs, then back it up with the previously mentioned second and third lines. There is no question making a move for a player like Petry or Stafford would give the Sharks a much better shot at the cup. If they don't make that type of move, I just can't see them getting through the juggernaut Western Conference. Without adding talent, they would be better served moving their pending UFAs like Antti Niemi, Sheppard, and Kennedy simply for more draft choices.