In the course of negotiations between NHL GMs, many potential deals are thrown back and forth in the bargaining process. Most of the time, these trade talks never come to fruition, falling harmlessly by the wayside.
But in some cases, the best trades are the ones that GMs don't make. They may have seemed like good deals at the time, but in retrospect, they would have altered the fabric of the NHL as we know it. In some cases, multiple franchise players could have gone in exchange for what we know now as veterans that rapidly declined soon after.
Let's take look at six of the craziest examples:
#6 Vancouver trades Corey Schneider to Columbus for Gilbert Brule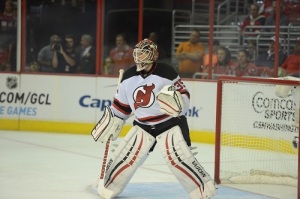 Proposed by then-Canucks GM Dave Nonis in 2008, the trade would have been a swap of two seemingly promising prospects. Brule was the 6th overall pick in 2005, but had struggled in the NHL (mostly due to mismanagement of his development) with just 32 points in 146 games. Still at age 21, Nonis thought he could still reach his potential and was a salvageable prospect.
Schneider was coming off 3 strong seasons at BC, and had a strong rookie season in the AHL. Despite one being on the upswing and the other on the downswing, Doug MacLean chose to hang on to Brule.
He would play 5 more seasons in the NHL with mediocre results before retiring. Schneider would go on to become one of the best goalies in the league, posting the 3rd best save percentage of goalie with at least 100 starts over the past three years.
#5 Philadelphia trades Jeff Carter & 1st to Toronto for Tomas Kaberle
Jeff Carter was in the midst of a semi-breakout season in which he scored 29 goals. However, his teammate Mike Richards had broken out that season, and with Danny Briere also in the fold, Flyers GM Paul Holmgren saw Carter as expendable.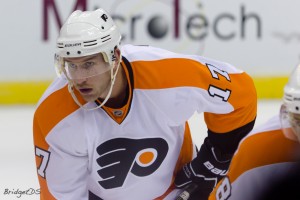 Needing another defenseman, the Flyers offered up the above package for Tomas Kaberle, who they had long coveted. However, Kaberle nixed the deal with his no-trade clause, and it never came to be.
The next season, Carter broke out with a 46 goal campaign, and has since become one of the best two-way, goalscoring centers in the league. Kaberle's point totals and TOI declined with each of the next five seasons before retiring.
If Kaberle hadn't nixed the trade, the Flyers never acquire Jakub Voracek and Sean Couturier, and it's possible the Kings don't win either of their cups.
#4 Philadelphia trades Claude Giroux to Tampa Bay for Paul Ranger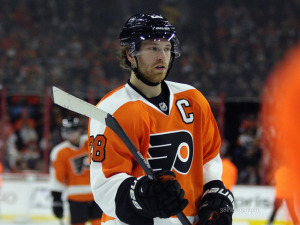 In 2009, Claude Giroux was in the midst of his first professional season in which he put up a respectable 27 points in 42 games. He showed flashes of brilliance, but some still questioned if his size would limit him at the NHL level.
Again, needing defensemen, Paul Holmgren offered up the talented forward to Brian Lawton, then-Tampa GM straight up for Paul Ranger. Ranger, at the time, was seen as a minute munching top 4 defenseman that had logged 24 minutes a game that season.
Lawton declined, as he admitted a few years ago on Sportsnet, and their futures couldn't be more different. Giroux has the most points in the NHL over the last 5 years, and Ranger played just 8 games in 2009-10 before taking a 3 year hiatus from hockey for personal reasons.
#3 Anaheim trades Corey Perry & 1st to Edmonton for Mike Comrie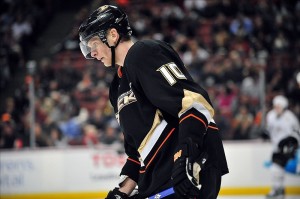 After a strong start to his Edmonton career that included 133 points in 192 games, Mike Comrie was embroiled in a bitter contract dispute that lasted into December of the 2003-04 season. Seeking a trade partner, Edmonton GM Kevin Lowe appeared to find one in the Ducks, who offered 2003 1st round pick Corey Perry, and another 1st for the frustrated player.
The only hangup with the trade was that Lowe demanded Comrie return his $2.5 million dollar signing bonus to the Oilers. Comrie refused, and he was instead dealt to the Flyers for what ended up being Jeff Woywitka, Rob Schremp, and Danny Syvret.
Perry went on to become a Hart Trophy & Rocket Richard winner, a two-time 1st Team All-Star, and is 3rd in goals over the past five seasons. Comrie would break 50 points just once in the rest of his career.
Yet another brilliant move in the tenure of Kevin Lowe as Oilers GM.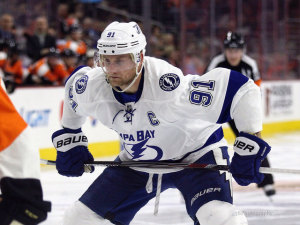 #2 NYR trade 2 or 3 of Evgeny Grachev, Brandon Dubinsky, Dan Girardi, Ryan Callahan, or Michael Del Zotto to Tampa Bay for Steven Stamkos
In the beginning of his 2008-09 rookie season, Steven Stamkos struggled out of the gate with just 7 points through 21 games. He struggled so much that Lightning co-owner Len Barrie began shopping him around, and thought he had a deal with the Rangers:
"How close did we come?" Sather asked rhetorically, repeating the question we posed to him as the Rangers practiced in Tampa on Thursday. "We shook hands on it, that's how close.

"I'd been on it since Europe. I had an agreement with Len Barrie. I asked him if he had the authority to make the trade, and he assured me that he did, because he was an owner.
However, co-owner Oren Koules and GM Brian Lawton shot the deal down, and it never came to be. Now, Stamkos is a top 5 player and arguably the best pure goalscorer in the entire league.
#1 Montreal trades Carey Price, PK Subban, Max Pacioretty, 1st to Tampa Bay for Vincent Lecavalier
Yes, you read that right. In the 2009 offseason, Vinny Lecavalier was coming off seasons of 108, 92, and 67 points. He was a star, the most recognizable francophone player in the NHL, but was 29 years old.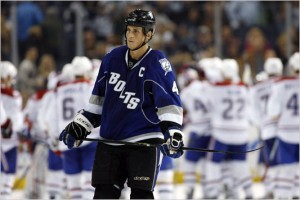 The rumored package going back for Lecavalier looked to have tremendous potential, but had played just 127 career NHL games among them. The deal never went down because Lecavalier refused to be sent to Montreal, preferring to stay in Tampa Bay.
Bob Gainey should thanks his lucky stars every night that this trade never happened because those three became the cornerstones of the Canadiens franchise. Lecavalier remained a productive offensive player, but hit 70 points once in the subsequent four years before being bought out by the Lightning.
What other crazy trades were once agreed upon, only to fall apart at the last second? Let me know in the comments.
Bill Schoeninger is a Philadelphia Flyers writer and current Boston University student studying business. Coming to THW from Hometown Hockey, Bill follows and writes about the Flyers, Boston University Terriers, and NHL Draft prospects. Follow him on twitter @BSchoeninger17