With the lack of talks between the NHL and the NHLPA, the entire 2012-13 season is on the brink of being wiped out. As a result, hockey fans from all-around the world have to turn their attention to other leagues such as the KHL, the AHL or the CHL.
For Habs fans, the options to see their favorite players play are limited, the Hamilton Bulldogs being one option. One of the other interesting options is to closely follow the development of the young prospects of the organization playing in the Western Hockey League (WHL), the Ontario Hockey League (OHL) or the Quebec Major Junior Hockey League (QMJHL), all part of the Canadian Hockey League (CHL).
Following a very good 2012 NHL Entry Draft for which I gave Trevor Timmins and his team of scouts a grade of A, the Canadiens have finally restocked their prospects pool after years of thin organizational depth. Below you will find a list of the talented prospects worth watching this season in junior.
QMJHL
Olivier Archambault, Drummondville Voltigeurs (108th overall pick in 2011)
In his fourth, and most likely his last, season in the QMJHL, Archambault is off to a good start for the .500 Voltigeurs. Through 16 games, the 19 year-old left winger has recorded 7 goals and 8 assists for 15 points. After missing most of last season with a concussion, Archambault needs to show he can play a full season in the Q before making the jump to the AHL. Blessed with excellent speed, a great acceleration and soft hands, Archambault will need to get stronger over the summer and improve his defensive play without the puck.
Charles Hudon, Chicoutimi Saguenéens (122th overall pick in 2012)
In his third season with the Sags, the feisty left-winger suffered a high ankle sprain in an early pre-season game, but the nagging injury had made him miss only one contest prior to suffering a concussion after receiving an elbow to the head, courtesy of Gabriel Verpaelst. The talented winger has recorded 9 goals and 7 assists for 16 points to go along with a solid plus-four differential in only 11 games. The diminutive winger had a very good performance for Team Canada at the Canada-Russia Challenge in early September and will certainly receive an invitation to play for Team Canada at the 2013 World Junior Championship this year. The 18 year-old Hudon is still day-to-day with a minor concussion.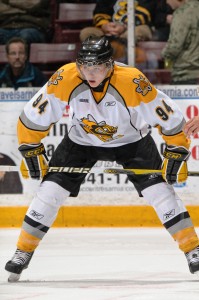 OHL
Alex Galchenyuk, Sarnia Sting (3rd overall pick in 2012) 
With former teammate Nail Yakupov playing in the KHL this season, the Sting's new captain will have to carry the offensive load on his broad shoulders if the team hopes to make it to the spring dance. The skilled center is blessed with great offensive skills, an above-average hockey sense and great wheels. The über-talented American has picked up the pace after a slow start this season during which he had to find his timing and confidence back after missing most of the 2011-12 season with a severe knee injury. After 15 contests, Gally has notched 8 goals and 13 assists for 21 points with a +2 goal differential. In the event the NHL lockout ends soon, the 18 year-old American would be the junior prospect the Canadiens could reassign to Montreal.
Brady Vail, Windsor Spitfires (94th overall pick in 2012)
The 18 year-old center is off to a surprisingly good start this season in Windsor with 6 goals and 14 assists for 20 points in 16 games. Vail has been working very hard in the last year to improve his offensive numbers, especially after a good showing at the Habs rookie camp this summer. Vail has been excellent around the net this season, creating a lot of scoring opportunities for his linemates and himself, thanks to good puck-protection skills and a knack for driving to the net using his 6'1", 195-lb frame.
WHL 
Tim Bozon, Kamloops Blazers (64th overall pick in 2012)
Bozon is benefiting from playing for the #1 ranked team in the country, the Kamloops Blazers, who are still unbeaten in regulation. After 16 games, Bozon has scored 14 goals and 15 assists for 29 points with a sparkling +15 rating, good for 3rd in the WHL. His teammates JC Lipon and Colin Smith are currently ranked 1st and 2nd, respectively. In his second campaign in the WHL, the 18 year-old native of Lugano, Switzerland, is looking to improve last year's numbers when he recorded 71 points in 71 games. The offensive dynamo doesn't have much more to prove offensively, which is why he needs to work more on the defensive aspect of his game this season.
Darren Dietz, Saskatoon Blades (138th overall pick in 2011)
The rugged defenseman is having some success so far this season with the Blades, recording 6 goals and 3 assists for 9 points in 14 games. While Dietz, 19, is developing into a very skilled offensive rearguard, he still needs to improve his defensive play as shown by his poor -8 differential so far. Dietz, an excellent power play specialist, is blessed with a Shea-Weber slapshot from the blue line and he's using it very efficiently: his six goals have been scored with the man-advantage! The tough and physical defenseman will play big minutes this season for Saskatoon, using his big frame to clear opponents in front of his net and deliver thunderous body checks along the boards.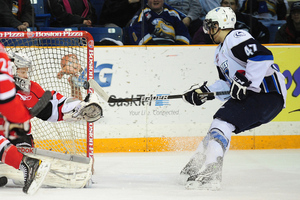 Dalton Thrower, Saskatoon Blades (51st overall pick in 2012)
A teammate of Dietz, Thrower, 18, has been a major disappointment this season for the Memorial Cup hosts. Suspended four games already (one team-based incident for "playing by his own rules" and the other incident for a check to the head against Lethbridge), Thrower has only 1 goal and 2 assists for 3 points in 10 games. The talented blue-liner will have to play smarter hockey if he wants to repeat last season's success of 54 points in 66 games. Thrower will have to think about the team first if he ever wants to have any kind of success at a higher level.
Next week, I will have a look at the best prospects playing for the Hamilton Bulldogs of the AHL.
A long-time Joe Sakic fan, Fred, 35, is a freelance sports writer and translator. Fred earned a Bachelor of Translation in 2002 at Laval University in Quebec City. He also writes on the Montreal Canadiens for HabsAddict.com and he is an associate editor and a baseball columnist on Dobberbaseball.com. He is also fluent in English, French and Spanish.