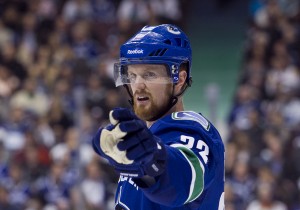 It has been over a year since Vancouver and Columbus have met…
Columbus had won two of its previous three games while Vancouver was in the midst of a five-game skid. Two Henrik Sedin goals helped to snap that streak as the Canucks walloped the Jackets 6-2. This time around, Vancouver is the winner of two of its past three while Columbus comes with a four-game losing streak.
The season has also presented a reversal of fortune for both clubs with Vancouver, which failed to reach the playoffs, holding down the second spot in the Pacific while the Jackets stand with the likes of Buffalo and Edmonton at the bottom of the standings. It'll be a battle of Vancouver's top six offense versus Columbus's last place defense, making the visiting Canucks the favorite, on paper at least.
Here are a few things to keep an eye on tonight.
Battle of the goaltenders
Both Sergei Bobrovsky and Ryan Miller represented their respective countries this year during the Sochi, but their performances in the NHL are lesser than those of years past. Bobrovsky, who has been limited to 13 games because of a finger injury, finished with a .932 save percentage last season, but has seen that number dip to .911 thus far. He is also on pace to allow 210 goals, which would be a record high, if you're inclined to follow trends.
BOBROVSKY sorry I just felt like tweeting that

— bo-lieve (@Bolieve53) November 27, 2014
It doesn't help that Columbus goaltenders are facing an average of 33 shots per game, the fourth most in the league. With Vancouver's 31.3 shots-per-game average, Bobrovsky will continue to get peppered by chances, barring an improved performance from the defense. However, Bobrovsky has shown flashes of his former Vezina-winning form this season, including a 38-save performance against Boston last week.
On the other side of the rink, Miller's statistics have been up and down since being traded from Buffalo to St. Louis and eventually winding up in British Colombia. From his last year in Buffalo to now, his goals allowed average has dropped from 2.72 to 2.47, but his .908 save percentage ranks 31st among goaltenders who have played in eight games this season. Miller will ride into the match-up the winner of four of his past five games, but he has faced 12.4 fewer shots than Bobrovsky over the same span.
Double trouble
Two players with one surname have accounted for approximately one-quarter of Vancouver's offense; that name is Sedin. Henrik and Daniel have each dished out 16 assists while Henrik holds a one-goal advantage with five scores. The two are interchangeable on Vancouver's top line, but with an average plus/minus rating of +6 between the two of them, Vancouver's offense runs smoothly whether it's one or two of them out on the ice.
Hopping back in the time machine, the last time Vancouver and Columbus met the Sedins combined for three goals and two assists. Henrik was named first star and Daniel second.
Jackets on the power play
Columbus has scored 19 power play goals while Vancouver has allowed only nine. In theory, something has to give. The Canucks have been short-handed 75 times, putting them in the middle of pack statistically, but if and when power play opportunities do arise, it's vital that the Jackets take advantage. The Jackets failed to do so on their final four power plays against Winnipeg on Tuesday, resulting in a 4-2 loss.
Brad has been with The Hockey Writers since November 2014 and currently attends Ohio University's E.W Scripps School of Journalism. During the summer of 2014, he served as an intern with the Columbus Blue Jackets digital media department.