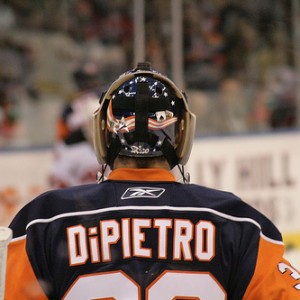 Just as soon as the 14-game losing streak ended, a new one begins for the New York Islanders as they are now losers of two straight; a home-and-home series with the New York Rangers in which they were swept in losses on back-to-back nights. The first came with DiPietro in net in a thrilling 6-5 defeat that summed up what Islander/Ranger games are supposed to be: hard-hitting, goal-scoring bouts with some fisticuffs and good 'ol trash talk. But the same could not be said for tonight's match-up at Madison Square Garden.
The Islanders lost 2-0 with goals coming from Marc Staal on the power play and Brian Boyle with an empty-netter with 2.6 seconds remaining in the game. Despite the power-play goal, the Isles PK was solid and probably their best attribute throughout the game. In fact, the Isles would be winning a lot more often if they played as well as they do shorthanded when at even strength or with the man-advantage.
The Islanders were flat at times and lacked desperation in their play. They struggled to break out of their zone and could not hit the net. That would explain why it almost took them 15 minutes to get their first shot on goal.
Capuano's squad only showed signs of a pulse when certain events took place in order to wake them up. Jesse Joensuu, for instance, was very quick to drop the gloves and come to the aide of Frans Nielsen, who was the victim of an elbow to the head by Ryan Callahan. Although it was more of a tussle with not as much as one real punch thrown between the two of them, Joensuu's jump to the rescue will go noted as a teammate doing what he is supposed to do. Too bad the refs gave Jesse 19 penalty minutes for the altercation, but I won't even get started on that right now. I've written about how refs are destroying the game for penalizing players who fight to stick up for teammates before — we will be here all night if I start again now.
In the third period, Jack Hillen had a blast from the point get redirected into the cross-bar that helped jump-start their engines as a few more scoring chances ensued on the same shift. But it only lasted a few minutes before the Islanders would end up back in the box. Speaking of the penalty box, Sean Avery made a few visits to the sin bin. He amassed 14 penalty minutes (two minors and one 10-minute misconduct). It's a shame that they couldn't make him pay for his antics, especially since he was a major reason the top line performed so well in the first game.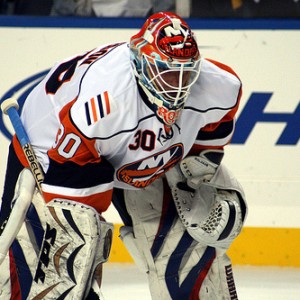 Dwayne Roloson continued to play as well as he has all year. He stood on his head when he was called upon and made some flashy glove saves. The iron bailed him out a few times too. The defense played a tighter game in front of him than they did for Rick the night before, but the forwards were very delayed when returning to the defensive zone on the back-check. The second period displayed several instances where the Rangers were able to walk in with huge gaps between them and the Isles defenders, allowing them plenty of time to hit the open man in the high slot. Scoring certainly has been an issue, but that doesn't mean the forwards can take their time coming back on defense either.
They are losers of 16 of their past 17 games. On Sunday they return to action against the Philadelphia Flyers. It will be interesting to see if Daniel Briere will be greeted by Konopka and Co. as it will be the first time he will be playing the Isles since his cross-check to the face of Nielsen back in October.
-Rob McGowan
Follow me on Twitter!
http://twitter.com/IslesRM