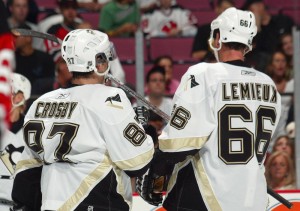 PITTSBURGH – In the 1990's, I remember witnessing Mario Lemieux score four goals or seven points at the Civic Arena and thinking to myself: 'try to remember this moment, you'll never see a player like this again'.
It didn't work very well.  His supernatural performances became commonplace – far too easy to take for granted.  It wasn't until Lemieux's return from retirement in 2000 that fans were able to appreciate how incredible he really was.
As the most hyped No. 1 pick since Lemieux and the Hall of Famer's former tenant, Sidney Crosby will always have to endure unfair comparisons to 'Super Mario'.  There may never be another player to wear a Penguins uniform with the natural skills and abilities of Lemieux, but Crosby is doing just fine as a follow-up act.
Crosby scored three consecutive goals in Thursday night's 3-2 win over the Atlanta Thrashers to tie Tampa Bay's Steven Stamkos for the league lead in goals with 21 and extend his point streak to 14 games.
The hat trick was the seventh of his young career and the first natural hat trick (all scored in succession) Crosby has ever recorded.  Plenty of reasons for the captain to celebrate right?
"That one at the end there," Brooks Orpik said of Crosby's faceoff loss with eight seconds to go.  "He comes in the locker room afterward and starts apologizing to us for losing it [laughs and shakes his head].  That just shows you how competitive he is."
In the early part of Lemieux's era, physical conditioning outside of normal practices and games was almost unheard of.  Lemieux came out of Junior hockey as a teenager smoking cigarettes and scoring 100+ points on a regular basis.  Lemieux could endure chemotherapy treatment in the morning and go on to score an effortless hat trick later that night.
There's no doubt Crosby also has an abundance of God-given talent, but Orpik says his tireless work ethic on and off the ice is what drives him and the Penguins to greatness:
"Obviously I hear everybody talk about his work ethic and stuff, but I think the media only gets a small glimpse of it.  I don't even see a lot of the stuff he does in the [offseason].  Like last year, all of a sudden he comes back and he's winning all those faceoffs out of nowhere.  It's probably something he does on his own, but every day we see him he's one of the hardest guys I've ever seen work in practice.  I've probably seen guys that are more naturally talented, but not any guys that work harder than him."

– Brooks Orpik
When the cameras are on and microphones are in his face, Crosby says the statistics don't matter and he's only concerned about team success.  "You try not to think about the points and things," he said last night (just as he always does) when asked about the scoring race.  Don't believe it.
For any driven superstar like Crosby, statistics are the only way to judge progress.  It's not just goals and assists.  It's faceoff percentage (his rookie year he won 45.5-percent – this season he's among the league leaders at 55.4-percent).  It's plus/minus rating, takeaways, hits, and blocked shots.
From Crosby's perspective, if he isn't No. 1 in a category, there's room for improvement .  If there's a record to be broken, he needs to do everything in his power to break it.
One of Lemieux's finest moments was this New Year's Eve game in 1988 when he scored 5 goals in five different ways:
Even-strength, on the power play, short-handed, penalty shot and finally empty net.
Last Saturday against Calgary, Crosby almost nailed all five categories in just 4 goals.  He scored a hat trick, but missed a penalty shot halfway through the game that would have bested Mario's legendary feat.
"Oh geez, don't tell me that," Crosby said after the Calgary game when he found out he was so close to beating Mario. "That's one thing I thought would never be beaten. To know I was that close – that hurts."
Coach Dan Bylsma doesn't know how else to describe Crosby's play as of late.  "I don't have any ways to describe [Crosby] in a new way," Bylsma said Thursday night.  "I shouldn't be surprised, but I did shake my head a couple times tonight after those goals."
Watching the highlight video above of Crosby's hat trick, the third goal left color-commentator and former Penguins forward Bob Errey stunned – and he wasn't alone.
"I think it was going about a foot wide," Orpik said of his initial shot that Crosby redirected.  "You could tell from the reaction of their goalie that he was pretty surprised it went on net because he kind of gave up on it.  That's as good a tip as you'll see."
As the 18,223 in attendance Thursday night tossed hats and giveaways scarfs onto the ice after that goal, I found myself for the first time in Crosby's six-year career thinking: 'try to remember this moment, you'll never see a player like this again'.
News and Notes
~ Bylsma said Evgeni Malkin got 'stung' on an early hit that limited him the rest of the game on Thursday.  He's also been battling a lower-body injury that has lingered for weeks and kept him from playing at 100-percent.  He has just 1 goal in his last nine games.
~ One benefit of holding the Winter Classic in a baseball stadium is that teams are in the offseason and the temporary ice surface can be used for a variety of events leading up to, and following, the Winter Classic itself.  With the Pittsburgh Steelers in the midst of a playoff push, the crew at Heinz Field will potentially have to tear down the ice immediately after the January 1st game.
The Penguins announced today that a second NHL-sized outdoor rink will be built adjacent to Heinz Field to ensure that the entire community can take advantage of the Winter Classic excitement.  The alternate rink will be installed starting December 19 and open to the public from December 24 to January 2.
The rink will utilize dasherboards and Zambonis from the old Civic Arena and will host public skating sessions and a number of youth hockey games including teams from the hometowns of Crosby and Malkin.