Let's wind the clocks back a year.  Zemgus Girgensons was the toast of the Buffalo Sabres.  He was the teams number one center, a first time NHL All-Star and a top scorer on the club.  Now, bring it back to present day.  The Latvian native is a third line forward and only has five goals in 59 games played.  So, what's happened?
Numbers Game
Let's start with the obvious in trying to figure this out.  The Sabres are a much better hockey team than last season.  Girgensons was the number one center on perhaps one of the worst teams in NHL history.  This season the 2014 1st round pick is buried on the roster behind excellent players like Jack Eichel, Sam Reinhart, Ryan O'Reilly and Evander Kane.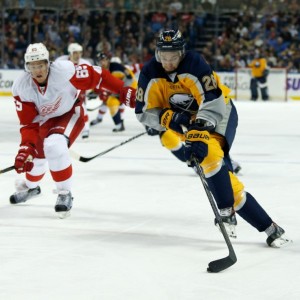 In the previous season Girgensons averaged 19:05 time on ice per game.  Compared to this season he's only seeing the ice for 15:07 time on ice per game; almost four minutes less per game.  Believe it or not that on ice total this season is less than what he averaged in his rookie season, which was 15:19 time on ice per game.
The reduction in ice time certainly hurt the 22-year-olds opportunity to repeat the production from last season.  In  61 games last season he scored 15 goals and registered 30 total points on the season.  If it wasn't for the ankle injury Girgensons was on pace for 20 goals and 40 points.  Now, he's on pace for six goals and 16 points this season. Even with reduced minutes a 60% reduction in goals and roughly a 47% reduction in total points is hard to comprehend.
The first thing that immediately pops into your head is, was last season a fluke?  I don't think so.  A lot of the goals he scored last season were skillful plays.  He didn't have ten of the lucky off the leg or skate goals to blow up his numbers.  It actually wouldn't be out of the question to argue that Girgensons has been unlucky this season.  The forward is sporting a shooting percentage of 5.6% this season.  That shooting percentage is low compared to the league average of 8.9% this season according to hockey-reference.com.  Looking back again to last season Girgensons had a shooting percentage of 13%.  His overall career average in three seasons including this year would be 8.5%, which is almost the league average.  If Girgensons converted at his career percentage this season he would have eight goals this season and be on a pace for almost ten goals.  The ten goals would only be a roughly a 33% decrease in goals as opposed to the previously mentioned 60%.  With all things considered the 33% drop off may be more understandable.
Running Mates
Revisiting what I mentioned earlier, Girgensons has been pushed down the roster.  To go along with the reduction in minutes, he's no longer skating with top line talent.  Tyler Ennis and Matt Moulson spent the majority of last season playing on the wings with Girgensons.  Moulson was, key word here 'was', a better play maker than people gave him credit for.  However, Ennis was the main piece that helped Girgensons put up the numbers.  Ennis is a dynamic playmaker who drew some of the attention away from Girgensons and created more scoring opportunities.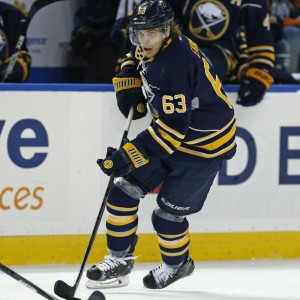 The argument here about line mates has a lot of credibility in Girgenson's case.  Earlier in the season he played on the wing with star center Eichel and it was his most productive stretch.  He was creating scoring opportunities for himself and his line mates.  Girgensons now finds himself skating on the 3rd line again with Cal O'Reilly and Nic Deslauriers as his line mates.  A much different pair of running mates compared to Eichel and Ennis.
What does this all mean for Girgensons?  It means that he's not the 30+ point producer he was last year, but he's also not the 14 point producer he's been this season.  I think he falls somewhere in the middle.  If he's surrounded by line mates who have a knack for offensive creativity he'll be on the higher end of that scale.
In his draft year Girgensons was projected as a 2nd or 3rd line center who could play in both ends and provide secondary scoring.  Three years later, I believe that projection is still accurate.  On a good team he's a guy who can lock down the other team's top line.  He can kill penalties and can give you 20-30 points.
This offseason is going to be a very interesting one for Girgensons.  He's a restricted-free-agent and the value he puts on himself may be higher than what the Sabres see.  A contract extension could be difficult to hammer out between the two sides.  Also being only 22-years-old, a former first round pick and a NHL All-Star regardless of the circumstances; he has trade value for the Sabres. Buffalo could look to use Girgensons as the main piece in a deal to bring in a top four defenseman.  This summer may be the time to capitalize on the value.
Also read: World Cup of Hockey: The Case for Ryan O'Reilly Joining Team Canada
(Photo by Amy Irvin/The Hockey Writers)