You may not notice them, but the next time you go watch your favorite NHL or AHL team play, locate the press box and look for a group of guys typing away on computers or jotting notes down in a notebook. These are professional scouts and they're relied upon to watch the game, compile data, and report their findings on players that can be useful for their respective Clubs at a later date.
Every NHL team employs professional scouts and one of those pro scouts is Duane Sutter, a scout for the Edmonton Oilers. If his last name sounds familiar it should, as he is part of the Sutter family that has produced NHL coaches, players and GM's.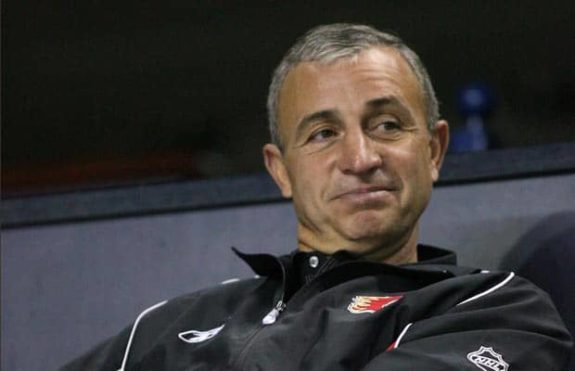 For the past four years Sutter has been working as a pro scout under the direction of the Edmonton Oilers. The former NHL Head Coach talked about his duties as a scout, "Every team kind of handles it differently. In Edmonton's case, we have four full-time professional scouts and we divide the NHL up. You're assigned teams to start the year and you're responsible to know those teams and know their farm teams inside out. You get as many viewings as you can early and then you evaluate and then we have conference calls on a regular basis and are always exchanging information on a regular basis."
A high percent, if not all of the data that teams compile on players, goes into a database that scouts enter via a laptop computer. This program doesn't allow you to see what other teams are doing around the NHL, but it does let you enter notes, view depth charts, and gather information for your organization.  Sutter explained, "You can't see what the other team is doing, but they give you updates on injuries and transactions. In your own program you have your depth charts and game reports. You have a lot of pieces in the program that you can access and you should know what's going on around the league."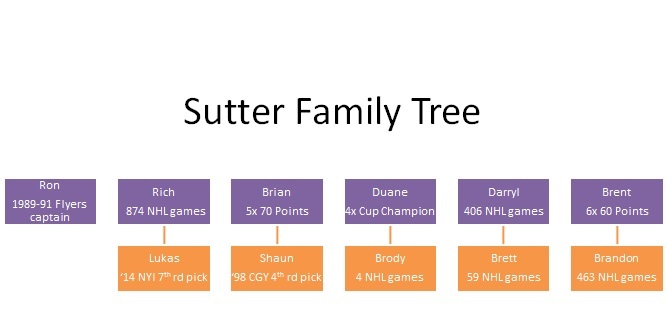 Traveling is a part of the job that cannot be overlooked. One of Sutter's most recent stops was in Norfolk, Virginia, the home of the Anaheim Ducks AHL affiliate the Admirals. The former Stanley Cup Champion was wrapping up a nine-day trip that started off in Chicago and ended in Norfolk.
His upcoming schedule has him home in Calgary and then off on another trip to Chicago, "Monday I had a game here as Boston was in Calgary and Tuesday was a day off. Yesterday (Wednesday) I had Minnesota here. Today (Thursday) is a day off. Anaheim is here tomorrow night (Friday) and I'll get in around 10 or so from that game and get packed up and leave about 4 am for the airport to fly back down into the States and start another trip. I'll start in Chicago on Saturday evening and I'll head from there to St. Louis and then I'll go to Buffalo, Rochester, Hamilton, and Ontario. Then on Saturday the 28th, I'll fly early in the morning from Hamilton right into Edmonton and spend two days there for the trade deadline."
According to Sutter the most efficient way to scout is to fly into an area that has an abundance of teams within driving distance and rent a car and establish one hotel as your home base. "For example, fly into Chicago base out of one hotel and drive in and out of there for as many games as you can. Chicago for example you have the Black Hawks, the Chicago Wolves, Grand Rapids, Rockford, Milwaukee, Detroit, and St. Louis all within a four-hour drive. For most of those teams, you're going to go into a central area and stay in one hotel and drive in and out."
"There are pockets you learn just for efficiency, there's Boston, Chicago, the Toronto area, the Buffalo area is a good area and Hartford, Connecticut. You can go stay in Newark or Philadelphia and use the Amtrak and do quite well. Next year there will be a new division in the American League out in California. Eventually everyone will find a central area to work out of and you'll commute," noted Duane.
Like in any job there is prep work to be done before the game as Sutter explained, "You have to have a game plan going into a game. Who are you going to see, why are you going to see them, and what are you watching. You can't just walk into the press box and think you're just going to have a good night."
When you get down to it, the scouting circle is a brotherhood that shares a unique bond. Many of them stay in the same hotels when they're on their scouting trips and some even travel together which can make being on the road more enjoyable. "We're all Marriott Hawks that seems to be the hotel of choice. In general you'll usually run into a couple of guys," cracked Sutter.
He also went on to say, "You might call someone and ask who are you covering? Are you going to be in this area
through these dates? You might hook up and drive together with the same guys for two, three, or four days. You're on the road so much and it is a lot of time by yourself. When you can stay in the same hotel and travel a couple of days with somebody else it's good company and it helps the time move along."
A scout's typical workday will not look like yours, although they do spend a lot of time during the day in their hotel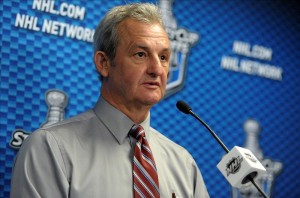 rooms on calls and entering game data on their computers. The Alberta resident helped clarified what a workday looks like saying, "Once you get into a city, I try to get a workout in and look at the teams that you're watching that night on your scouting program and know who you want to prioritize that night."
Think the work stops after the final horn? Think again as Sutter does his reports from his hotel room. "After the game you go back to your room and watch your own team on the Internet or some game on the Internet. Then on Sunday morning I get up, have a cup of coffee, and bang out my game reports. If you have moved along pretty good in the morning, you might grab a workout and then it's time to go to another game. There's not a lot of down time," said the former Coach.
Everyone knows the Trade Deadline is always a busy day, but the other busy days for scouts include the NHL Entry Draft and the start of Free Agency as the former Islander explained, "The couple days leading up to the amateur draft where a lot trades take place and then from the draft location, you'll rush back to Edmonton so we're in the offices as a group for free agency. You're kind of on call for the next seven to ten days after the free agent rush hits. You do have a little bit of down time in the last two weeks of July and August."
When Sutter first started scouting with Florida, there wasn't a computer system.  Things were definitely different. "The biggest change in how you report is on computers and the computer system and the programs that you're using. When I started in 1990, we wrote it out on carbon copy papers and mailed them in once a month to the offices."
Off days seem to be far and few between for scouts so when he does have free time Sutter tries his hand at woodwork and helps his daughters out with his grandchildren. Sutter's off days do not get him away from hockey completely though as he keeps tabs on his son, Brody, who plays in the Carolina Hurricanes organization with the Charlotte Checkers.
As far as his summers go, they seem to be pretty busy as well celebrating with the whole Sutter clan as he said, "Two of the past three summers, we've been fortunate enough to go to brother Darryl's ranch and celebrate the Stanley Cup when he gets that, so that's two days of fun."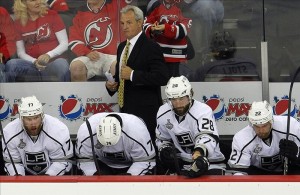 "It's pretty special that he's had the success he's had in the past three years. He's played a major part in the Kings winning the Cup and obviously the players put forth on-ice effort. When we won the Stanley Cup back in Long Island four years in a row, you couldn't take the Stanley Cup out of the city so we never had the fun of bringing it back to the farm or your hometown. Then three years ago when L.A. won their first cup, it was awesome. My kids are in their early 30's now, two girls, and they weren't born yet when we won the cup so for them to look and see my name on the cup and have pictures with it with you and the grandkids it's awesome," noted Sutter.
Given his pedigree and success as a player, coach, and assistant GM, the Oilers truly have one of the best scouts in the league in Duane Sutter.