International sports tournaments are always fun. As ESPN's John Buccigross noted, they can produce positive emotions from the players, coaches, and supporters of good athletic competition. The World Cup of Hockey is hours away from its lift off, giving puck enthusiasts like myself an opportunity to see competitive hockey infused with national pride. It's not the beginning of the NHL (that comes next month), but don't think that there won't be serious repercussions towards that very season.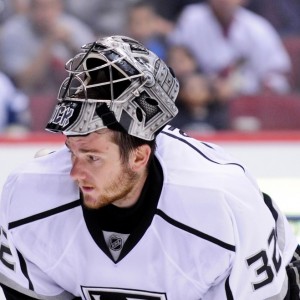 Look no further than American netminder Jonathan Quick. The supremely talented goalie has been named the starter for the red white and blue, beating out proven commodities Ben Bishop and Corey Schneider for the top spot in between the pipes. This move surprised very few, considering Quick's track record internationally and his ability to rise to the moment.
But there has been something missing statistically during long portions of his NHL seasons. Quick's numbers, though stellar, are not as spectacular as one would expect from a goalie with his talents and reputation. Last season, Quick was fourth in goals-against average, but his .918 save percentage was just middle of the road for full-time starting netminders. Those, however, are just numbers, and don't get #32 started on judging one's accord exclusively on numbers. The fact that Bishop and Schneider were both top five in save percentage and numbers one and two respectively in goals against (2.06 and 2.07) does not make them more or less talented than Quick. It simply proves they each had a more successful NHL regular season.
I know that Jonathan Quick and every red-blooded American hockey player wants to take the trophy at the World Cup. But for Quick and his Los Angeles Kings brethren, a successful showing could do more than win one highly competitive tournament. The L.A. goaltender can ready himself and his team for a great 2016-17 season, from the moment the first puck drops in October. And that's something that's been sorely missed in recent years.
Primetime International Goalie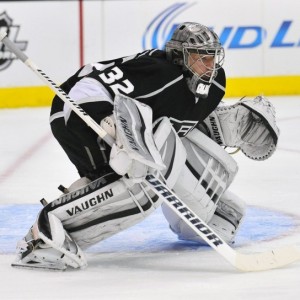 Barring a catastrophe or Ron Hextall-like meltdown, Quick was always going to be the man in the net for the stars and stripes. He's at the peak of his powers (30 years old), has won multiple championships, and knows how to make the subtle adjustments necessary at this level. His passion and desire to fight for every save may be what head coach John Tortorella, an equally passionate leader, factored in most seriously to this decision.
Goalies are a distinct kind of breed, wired differently from other hockey players. They are often by themselves while the game is going on, and then suddenly a sniper is trying to bury one right next to their ear. It's calm one moment, and then a category five hurricane the next. This only intensifies in high-pressure environments, and some netminders are unable to raise their game to handle the surrounding storms.
Quick is not one of "those" goalies. He won't back down. He doesn't care how good your shot is, or how big the forward trying to knock him around his crease is. That's his net, and he plays like he damn well owns every bit of it. This isn't to say that Bishop and Schneider don't have similar capabilities; they just haven't proven it on the biggest of stages like Quickie has yet.
When Canada defeated the U.S. 1-0 in the 2014 Olympic semifinals, Quick was the one who kept the Americans in it with 36 saves. During L.A.'s two treks to a Stanley Cup, Quick was a (perhaps "the") major difference maker. Using his leg strength, his cat-like reflexes, and the instincts of a puck stopping-octopus, Quick has all the tools to make a serious case for being the best goalie in the world. And he is just that, sometimes.
Sluggish Starts of the Past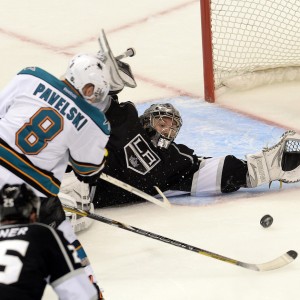 If you wanted to pinpoint weak stretches in Quick's career, I don't think a phone call to the Hardy boys would be necessary. Nearly all of his NHL struggles have taken place at the beginning of the regular season. Now, there are often different sets of mitigating circumstances to take into account. There have been injuries, brutal scheduling runs, and instances when his defensive core has been an utter trainwreck undermanned. It's hockey, and those things happen.
However, anybody that watched Quick shine in the Stanley Cup or excel for Team USA understands what his threshold for excellence is. And in many of those early season setbacks, Quick was not playing at his highest level. His concentration was good yet not great, his agility was fluid but not unmatched, and his efficiency as a goaltender was at times, mediocre. Three years ago, Quick made an unthinkable gaffe against the Rangers:
And just last season, Quick started slow off the blocks against the Coyotes, failing to track the puck on this notable goal:
You get the idea. W
When Quick and the rest of the Kings show up flat-footed to start the year, it sets them back in the standings. From there, they embark on this crazy game of catch-up all season long. L.A. has the talent, drive, and heart to claw back into the playoff picture, but at what cost? The last two years, in particular, they have been completely gassed come springtime. A rejuvenated, razor-sharp #32 can help eliminate a stagnant start, and alleviate the pressure on the rest of the locker room.
Un-matchable When Locked In
Whether Quick's slow starts is the result of rust, lapses in focus, or health related, they never last long. That's because this goalie is the NHL's equivalent to Wolverine from the X-Men lore. Quick can seemingly regenerate, get back to being upright, and proceed to dominate NHL goalies. Perhaps no goalie alive can match L.A.'s top netminder when he's at his apex. His movement is almost too precise as if he has telepathic powers and knows where the puck is going before it actually gets there. And should he be out of position, or left helpless against an odd man scoring chance, Quick can make saves like this:
Now imagine if the Kings had this type of performance to begin their season? It's understandable that goaltenders are not able to sustain a high level of play in every outing (Quick included), but a good start will actually help him gear up for the playoffs. Should the Kings build a sufficient playoff or even Pacific division buffer zone by March, Quick could then take a few nights off while his backup (the newly signed Jeff Zatkoff) gets a few starting nods. The beauty of the World Cup of Hockey is that there is no easing into it, so every participating player will be at a high level much earlier than they are accustomed too. Quick, out of necessity and habit, should be ready to roll on opening night, with virtually no rust to wear off.
The World Cup of Hockey is bigger than any one player, and should be taken in wholehearted by fans of the sport. If there's one thing that brings out the best in athletes, it's competition. The better the environment, the higher the level of play will be. Jonathan Quick embodies this philosophy as much as anybody, and will no doubt be amped up to represent his country. Once the tournament concludes, he's an L.A. King again. And that team would love to have the best goaltending America can produce, from day one.
---
The Hockey Writers coverage of the World Cup of Hockey 2016 is being brought to you by PrimeSport, the official Fan Travel & Hospitality Package Partner of the World Cup of Hockey 2016.