While the hockey world shifts its attention to the preliminary round of the World Cup of Hockey starting tomorrow, the Philadelphia Flyers still in the city will begin to gear up for training camp. Rookie camp will begin Sep. 19, but regular training camp – the one most will be focused on – begins in a week on Sep. 23.
The 2016 #Flyers Training Camp date is set! Check out the full schedule and who will be in attendance → https://t.co/IJQwddmKTq

— Philadelphia Flyers (@NHLFlyers) September 15, 2016
The World Cup will offer a different challenge at training camp than seen before. The Flyers have seven players at the tournament (after Radko Gudas dropped out), which can run as late as October 1. If one of, or several, Flyers' "nations" make it that deep, they'll miss most of the camp.
That means less time to build chemistry and juggle lines and pairings. Unfortunately for Philly, it comes at a time when the team has a lot of different lineup possibilities.
With several different spots up for grabs, the players are in for plenty of battle when training camp starts. Following is some of the biggest ones.
Second-Line Left Wing
Hopefuls: Michael Raffl, Scott Laughton, and Travis Konecny
Assuming the Flyers use the same lines that they ended the 2015-16 season with (when everyone was healthy), Brayden Schenn, Claude Giroux and Wayne Simmonds will be the first line with Sean Couturier and Jake Voracek paired on the second line. It's likely things will be switched around during camp and preseason, but those five will consistently be in the top six.
Raffl completed the second-line trio and may be the top choice by the coaching staff to return there, but it was evident last season that the team needed some scoring help. I've detailed before how Laughton could do that. He has a strong wrist shot and showed more offense on the wing than at center.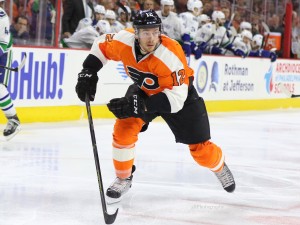 However, coach Dave Hakstol has never attempted to use him in that role before and it's anyone's guess if he's thinking about it now.
Konecny is the long shot of this group. He would need a near-perfect training camp to earn a spot on the second line, but an offensive role with strong defensive players is one that Konecny would most likely need to succeed.
Raffl is the safe bet for this spot. He's done it before and is a good complimentary piece as a gritty player that can create space and get the puck for his linemates. Chemistry will also be important if Couturier, Giroux, and/or Voracek play deep into the World Cup.
Bottom Six & Extra Forward
Locks: Dale Weise, Pierre-Edouard Bellemare, Boyd Gordon, Matt Read, Raffl/Laughton
Hopefuls: Konecny, Chris VandeVelde, Nick Cousins, Roman Lyubimov, Jordan Weal, Taylor Leier
Weise was signed to play the third line, while Gordon will be the faceoff specialist on the fourth. Bellemare has proven his worth on the bottom line and assuming there are no trades, Read will be a regular. Whoever loses the top six spot, Raffl or Laughton will be daily players on the bottom two lines.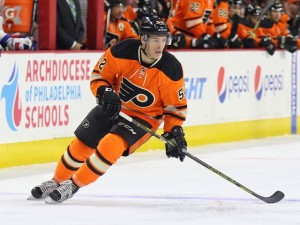 Cousins is practically a lock to make the team, but there's always that chance he has a bad camp and a youngster plays their way onto the team, however small it may be.
Right now, there are six players to fill out the last two lines in Philly. It's clear the depth of this team will be better than it has been since the 2011-12 season.
VandeVelde is a Hakstol favorite and has the inside track for the 13th forward spot, but Lyubimov has some potential with 135 KHL games under his belt. The same can be said for Weal who is a long shot.
If Konecny loses out on the second line, he'll need to earn a spot on the third. He will not play on the fourth.
Leier has been a valuable player for the Lehigh Valley Phantoms but probably will see the numbers stacked against him. He's the dark horse in this race; after scoring 49 points in 71 AHL games he stands a chance at beating out VandeVelde.
Defensemen
Locks: Shayne Gostisbehere, Radko Gudas, Michael Del Zotto, Mark Streit
Hopefuls: Andrew MacDonald, Nick Schultz, Ivan Provorov, Brandon Manning, Mark Alt
Gostisbehere, Gudas, and Del Zotto are the Flyers' top three defensemen. If he isn't traded, Streit will be the veteran leader, which leaves three spots left (two playing, one extra).
Flyers fans have been dreaming about Provorov since last season ended and it's reasonable to think he may be the fourth or fifth best defenseman in the organization. However, he'll still need a strong camp to earn a spot.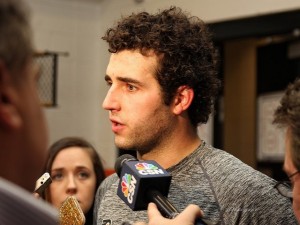 Like VandeVelde, Manning's found the love of Hakstol and did earn his minutes toward the end of last year. He's also needed for the expansion draft and is a good candidate for the extra spot.
MacDonald is a decent third-pairing defenseman but is heavily overpaid. If there are cap problems he'll be sent down, but the Flyers brass clearly likes him and prefers him in Philadelphia rather than Lehigh Valley.
It's easy to see that there's congestion on the Flyers' blue line which may lead to a trade. Schultz is the best option for that. He has a year left, a more reasonable cap hit than Streit and is still serviceable. If he sticks around, he'll be right around the same place as Manning.
Like Manning last year, Alt is a veteran AHL defenseman looking for one of his last shots at an NHL job. If no one is moved, it's hard to imagine he'll beat out the former Phantoms alternate captain or MacDonald.
Starting Goalie
Hopefuls: Steve Mason, Michal Neuvirth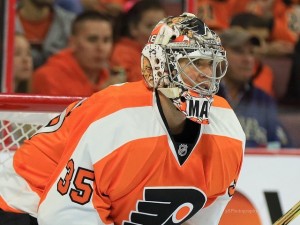 This is a battle that's picked up steam stemming from last year's playoffs. While Mason got the team there, he struggled in the postseason.
Neuvirth was given a chance in net and allowed just two goals in three games. He's continued that hot play for the Czech Republic in the World Cup exhibition games where he has two wins and 45 saves on 46 shots.
While the Czech's haven't said anything, he should have beaten out Petr Mrazek for the starting spot. Mason has to be somewhat concerned that he'll do the same thing in Philly.
While Neuvirth may play against teams like Canada and the U.S., Mason will be playing preseason games against much lesser opponents. It may help him to actually be at Flyers camp, but if Neuvirth steals a game or two, it's hard to imagine the coaching staff not wanting to see that in the NHL.
Mason has held down that position for the past three years, but the next month or so will really determine who gets that starting spot. In fact, that can be said for most of the spots that are still open.