With Halloween marking the end of the season's first month, it is a perfect time to explore the biggest tricks and treats, so far, in the National Hockey League this season.
So before heading out on your local candy run, slip on your best costume and check out the tastiest treats and most ghoulish tricks below.
Favourite holiday of the year #purplerain pic.twitter.com/kiaiY9NGag

— P.K. Subban (@PKSubban1) October 30, 2016
The Tricks
October has seen eight hat tricks already in the National Hockey League, including a pair of three-goal outings last night, one by Michael Grabner of the Rangers, the other by Florida's Colton Sceviour.
However, these aren't the kinds of tricks we are focusing on here. Instead, think of the neighbors who put empty candy wrappers in your loot bag or handed you old stale goodies or, perhaps worse yet, shut off the porch light and hid inside so you wouldn't even ring their bell on Halloween.
Andrew Ladd
So far the worst free agent signing of this past summer is the Islanders seven-year commitment to Andrew Ladd. It didn't look good in the big picture when he signed, but the Isles were hungry to replace departed free agents Kyle Okposo and Frans Nielsen, and Ladd is a two-time Stanley Cup winner coming off a 25-goal campaign a year ago.
The results so far have been terrible. Handed a spot alongside one of the game's elite centers in John Tavares, Ladd has not scored a single goal while notching one lone assist through the first nine games. He has been demoted off the top line.
He did equal his season high with four shots on goal against Toronto last night and you'd have to think things will turn around at some point for the hard-working five-time 20-goal scorer, but Andrew Ladd has been as frightful as frightful gets.
Nashville Predators
What's happened in Music City? After a 41-win, 96-point regular season and a pair of thrilling seven-game playoff series a year ago, not to mention the addition of P.K. Subban this past summer, anticipation and excitement were running high in Nashville for its Predators.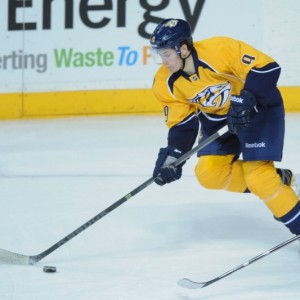 Stumbling out of the gate, having lost their third in a row Saturday night, the Predators find themselves sitting in last place in the Central Division with a 2-5-1 record and only five points. While it's super early to panic, that division is a bear to advance through and any extended slump could cost a team a postseason playoff berth.
Nashville has scored only nine even strength goals through eight games, though they do lead the league with a 35.8 percent success rate on the power play. Unfortunately, that is offset by the fact the Preds have the second-worst penalty killing in the NHL, so far. James Neal just scored his first goal of the season Saturday against the Sharks, which is still better than Ryan Johansen and Filip Forsberg, neither of whom has scored yet.
Nashville also owns the fifth-worst goals against average and veteran netminder Pekka Rinne has a save percentage barely just north of 90 percent. Subban and Neal are both a team-worst minus seven.
Injuries
Sidney Crosby missed the start to the season because of a concussion, though he has since returned in a high-flying way for the Penguins. Buffalo's Jack Eichel, though, suffered a nasty high ankle sprain before the season opener and has not yet played a single shift for the Sabres.
Los Angeles has been without Marian Gaborik because he broke his foot during the World Cup of Hockey. Then starting goalie Jonathan Quick landed on IR after being hurt in the Kings season opener.
Both Nick Flagstad and Jonathan Huberdeau were lost to the Florida Panthers during the preseason and have yet to see any regular season action. Ditto for Detroit's two important veterans, Niklas Kronwall and Johan Franzen.
You get the idea. Enough already! The league and its fans deserve more treats than these ghoulish tricks.
The Treats
As is often the case, the good far outweighs the negative in the NHL. The treats are far more sweet than the tricks are sour.
The Kids Are Alright
It's only a month, but this is already shaping up to be one of the deepest and most talented group of rookies in recent memory, perfect timing for a game that is trending more to speed and skill.
Of course, Auston Matthews and Patrik Laine, the top two picks in the 2016 NHL Entry Draft, top this list; and their first career head-to-head matchup two weeks ago was incredibly memorable, with Laine's overtime goal capping a hat trick after Matthews had helped his team race to a 4-0 lead. Matthews, he of the four-goal game in his NHL debut, is 4-6-10, while Laine is 6-2-8, but neither is the NHL's top rookie scorer.
William Nylander, Matthews teammate in Toronto, has 11 points in nine games and has been every bit as fun to watch as the other two. The Maple Leafs also have Mitch Marner sitting on six points, giving Toronto three of the league's top five rookie scorers to date.
Around the league, it seems that almost every team has an exciting rising star on its roster. In New York, Jimmy Vesey has lived up to the hype so far, with the reigning Hobey Baker Award winner scoring five goals in his last four games for the Rangers. Eighteen-year-old Matthew Tkachuk is proving he belongs in the NHL, playing a strong, physical game for the Flames. Philly's Travis Konecny has built on a very strong preseason to post seven points in ten games. And three defensemen – Zach Werenski of Columbus, Nikita Zaitsev of Toronto, and Ivan Provorov of the Flyers – are all playing more than 20 minutes a night in their first season.
Montreal Canadiens
Every team in the league has lost at least two games in regulation except the Montreal Canadiens. In fact, Les Habitants have not lost a single contest in regulation yet, posting an 8-0-1 mark out of the gate, following a disappointing season missing the playoffs a year ago.
Yes, Carey Price (5-0-0, 1.40 GAA) is healthy and that is a huge lift for the Canadiens, but it's not the only reason for Montreal's early season success. Backup goalie Al Montoya (3-0-1, 1.47 GAA) has been terrific too and the team's overall commitment to better play in its own end of the ice has made them the best team in the league in October.
Shea Weber has been a force at both ends of the ice, rock-solid in his own end while contributing four goals, ten points, three power play goals and three game-winners already at the other end. He leads the Habs in scoring; and even though Tomas Plekanec and Andrei Markov are still looking for their first goals, Montreal has had plenty of secondary help, including a surprising four goals early on from Torrey Mitchell.
Finally Slick in Edmonton
Is there a more fun team to watch and come together now than the Edmonton Oilers? Off to a 7-2-0 start, which includes a perfect 3-0-0 mark on the road, the Oil sit atop the tough Pacific Division in the season's first month.
That alone is impressive, but it's how they play that really grabs you. Offense spread throughout the lineup and led by the league's top scorer Connor McDavid (12 points so far for the 19-year-old captain) and a plus-ten goal differential that is backstopped by last week's NHL First Star of the Week, goaltender Cam Talbot.
Now in his second season in Edmonton after a pair with the Rangers, Talbot has started all nine games for the Oilers, has a 2.05 GAA, and has a pair of shutouts including one over the Jets at the outdoor Heritage Classic. Plus his charmed life includes the birth of baby twins two weeks ago.
Go daddy go!! @ctalbot33 #talbottwins #HeritageClassic #twinning pic.twitter.com/tWvY9YMJ76

— Kelly Talbot (@kellytrain) October 23, 2016