Some things are bigger than hockey. At the end of the day, it's a game, where athletes get paid an obscene amount of money to play, and fans get the privilege to watch. And despite how wrapped up we are, how our emotions hang on every shot and every hit, it's just a game. Last night, when the Ottawa Senators came to town, they came with heavy hearts. Goalie Craig Anderson had recently learned that his wife has cancer, in the same week the NHL has it's Hockey Fights Cancer campaign. He had taken a brief leave of absence but an injury to backup goalie Andrew Hammond changed the plans.
Craig Anderson Wasn't Losing That Game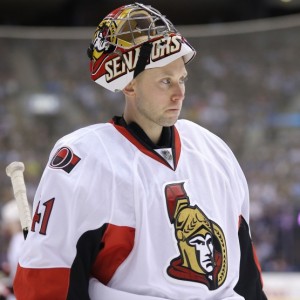 Professional athletes shouldn't need any extra motivation to play their hearts out. But we all know how easily that can happen. Whether it's facing a former team, whether it's in homage to a lost loved one, or maybe the acknowledgement of what a win would mean to the fans. How many times have we seen teams rally around an injured player and go on to win the Cup? The Boston Bruins did it for Nathan Horton. The Pittsburgh Penguins did it for Pascal Dupuis. Emotions play a huge part in sports. In fact, that's what makes some players even greater. They can harness that emotion to improve their game.
Craig Anderson's wife told him to play against the Oilers. His mind was likely far away from that ice surface, but from the opening face-off to the final whistle, he wanted to win it for Nicolle. The Senators to a man knew what the game against the Oilers was all about. They weren't going to let Anderson down. And no matter how hard the Oilers tried, they weren't going to get a puck past him.
If you're in a bad mood…

Days after his wife got cancer, Craig Anderson get's a shutout while in tears. Respect 👏🏻♥️ #HockeyFightsCancer pic.twitter.com/vEQodzZSEa

— Bar South N Celly™ (@BarSouthNCelly) October 31, 2016
It was a scene that no one will soon forget. Not only did the Senators get the win, but Anderson got a shut-out. His emotion was so raw, it was truly remarkable. It's in moments like that we're reminded what life is truly about. The people we share it with, and the people we do everything for. The Oilers organisation and the fans in that building deserve a ton of credit. Anderson was named first star, and he was given a long standing ovation. That's more than class. That's an understanding of what matters.
Oilers goalie Cam Talbot waited for Anderson to come out to give him some extra applause. That's goalie love. That's the great respect among players that is sometimes lost as they try to beat each other's faces in. But it's the fraternity of hockey players. Kudos to the Oilers for grasping the bigger picture.
Some Losses Are Easier to Handle
The Oilers were on a roll coming into this game against the Senators. They had won four straight games. Connor McDavid was flying, Talbot was standing on his head, everything was going just peachy. But let's face it. The Senators' game, considering the circumstances, was a guaranteed loss for the Oilers. And everyone knew it. That doesn't mean Edmonton didn't try hard. They fired 37 shots Anderson's way. That's far from mailing it in. Cam Talbot was great, allowing just one goal on 22 shots. He bailed out his team on many occasions.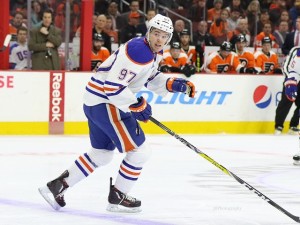 For any Oilers fan still disappointed that they dropped this game consider this: If not for an empty-net goal in the dying seconds, the game would have stayed 1-0. That's not too shabby. The Oilers were perfect on the penalty kill, they had good looks on their powerplay, and they had a number of good scoring chances. But they may as well have been shooting at a brick wall.
The Oilers held the edge in shots, in faceoff wins, and in hits. There were moments when the defence was a little suspect, but they also carried the play at times. Ryan Nugent-Hopkins, still in search of his first goal, had five shots on net, while Jordan Eberle had four. Leon Draisaitl had 20 good minutes of ice time. Physicality was present. There are a lot of positives to take away from that game. They didn't get their doors blown off. They didn't get outplayed in every facet of the game.
Most of the time, a loss is hard to take. They sting. They sometimes feel underserved. In a league as competitive as the NHL, it's hard to call any loss "a good one". But last night wasn't any ordinary game. Imagine if the situation was reversed. If an Oilers player was in Anderson's shoes, you could be certain the team would have made sure they won that game. Sometimes you can't beat the power of emotion. In a month where the fight against cancer is at the forefront, last night's tilt will be an important one to remember. By putting aside the loss of the game, and honouring Anderson, the Oilers stood beside Craig and Nicolle in their fight against cancer. And that's a win.