As the NHL enters the Christmas break, most fans find themselves with no hockey to watch. No games with meaning on the tube. But in this wonderfully technological age, we all have the capability to relive and enjoy all those games and all those players that made this game, the game we all have come to love.
There's the NHL Network and YouTube and so many websites on the internet that can entertain any hockey fan for days and days. So, while there may not be any regular season games, fans still have plenty of avenues to whet their appetites for the Fastest Game on Earth. As you celebrate this holiday season, this time for family and friends and the people who mean the most, don't forget about the game you all love.
Find an hour or two and watch what you can. Find a replay of a previous Stanley Cup Final. Watch a video of Gordie Howe or a teenage Wayne Gretzky. Look at clips of the NHL dynasties through the years. See the joy of victory and the agony of defeat in the eyes of the players we grew up watching. If you are anything like me, find the time to remind yourself why this is an amazing sport with unbelievable athletes and witness, perhaps for the second time, the history of this game.
With sincere apologies to Clement Clarke Moore, here is my rendition of his classic poem, A Visit from St. Nicholas:
'Twas the night before Christmas, when all through the league
Not a creature was stirring, most players were fatigued.
The shin pads were hung by the locker room with care,
In hopes that a trainer comes with an ice pack to spare.
The players went off for the three day break,
While visions of playoff spots still left at stake.
And Bettman in his suitcoat, and fans in their caps,
Had accepted this three day with no hockey crap.
When out on the ice there arose such a sight,
I turned on the TV and much to my delight.
The NHL Network was replaying some games,
From the past, I saw jerseys with familiar names.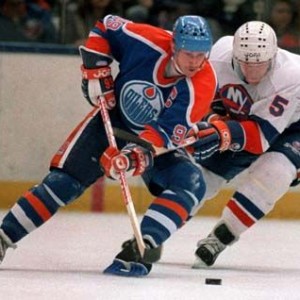 There was Gretzky and Howe and even Bobby Hull
Game after game and it never got dull.
When, during one game I heard a thunderous roar,
Going towards the net was a young Bobby Orr.
With a deke here and there, so lively and quick,
I knew in a moment he would flick his stick.
More rapid than eagles his shot was a blur,
And it whistled past Hall and we remember where we were!
"Now Cheevers! now, Bucyk! now, Esposito too!
On Lords Stanley Cup, your names engraved anew!
To the Islanders of New York for winning four straight!
Now dash away! Dash away! Unless you can skate!"
As more games came on, Lemieux and his Pens,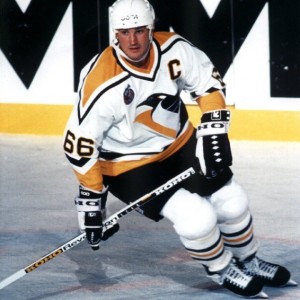 When they overcame obstacles, again and again.
So onto more games and goals to behold,
Yzerman's Wings about to win two-fold.
And then, in a twinkling, a sight never before seen
A triple overtime requiring much caffeine.
Until Brett, son of Bobby, knocked in the puck,
And the Sabres and Hasek were quite out of luck.
Was he or wasn't he inside the crease,
In Buffalo, those folks are convinced they were fleeced.
A bundle of Cups throughout his career,
Scotty Bowman and his teams heard nothing but cheers.
Moving on from the nineties into this century!
The game keeps improving, most fans would agree.
Even a curmudgeon like Tortorella would win,
With Andreychuk and Marty and even young Vin.
The lockout had us nervous and caused some fear,
Never knowing if hockey was going to be near.
But both sides came together and created a cap,
To level the ice and eliminate any gaps!
Hard to tell if that's working but teams don't repeat,
Defending your Cup is a difficult feat!
The Kings and the Blackhawks have found a way,
To stay in the running and remain in the fray.
Today the stars are amazing to see,
Stamkos, Ovechkin, Toews and Crosby.
There's Seguin and Price and Patrick Kane,
And so many others I have no room to name.
One more day and the teams return to the ice,
There'll be games and more games and won't that be nice?
And when "Doc" Emrick exclaims during a fight,
"Happy Christmas to all, and to all a good-night!"